In addition to sharing a handful of characteristics, such as a progressive design language and electrified powertrain options, every SUV in Hyundai's wide line-up gets its name from an international holiday destination.
Previous entries in Hyundai's 'A Postcard from…' series have focused on BAYON and SANTA FE. Now, it is the turn of the company's European bestseller, TUCSON.
Greetings from Tucson!
The city of Tucson has a history that stretches centuries into the past, longer than other cities in the American Southwest. 'Tucson' is derived from 'Ts iuk shan', the name given to Sentinel Mountain by the native Tohono O'odham people. It refers to the fact that the base of the mountain is darker than its summit. A former Spanish military fort, Tucson was also known as 'Old Pueblo' ('old village').
Today, Tucson reigns as the second largest city in the US state of Arizona – just behind its capital, Phoenix. With a population of roughly 543,000, Tucson is a college town that offers a little bit for everyone.
Compared to its namesake, Hyundai TUCSON has a comparatively shorter history. However, having initially launched in 2004 and now on its fourth generation, TUCSON is one of the longest-serving models in the Hyundai fleet. Not only is TUCSON Hyundai's bestselling model in Europe, as well as the bestselling vehicle in the compact SUV segment in Europe, but it is also the company's bestselling SUV globally. Of the more than seven million units sold around the world, 1.7 million were sold in Europe.
Hyundai TUCSON is one of six Hyundai models produced at the company's European factories based in the Czech Republic and Turkey. Last year, units manufactured in Europe accounted for 72 per cent of the company's total European sales.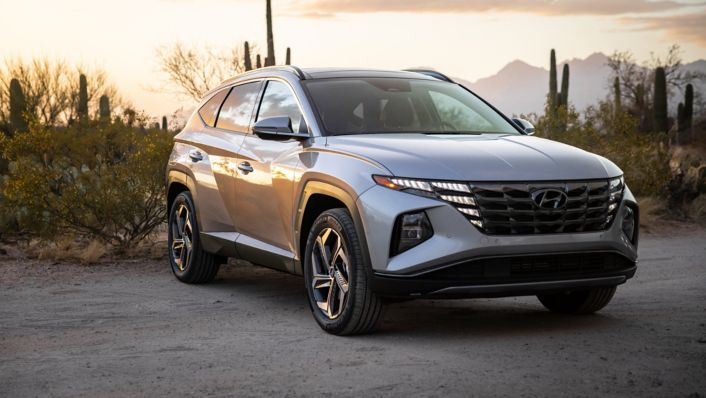 Beating the heat
The city of Tucson is characterised by its sweltering desert climate. Warm year-round, the city is no stranger to mild winters and scorching summers. On a daily basis, summer temperatures average between 37oC and 39oC.
To cool off when the temperatures climb too high, passengers of Hyundai TUCSON can choose to switch on Multi-Air Mode. This model was the first Hyundai vehicle to be programmed with hidden type Multi-Air Mode technology. A combination of direct and indirect air vents provides air conditioning and heating with more gentle air flow to foster a pleasant indoor environment. When activated, Multi-Air Mode pushes air through the normal air vents, as well as through the newly added multi-air slots in the front.
With the overall air volume remaining the same, Multi-Air Mode is still effective at altering the temperature. However, the added multi-air slots reduce direct air contact and soften the air.
Old meets new
Known for its historic neighbourhoods, the city of Tucson is overflowing with turn-of-the-century architecture. For example, the Mission San Xavier del Bac. This 18th-century Spanish Catholic mission is still in operation and is considered to be one of the most beautiful in America.
Hyundai TUCSON was the company's first SUV to be fully redesigned according to Hyundai's 'Sensuous Sportiness' design identity. This new direction harmonises four fundamental elements: proportions, architecture, styling, and technology. The aim of 'Sensuous Sportiness' is to use innovative technology and solutions to bring a sensuous and emotional touch to Hyundai's vehicles.
Instead of traditional drawing and sketching methods, Hyundai's designers used cutting-edge digital technology to develop geometric algorithms that enabled them to create TUCSON's futuristic design elements, known as 'Parametric Dynamics'. This process uses digital data to form unprecedented, bold design aesthetics made of lines, faces, angles, and shapes. These prominent geometric patterns, or 'parametric jewels', can be seen throughout TUCSON's progressive design.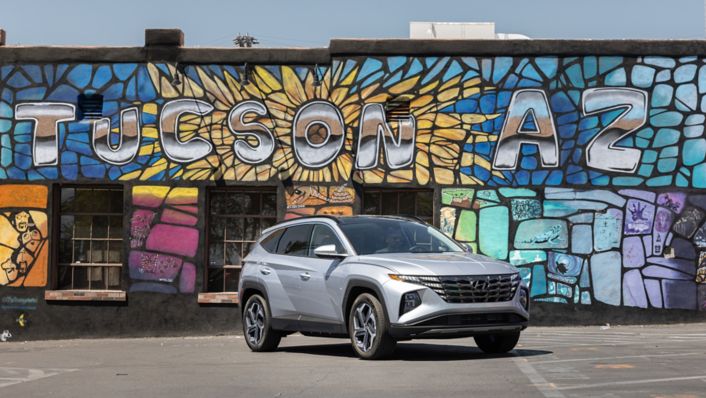 Customise and personalise
The food in Tucson has a distinctly Western flair, melding the influences of Sonoran Mexican cuisine and Native American delicacies. Tucson claims to be the birthplace of the chimichanga, a deep-fried burrito. The Sonoran hot dog is another famous dish in Tucson. This special hot dog comes with a variety of toppings. Wrapped in bacon and grilled, the Sonoran hot dog is served on a bolillo-style hot dog bun and topped with pinto beans, onions, tomatoes, and a variety of condiments, including mayonnaise, mustard, and jalapeño salsa.
And, just like the Sonoran hot dog, Hyundai TUCSON is also fully loaded to suit every type of driver, by offering four electrified powertrain options and two internal combustion engines with a total of four transmission options. The entire TUCSON line-up is based on two Hyundai Smartstream engines, the 1.6-litre T-GDI petrol and the 1.6-litre CRDi diesel engine, and are available with varying levels of electrification. The all-new TUCSON offers the most electrified powertrain line-up in the compact SUV segment, including hybrid, plug-in hybrid and 48-volt mild hybrid options.
The great outdoors
Surrounded by national parks, forests, deserts, and mountain ranges, the area around Tucson is the ideal place for outdoor recreational activities. Visitors can enjoy hiking in the wilderness, backcountry camping, horseback riding, discovering desert flora and fauna, and even skiing in the wintertime, among others.
Founded in 1952, the multifaceted Arizona-Sonora Desert Museum includes an almost 400,000-square-metre zoo, aquarium, botanical garden, natural history museum, publisher, and art gallery. Spreading into the wilderness, the museum features more than three kilometres of walking paths across 85,000 square metres of desert.
For remarkable sights, visitors to Tucson should head to the base of the Santa Catalina Mountains. The Sabino Canyon is considered one of the most beautiful areas in Arizona.
Named after the large saguaro cactus native to its desert environment, Saguaro National Park sandwiches the city of Tucson to the west and east. The Signal Hill Trail leads to petroglyphs of the ancient Hohokam people in the western Tucson Mountain District. In the eastern Rincon Mountain District, Cactus Forest Drive is a loop that provides awe-inspiring desert vistas.
For maximum comfort on long journeys, Hyundai TUCSON's dynamic proportions and new platform create a wide, open interior usually only seen in models a segment higher. Compared to its predecessor, this generation of the SUV is 20 millimetres longer and 15 millimetres wider, has a wheelbase that is ten millimetres longer, offers rear passengers an extra 26 millimetres of legroom, and provides up to 1,799 litres of boot space with the seats folded.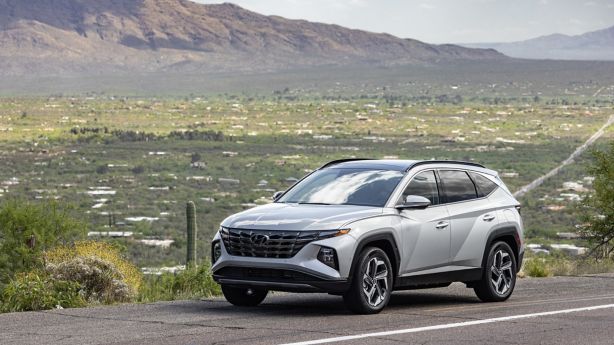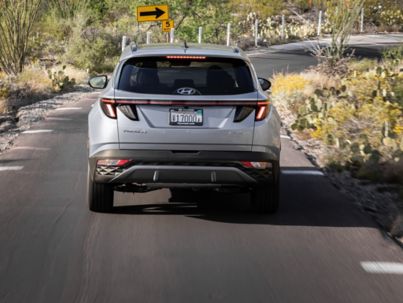 The flexibility of Hyundai TUCSON's Electronic Controlled Suspension (ECS) guarantees a comfortable, flat, and stable ride even on the challenging roads around Tucson. This adaptive damping technology enables versatile driving behaviour based on road conditions and the driver's preferences. By taking driving conditions, such as speed, road surfaces, cornering, stopping requirements, and acceleration, into account, ECS automatically and continuously controls the vehicle's suspension to maximise driving comfort and performance. ECS also reduces roll, pitch, and vertical motion to enhance ride and handling by controlling the damping force on each wheel.
Like a true SUV, Hyundai TUCSON was built to handle a variety of terrains. The SUV's Terrain Mode, which is available on the hybrid and plug-in hybrid version with automatic transmission with 4WD, determines wheel grip and speed and ensures more agile handling and improved torque application. Three terrain modes – Mud, Sand, and Snow – optimise driving performance for an enhanced driving experience – on- or off-road.
Tucson, Arizona is a famous holiday destination known for its rich history, multicultural influences, and wide breadth of outdoor activities. Nature lovers, sports enthusiasts, and history fanatics alike will find just what they are looking for in this Southwestern gem. Hyundai TUCSON proudly shares its name with its terrain-defying SUV technologies, progressive design, and spectrum of electrification options.
Disclaimer: CO2 and emissions data
Fuel consumption combined for the Hyundai TUCSON 1.6 T-GDI 48V (150 PS) with 6iMT 2WD in l/100 km: 6.8 - 6.5; CO2 emissions combined in g/km: 154 - 147 (WLTP)

Fuel consumption combined for the Hyundai TUCSON 1.6 T-GDI 48V (150 PS) with 7DCT 2WD in l/100 km: 6.6 - 6.3; CO2 emissions combined in g/km: 150 - 143 (WLTP)

Fuel consumption combined for the Hyundai TUCSON 1.6 T-GDI 48V (180 PS) with 6iMT 2WD in l/100 km: 6.7 - 6.4; CO2 emissions combined in g/km: 152 - 145 (WLTP)

Fuel consumption combined for the Hyundai TUCSON 1.6 T-GDI 48V (180 PS) with 7DCT 4WD in l/100 km: 7.1 - 6.9; CO2 emissions combined in g/km: 162 - 156 (WLTP)

Fuel consumption combined for the Hyundai TUCSON 1.6 CRDi 48V (136 PS) with 6iMT 2WD in l/100 km: 5.3 - 4.9; CO2 emissions combined in g/km: 139 - 127 (WLTP)

Fuel consumption combined for the Hyundai TUCSON 1.6 CRDi 48V (136 PS) with 7DCT 2WD in l/100 km: 5.3 - 5.0; CO2 emissions combined in g/km: 139 - 130 (WLTP)

Fuel consumption combined for the Hyundai TUCSON 1.6 CRDi 48V (136 PS) with 7DCT 4WD in l/100 km: 5.9 - 5.5; CO2 emissions combined in g/km: 154 - 143 (WLTP)

Fuel consumption combined for the Hyundai TUCSON 1.6 T-GDI (150 PS) with 6MT 2WD in l/100 km: 7.0 - 6.6; CO2 emissions combined in g/km: 159 - 150 (WLTP)

Fuel consumption combined for the Hyundai TUCSON 1.6 T-GDI (150 PS) with 6MT 4WD in l/100 km: 7.8 - 7.3; CO2 emissions combined in g/km: 178 - 165 (WLTP)

Fuel consumption combined for the Hyundai TUCSON 1.6 CRDi (115 PS) with 6MT 2WD in l/100 km: 5.5 - 5.1; CO2 emissions combined in g/km: 144 - 135 (WLTP)

Fuel consumption combined for the Hyundai TUCSON 1.6 T-GDI Hybrid with 6AT 2WD in l/100 km: 5.9 - 5.5; CO2 emissions combined in g/km: 135 - 125 (WLTP)

Fuel consumption combined for the Hyundai TUCSON 1.6 T-GDI Hybrid with 6AT 4WD in l/100 km: 6.6 - 6.2; CO2 emissions combined in g/km: 149 - 140 (WLTP)

Fuel consumption combined for the Hyundai TUCSON 1.6 T-GDI Plug-in Hybrid with 6AT 4WD in l/100 km: 1.4; CO2 emissions combined in g/km: 31 (WLTP)