Hyundai TUCSON remains bestselling vehicle in compact SUV segment in Europe
Award-winning SUV nominated for 'Car of the Year 2022' in Turkey
Following a strong finish in 2021, the fourth-generation Hyundai TUCSON is now leading in the compact SUV segment in Europe, up from second place last year. According to figures compiled by JATO Dynamics, a global supplier of automotive business intelligence, TUCSON is poised to set a sales record. Based on new registrations through March in 27 European countries, TUCSON is currently the bestselling compact SUV in Europe, with 15,806 units registered.
Last year, Hyundai Motor's all-around bestseller was, once again, TUCSON. The model was renewed at the end of 2020, leading to noteworthy sales during its first full year on the market. Hyundai sold 152,257 units of TUCSON in 2021.
Since the model was first launched in 2004, 1.4 million units of TUCSON have been sold in the European market. Looking at worldwide sales, that number climbs to seven million units. This figure makes TUCSON the company's global bestselling SUV.
After enjoying record sales in 2021, TUCSON has now gone one step further by reaching the top of the compact SUV segment in terms of new registrations in Europe in the first three months of 2022. With TUCSON's bold design, customisable tech, and family-first safety features, we are sure that our bestseller will continue to be a firm favourite for customers in Europe.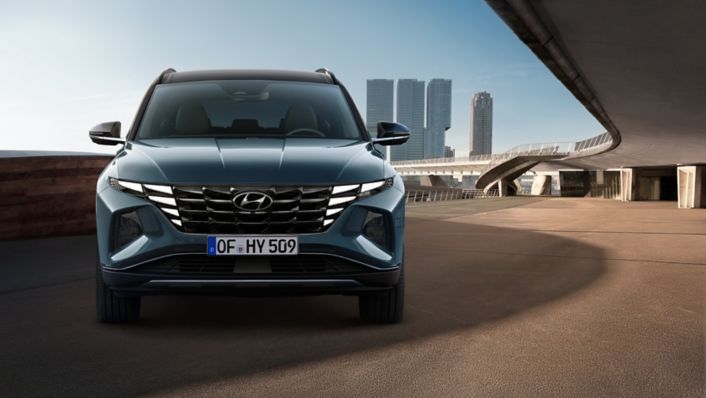 Setting the standard for SUVs
With its innovative design and elements that deliver value beyond its segment, the fourth-generation TUCSON raises the bar for SUVs. From a design perspective, TUCSON distinguishes itself from its predecessor by its muscular stance, sharp angles, and dynamic proportions.
Through digital data, 'Parametric Dynamics' utilises lines, faces, angles, and shapes to blend innovative SUV design and revolutionary exteriors. This results in TUCSON's design featuring geometric patterns known as 'parametric jewels', which lend it a progressive quality.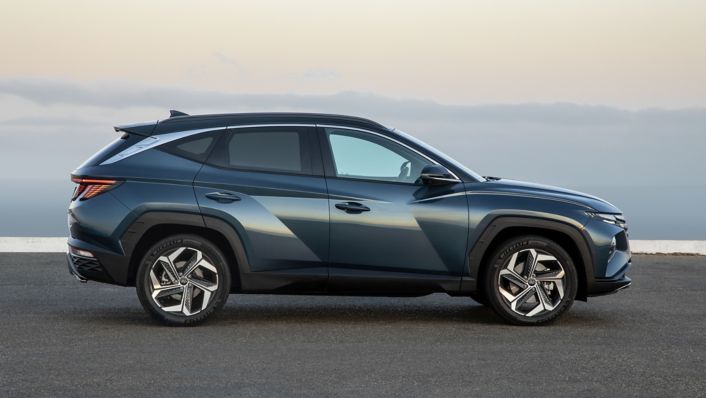 TUCSON's interior is clean and sophisticated and fully embraces the driver and the passengers with a fully digital, customisable experience. With features like a 10.25-inch fully digitalised cluster, 10.25-inch AVN touchscreen display, ambient lighting, three-zone climate control, and optional wireless Apple CarPlay and Android Auto, TUCSON offers personalisation in its comfort, infotainment, and connectivity.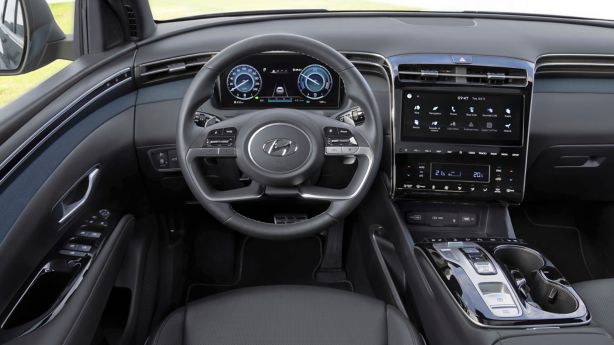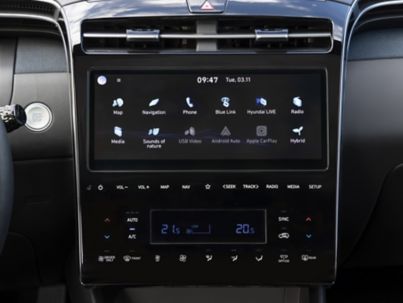 TUCSON is equipped with a best-in-class, family-oriented safety package, delivering peace of mind for Hyundai customers. These features don't just keep occupants safe; they also ensure the safety of other road users.
Forward Collision-Avoidance Assist (FCA) with Junction Turning applies the brakes when an oncoming vehicle is detected while making a left-hand turn. Meanwhile, Navigation-based Smart Cruise Control Curve (NSCC-C) uses TUCSON's navigation system to anticipate upcoming curves or straights and adjusts the vehicle speed for safer driving.
Highway Driving Assist (HDA) 1.5 is a combination of NSCC-C and Lane Following Assist (LFA). Moving one step further towards autonomous driving, HDA uses the navigation system to anticipate upcoming road conditions. This feature regulates the car's speed and maintains its distance to other vehicles in front, as well as the current lane of travel on the motorway. Additionally, it automatically adjusts steering to help keep the vehicle centred in its lane.
TUCSON offers the widest range of electrified powertrains in its segment. In addition to petrol and diesel 48-volt mild hybrid, full hybrid, and plug-in hybrid, the model also comes in non-electrified versions: a 1.6-litre T-GDI engine with 150 PS and a six-speed manual transmission (6MT) and a 1.6-litre CRDi engine with 115 PS and a 6MT.
For a sportier design, customers can opt for TUCSON N Line. The bestselling SUV is wrapped in the dynamic, motorsport-inspired N Line trim. On top of this performance styling, selected powertrains come with optimised Electronically Controlled Suspension (ESC) settings for sportier driving dynamics.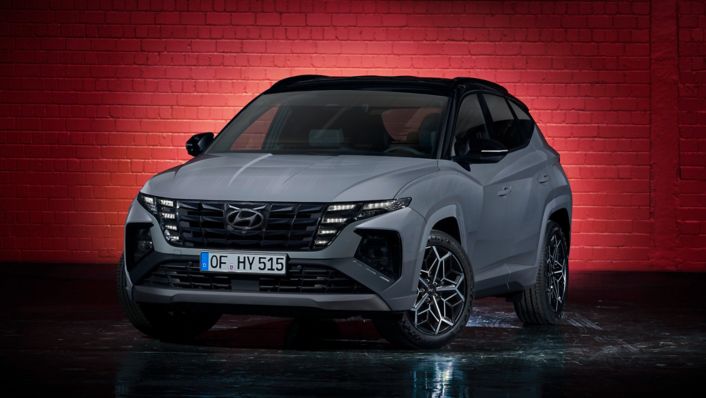 Made in Europe for Europe
TUCSON is just one of six Hyundai models that are produced in its European factories based in the Czech Republic and Turkey. In 2021, units produced in Europe accounted for 72 per cent of Hyundai's total sales in Europe.
In operation since 2008, Hyundai Motor Manufacturing Czech (HMMC) in Nošovice, Czech Republic is one of the most modern production plants in Europe, turning out 350,000 vehicles per year. On top of TUCSON, HMMC also produces the i30, i30 N, and KONA Electric for the European market. Additionally, HMMC manufactures nearly every type of powertrain available. In doing so, Hyundai is increasing its engagement in the region and underlining the importance of Europe in its overall business strategy.
Adding to the trophy case
In 2021 alone, TUCSON collected 18 accolades across Europe. While most awards praised the model for being a powerful compact SUV and a car that tends to family needs, a handful of these honours were 'Car of the Year' titles. TUCSON was named 'Car of the Year 2022' in Greece, as well as by Carbuyer and DieselCar & EcoCar Magazine in the UK.
Most recently it was rewarded "The Turkish Car of the Year 2022", too. Among 7 finalists the jury selected TUCSON from an initial entry list of 36 vehicles and selected TUCSON as the winner, with its design, safety, trim levels and engine variants.
Disclaimer: CO2 and emissions data
Fuel consumption combined for the Hyundai TUCSON 1.6 T-GDI 48V (150 PS) with 6iMT 2WD in l/100 km: 6.8 - 6.5; CO2 emissions combined in g/km: 154 - 147 (WLTP)
Fuel consumption combined for the Hyundai TUCSON 1.6 T-GDI 48V (150 PS) with 7DCT 2WD in l/100 km: 6.6 - 6.3; CO2 emissions combined in g/km: 150 - 143 (WLTP)
Fuel consumption combined for the Hyundai TUCSON 1.6 T-GDI 48V (180 PS) with 6iMT 2WD in l/100 km: 6.7 - 6.4; CO2 emissions combined in g/km: 152 - 145 (WLTP)
Fuel consumption combined for the Hyundai TUCSON 1.6 T-GDI 48V (180 PS) with 7DCT 4WD in l/100 km: 7.1 - 6.9; CO2 emissions combined in g/km: 162 - 156 (WLTP)
Fuel consumption combined for the Hyundai TUCSON 1.6 CRDi 48V (136 PS) with 6iMT 2WD in l/100 km: 5.3 - 4.9; CO2 emissions combined in g/km: 139 - 127 (WLTP)
Fuel consumption combined for the Hyundai TUCSON 1.6 CRDi 48V (136 PS) with 7DCT 2WD in l/100 km: 5.3 - 5.0; CO2 emissions combined in g/km: 139 - 130 (WLTP)
Fuel consumption combined for the Hyundai TUCSON 1.6 CRDi 48V (136 PS) with 7DCT 4WD in l/100 km: 5.9 - 5.5; CO2 emissions combined in g/km: 154 - 143 (WLTP)
Fuel consumption combined for the Hyundai TUCSON 1.6 T-GDI (150 PS) with 6MT 2WD in l/100 km: 7.0 - 6.6; CO2 emissions combined in g/km: 159 - 150 (WLTP)
Fuel consumption combined for the Hyundai TUCSON 1.6 T-GDI (150 PS) with 6MT 4WD in l/100 km: 7.8 - 7.3; CO2 emissions combined in g/km: 178 - 165 (WLTP)
Fuel consumption combined for the Hyundai TUCSON 1.6 CRDi (115 PS) with 6MT 2WD in l/100 km: 5.5 - 5.1; CO2 emissions combined in g/km: 144 - 135 (WLTP)
Fuel consumption combined for the Hyundai TUCSON 1.6 T-GDI Hybrid with 6AT 2WD in l/100 km: 5.9 - 5.5; CO2 emissions combined in g/km: 135 - 125 (WLTP)
Fuel consumption combined for the Hyundai TUCSON 1.6 T-GDI Hybrid with 6AT 4WD in l/100 km: 6.6 - 6.2; CO2 emissions combined in g/km: 149 - 140 (WLTP)
Fuel consumption combined for the Hyundai TUCSON 1.6 T-GDI Plug-in Hybrid with 6AT 4WD in l/100 km: 1.4; CO2 emissions combined in g/km: 31 (WLTP)
Fuel consumption combined for the Hyundai i30 1.5 DPI in l/100 km: 6.8 - 6.0; CO2 emissions combined in g/km: 153.2 - 136.5 (WLTP)
Fuel consumption combined for the Hyundai i30 1.0 T-GDI with 6MT in l/100 km: 6.2 - 5.4; CO2 emissions combined in g/km: 140.6 - 123.2 (WLTP)
Fuel consumption combined for the Hyundai i30 1.0 T-GDI with 7DCT in l/100 km: 6.4 - 5.7; CO2 emissions combined in g/km: 144.1 - 128.3 (WLTP)
Fuel consumption combined for the Hyundai i30 1.0 T-GDI 48V with 6iMT in l/100 km: 6.0 - 5.3; CO2 emissions combined in g/km: 137 - 119.9 (WLTP)
Fuel consumption combined for the Hyundai i30 1.0 T-GDI 48V with 7DCT in l/100 km: 6.2 - 5.4; CO2 emissions combined in g/km: 140.3 - 121 (WLTP)
Fuel consumption combined for the Hyundai i30 1.5 T-GDI 48V with 6iMT in l/100 km: 6.5 - 5.6; CO2 emissions combined in g/km: 148.2 - 126.4 (WLTP)
Fuel consumption combined for the Hyundai i30 1.5 T-GDI 48V with 7DCT in l/100 km: 6.3 - 5.5; CO2 emissions combined in g/km: 142.1 - 125.7 (WLTP)
Fuel consumption combined for the Hyundai i30 1.6 CRDi with 6MT in l/100 km: 5.1 - 4.5; CO2 emissions combined in g/km: 134.6 - 118.4 (WLTP)
Fuel consumption combined for the Hyundai i30 1.6 CRDi with 7DCT in l/100 km: 4.9 - 4.6; CO2 emissions combined in g/km: 126.9 - 121 (WLTP)
Fuel consumption combined for the Hyundai i30 1.6 CRDi 48V with 6MT in l/100 km: 5.3 - 4.6; CO2 emissions combined in g/km: 137.5 - 120.3 (WLTP)
Fuel consumption combined for the Hyundai i30 1.6 CRDi 48V with 7DCT in l/100 km: 5.1 - 4.8; CO2 emissions combined in g/km: 134.1 - 125.1 (WLTP)
Fuel consumption combined for the Hyundai i30 Fastback 1.0 T-GDI with 6MT in l/100 km: 6.2 - 5.4; CO2 emissions combined in g/km: 140.6 - 123.2 (WLTP)
Fuel consumption combined for the Hyundai i30 Fastback 1.0 T-GDI with 7DCT in l/100 km: 6.4 - 5.7; CO2 emissions combined in g/km: 144.1 - 128.3 (WLTP)
Fuel consumption combined for the Hyundai i30 Fastback 1.0 T-GDI 48V with 6iMT in l/100 km: 6.0 - 5.3; CO2 emissions combined in g/km: 137 - 119.9 (WLTP)
Fuel consumption combined for the Hyundai i30 Fastback 1.0 T-GDI 48V with 7DCT in l/100 km: 6.2 - 5.4; CO2 emissions combined in g/km: 140.3 - 121 (WLTP)
Fuel consumption combined for the Hyundai i30 Fastback 1.5 T-GDI 48V with 6iMT in l/100 km: 6.5 - 5.6; CO2 emissions combined in g/km: 148.2 - 126.4 (WLTP)
Fuel consumption combined for the Hyundai i30 Fastback 1.5 T-GDI 48V with 7DCT in l/100 km: 6.3 - 5.5; CO2 emissions combined in g/km: 142.1 - 125.7 (WLTP)
Fuel consumption combined for the Hyundai i30 Fastback 1.6 CRDi with 6MT in l/100 km: 5.1 - 4.5; CO2 emissions combined in g/km: 134.6 - 118.4 (WLTP)
Fuel consumption combined for the Hyundai i30 Fastback 1.6 CRDi with 7DCT in l/100 km: 4.9 - 4.6; CO2 emissions combined in g/km: 126.9 - 121 (WLTP)
Fuel consumption combined for the Hyundai i30 Fastback 1.6 CRDi 48V with 6MT in l/100 km: 5.3 - 4.6; CO2 emissions combined in g/km: 137.5 - 120.3 (WLTP)
Fuel consumption combined for the Hyundai i30 Fastback 1.6 CRDi 48V with 7DCT in l/100 km: 5.1 - 4.8; CO2 emissions combined in g/km: 134.1 - 125.1 (WLTP)
Fuel consumption combined for the Hyundai i30 Wagon 1.5 DPI in l/100 km: 6.8 - 6.0; CO2 emissions combined in g/km: 153.2 - 136.5 (WLTP)
Fuel consumption combined for the Hyundai i30 Wagon 1.0 T-GDI with 6MT in l/100 km: 6.2 - 5.4; CO2 emissions combined in g/km: 140.6 - 123.2 (WLTP)
Fuel consumption combined for the Hyundai i30 Wagon 1.0 T-GDI with 7DCT in l/100 km: 6.4 - 5.7; CO2 emissions combined in g/km: 144.1 - 128.3 (WLTP)
Fuel consumption combined for the Hyundai i30 Wagon 1.0 T-GDI 48V with 6iMT in l/100 km: 6.0 - 5.3; CO2 emissions combined in g/km: 137 - 119.9 (WLTP)
Fuel consumption combined for the Hyundai i30 Wagon 1.0 T-GDI 48V with 7DCT in l/100 km: 6.2 - 5.4; CO2 emissions combined in g/km: 140.3 - 121 (WLTP)
Fuel consumption combined for the Hyundai i30 Wagon 1.5 T-GDI 48V with 6iMT in l/100 km: 6.5 - 5.6; CO2 emissions combined in g/km: 148.2 - 126.4 (WLTP)
Fuel consumption combined for the Hyundai i30 Wagon 1.5 T-GDI 48V with 7DCT in l/100 km: 6.3 - 5.5; CO2 emissions combined in g/km: 142.1 - 125.7 (WLTP)
Fuel consumption combined for the Hyundai i30 Wagon 1.6 CRDi with 6MT in l/100 km: 5.1 - 4.5; CO2 emissions combined in g/km: 134.6 - 118.4 (WLTP)
Fuel consumption combined for the Hyundai i30 Wagon 1.6 CRDi with 7DCT in l/100 km: 4.9 - 4.6; CO2 emissions combined in g/km: 126.9 - 121 (WLTP)
Fuel consumption combined for the Hyundai i30 Wagon 1.6 CRDi 48V with 6MT in l/100 km: 5.3 - 4.6; CO2 emissions combined in g/km: 137.5 - 120.3 (WLTP)
Fuel consumption combined for the Hyundai i30 Wagon 1.6 CRDi 48V with 7DCT in l/100 km: 5.1 - 4.8; CO2 emissions combined in g/km: 134.1 - 125.1 (WLTP)
Fuel consumption combined for the Hyundai i30 N 2.0 T-GDi (250 PS) with 6MT in l/100 km: 7.7; CO2 emissions combined in g/km: 175 (WLTP)
Fuel consumption combined for the Hyundai i30 N 2.0 T-GDi (280 PS) with 6MT in l/100 km: 8.0; CO2 emissions combined in g/km: 182 (WLTP)
Fuel consumption combined for the Hyundai i30 N 2.0 T-GDi with N DCT in l/100 km: 8.4; CO2 emissions combined in g/km: 191 (WLTP)
Fuel consumption combined for the Hyundai i30 Fastback N 2.0 T-GDi (250 PS) with 6MT in l/100 km: 7.7; CO2 emissions combined in g/km: 175 (WLTP)
Fuel consumption combined for the Hyundai i30 Fastback N 2.0 T-GDi (280 PS) with 6MT in l/100 km: 8.0; CO2 emissions combined in g/km: 182 (WLTP)
Fuel consumption combined for the Hyundai i30 Fastback N 2.0 T-GDi with N DCT in l/100 km: 8.4; CO2 emissions combined in g/km: 191 (WLTP)
Electricity consumption combined for the Hyundai KONA Electric 39.2 kWh in kWh/100 km: 14.3; CO2 emissions combined in g/km: 0 (WLTP)
Electricity consumption combined for the Hyundai KONA Electric 64 kWh in kWh/100 km: 14.7; CO2 emissions combined in g/km: 0 (WLTP)