Hyundai Motorsport has taken a spectacular 1-2 finish at Rally Italia Sardegna, round six  of the 2023 FIA World Rally Championship (WRC)
Thierry Neuville secured his first victory of the season with a careful drive on Sunday and jumps from fifth to second in the drivers' standings
Esapekka Lappi finished second after another strong gravel outing in Sardinia, where he was once again demonstrated rally-winning potential.
Hyundai Motorsport is celebrating its first victory of  the season after a gruelling  three days at Rally Italia Sardegna, round six of the 2023 FIA World Rally Championship (WRC), with Thierry Neuville and Martijn Wydaeghe triumphing in their Hyundai i20 N RaIIy1 Hybrid.
With uncharacteristic rain on Friday and Saturday exacerbating the difficult conditions of the stages, causing issues for many competitors, the team was taking nothing for granted on the final day. Following the collective push on Saturday, which saw Neuville/Wydaeghe and Esapekka Lappi/Janne Ferm secure a provisional 1-2, it was a careful conclusion to the rally on Sunday to secure the team's third double podium of the season.
It was a fantastic reward to the most demanding Rally Italia Sardegna in recent years, where the team was able to challenge at the top of the classification throughout the weekend. Lappi/Ferm were nip-and-tuck with Sébastien Ogier for much of the event, snatching the lead of the rally on four occasions on Thursday, Friday and Saturday.
Saturday was also where Neuville/Wydaeghe came into their own, finding a steady rhythm that saw them claw back the gap to first place. When the deficit then doubled on SS10 Erula-Tula 1, the Belgians responded; two stage wins and two second-fastest times reduced it to just over seven seconds, and a superb SS14 saw them inherit a lead they would never surrender.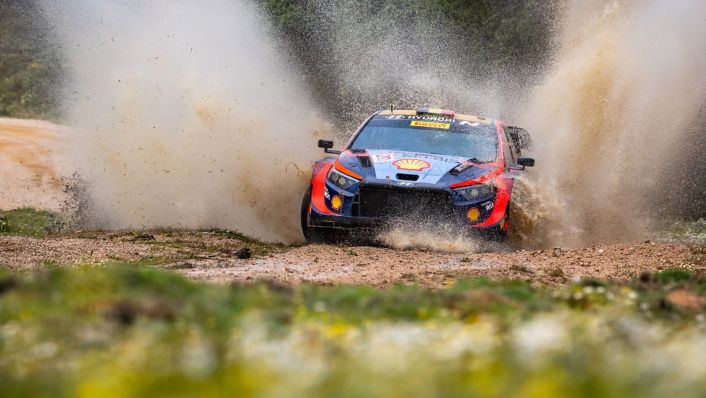 Sunday in Sardinia featured four stages: Arzachena-Braniatogghiu (SS16/18, 15.22km) and Sardegna (SS17/19, 7.79km). Unfortunately, Dani Sordo and Candido Carrera's torrid rally came to an early conclusion after SS17 Sardegna 1 after the discovery of an exhaust failure on their car, and they retired as a precaution.
Neuville's victory – his third on the island – sees him make great strides in the drivers' standings as he jumps from fifth to second. He now lies 25 points behind Kalle Rovanpera. Hyundai Shell Mobis  World Rally Team has also closed the gap in the manufacturers' standings to 23 points.
The 1-2 finish marks Hyundai Motorsport's 11th and 12th podiums at Rally Italia  Sardegna and sixth overall win. The team's crews claimed 10 stage wins, including four 1-2s (SS5/SS9/SS12/SS15) and one 1-2-3 (SS14) in stage, and 30 top-three stage times on the unrelenting routes.
Crew Notes: Thierry Neuville/Martijn Wydaeghe (#11 Hyundai i20 N RaIIy1 Hybrid)
Win in Sardinia marks fifth victory for Belgians as a crew
Gains made in drivers' standings with Thierry now in second place
I'm really happy to be on the top step of the podium after such a challenging and incredible weekend. We came here with the belief that we could fight for victory but the first day was very challenging and we lost a bit of time. We brought it back but then we lost it again, but at the end of yesterday we managed a big turnaround and found ourselves in the lead. The weather has been up and down all weekend long, we faced every condition possible between from dry and warm to heavy rain. We had to manage the tyres throughout, and it was very tough on our cars but we had great reliability and it really paid off. It is a pleasure to take the first victory for the team this year, and the first 1-2 for our new Team Principal as well. Craig is also in our memory today as well; we wanted the victory in Croatia, but we got it now.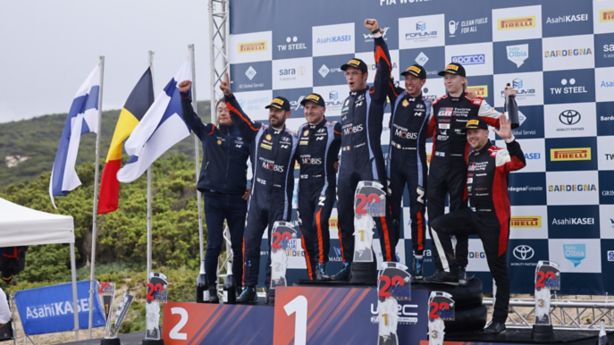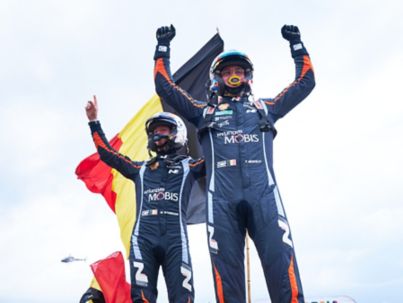 Crew Notes: Esapekka Lappi/Janne Ferm (#4 Hyundai i20 N RaIIy1 Hybrid)
Second place in Sardinia secures hat-trick of podium finishes
Finns secured 12 top-three stage times during battle for the lead with Ogier
A very important result for our team. We really wanted to push for the victory as a team and to come away with a 1-2 is very good. Our tyre strategy on Friday was to save the softs, and then yesterday afternoon we went all in and sacrificed the softs to put pressure on Ogier. We a/so had a bit of a risky strategy on Friday afternoon, but everything paid off.
Crew Notes: Dani Sordo/Cândido Carrera (#6 Hyundai i20 N RaIIy1 Hybrid)
Spaniards retired after SS17 Sardegna 1 with exhaust issue on their car
Looking to bounce back in three weeks at Safari Rally Kenya
This has been a difficult weekend for me in general. I didn't start it well, and I made a mistake on the first day that put Us on the back foot for the rest of the event and unfortunately today we had an issue with the exhaust. Nevertheless, I am pleased that the team has finished 1-2. We know how difficult Safari Rally Kenya can be, but I hope to find the same pace we had in Portugal and come back fighting.
We have been consistent podium finishers so far this season but we were yet to win, and we have done that in beautiful fashion. Although such a result in challenging conditions is always a team effort, our drivers need to be particularly praised. Esapekka was absolutely remarkable all the way through, in his approach before and during the rally. The pressure he applied continuously to Ogier most certainly contributed to the mistake he made. Thierry had an amazing SSI4, which was a demonstration of his determination to win here in Sardinia as his confidence in the car was building stage-by-stage. It was a shame that Dani could not finish despite what has been a strong effort from him to contribute to the overall performance of the weekend. I would also like to take a moment to mention Craig. He remains a part of our team, and our success, and this win today is very much for him.
Next rally
The FIA World Rally Championship moves to the African continent for Safari Rally Kenya, the seventh round of the 2023 season, which takes place June 22-25.
Final Overall Classification – Rally Italia Sardegna
T. Neuville/M. Wydaeghe | Hyundai i20 N RaIIy1 Hybrid | 3:40:01.4
E. Lappi/J. Ferm | Hyundai i20 N RaIIy1 Hybrid | +33.0
K. Rovanperä/J. Halttunen | Toyota GR Yaris RaIIy1 | +1:55.3
E. Evans/S. Martin | Toyota GR Yaris RaIIy1 | +5:20.5
A. Mikkelsen/T. Eriksen | Skoda Fabia RS | +9:33.3
T. Suninen/M. Marrkula | Hyundai i20 N RaIIy2 | +11:48.9
K. Kajetanowicz/M. Szczepaniak | Skoda Fabia RS | +12:46.1
Y. Rossel/A. Dunand | Citroen C3 | +12:53.5
M. Marczyk/S. Gospodarczyk | Skoda Fabia RS | +15:33.8
E. Cais/P. Těšínský | Skoda Fabia RS | +16:49.4
2023 FIA World Rally Championship for Manufacturers' Standings After round 6
Toyota Gazoo Racing World Rally Team 235
Hyundai Shell Mobis World Rally Team 212
M-Sport Ford World Rally Team 148
2023 FIA World Rally Championship for Drivers' Standings After round 6
K.Rovanperä 118
T.Neuville 93
O.Tänak 85
E.Evans 83
S.Ogier 70
E.Lappi 67
D.Sordo 36

T. Katsuta 23
All results remain subject to official FIA confirmation.