Hyundai Motor sold 270,675 units in Europe (EU, EFTA & UK) in first half of 2023.Sales in Europe up 2.7 per cent, compared to same period in 2022
Hyundai Motor closed the first half of the year with strong sales in the European markets. Selling 270,675 units. The company achieved an overall 4.1-per-cent market share in Europe (EU, EFTA & UK).
With our outstanding performance in the first half of the year we are close to our pre-COVID record sales. This reflects our healthy recovery and growth. We increased our sales volume for the first half of the year, solidifying our strong position on the European market. Considering the ever-growing interest in Hyundai's EV line-up, this achievement also reflects our commitment to zero emission mobility and the electrification of our line-up. With the start of sales of the all-new Kona, we are confident that our sales figures will continue to rise into the autumn months.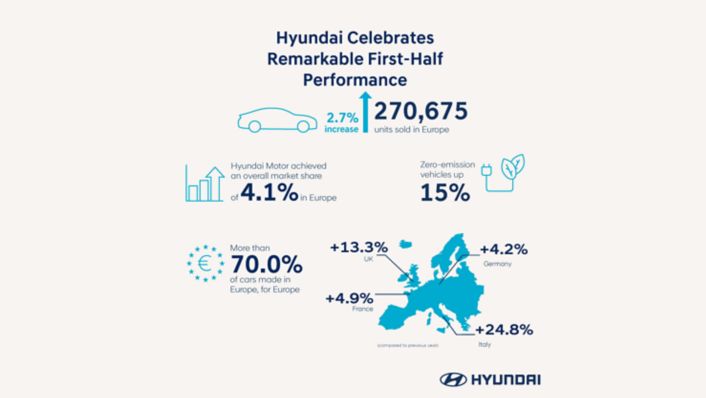 Shining a Spotlight on Market's Individual Success
The high volume of sold units across Europe can also be seen in the success of individual markets. Most notably, the Italian market saw a rise of 24.8 per cent in sales compared to the same period in 2022. Hyundai in UK and France grew by 13.3 and 4.9 per cent. Also in Germany Hyundai saw a significant growth of 4.2 per cent compared to the same period in 2022.
The Power of Electrification
Best seller in Europe stays the Hyundai Tucson with a modern powertrain mix ranging from mild hybrid up to the plug-in-hybrid version. It is closely followed by the successful Kona which – although facing a model change to the all-new Kona – was Hyundai's second-best selling model in Europe.
The growing interest in Hyundai's EV line-up continues to be reflected in recent sales. The company remains focused on its vision of 'Progress for Humanity' with its promise to only sell BEVs within Europe by 2035.
Of the total units sold in the first half of this year, around 15 per cent were sold as a zero-tailpipe-emission version.
Soon, Hyundai will add two more BEVs to its electric line-up. The next generation of Kona, an upscaled multiplayer in the B-SUV segment, will be led by an already popular choice in Europe: Kona Electric. Additionally, IONIQ 5 N, Hyundai's first high-performance mass-production model, just premiered at Goodwood Festival of Speed in England and will be available to the public in 2024.
European-Born, Designed for Europe's Needs
In Europe, Hyundai focuses on customer-centric development and production when developing cars for their European customers. Of all the company's vehicles produced for the European market, 70 per cent are manufactured at Hyundai's HMMC and HAOS production plants in the Czech Republic and Turkey, respectively.
Disclaimer: CO2 and emissions data
Electricity consumption combined for the Hyundai IONIQ 6 53 kWh with 2WD in kWh/100 km: 13.9; CO2 emissions combined in g/km: 0 (WLTP)
Electricity consumption combined for the Hyundai IONIQ 6 77.4 kWh (18" alloy rims) with 2WD in kWh/100 km: 14.3; CO2 emissions combined in g/km: 0 (WLTP)
Electricity consumption combined for the Hyundai IONIQ 6 77.4 kWh (20" alloy rims) with 2WD in kWh/100 km: 16.0; CO2 emissions combined in g/km: 0 (WLTP)
Electricity consumption combined for the Hyundai IONIQ 6 77.4 kWh (18" alloy rims) with 4WD in kWh/100 km: 15.1; CO2 emissions combined in g/km: 0 (WLTP)
Electricity consumption combined for the Hyundai IONIQ 6 77.4 kWh (20" alloy rims) with 4WD in kWh/100 km: 16.9; CO2 emissions combined in g/km: 0 (WLTP)
Electricity consumption combined for the Hyundai IONIQ 5 58 kWh with 2WD in kWh/100 km: 16.7; CO2 emissions combined in g/km: 0 (WLTP)
Electricity consumption combined for the Hyundai IONIQ 5 58 kWh with 4WD in kWh/100 km: 18.1; CO2 emissions combined in g/km: 0 (WLTP)
Electricity consumption combined for the Hyundai IONIQ 5 77.4 kWh (19" alloy rims) with 2WD in kWh/100 km: 17.0; CO2 emissions combined in g/km: 0 (WLTP)
Electricity consumption combined for the Hyundai IONIQ 5 77.4 kWh (20" alloy rims) with 2WD in kWh/100 km: 18.0; CO2 emissions combined in g/km: 0 (WLTP)
Electricity consumption combined for the Hyundai IONIQ 5 77.4 kWh (19" alloy rims) with 4WD in kWh/100 km: 17.9; CO2 emissions combined in g/km: 0 (WLTP)
Electricity consumption combined for the Hyundai IONIQ 5 77.4 kWh (20" alloy rims) with 4WD in kWh/100 km: 19.1; CO2 emissions combined in g/km: 0 (WLTP)
The all-new Kona Electric is not currently available for sale. CO2 values for this model have not yet been determined
The all-new IONIQ 5 N is not currently available for sale. CO2 values for this model have not yet been determined