With a WLTP-rated range of 614 kilometres, Hyundai's IONIQ 6 Electrified Streamliner to be among the most energy-efficient mainstream EVs available today
Hyundai Motor Group's E-GMP architecture and IONIQ 6's ultra-low aerodynamic drag coefficient of 0.21 contribute to its outstanding range and performance
IONIQ 6 to go on sale in select markets in Europe later this year
Hyundai Motor Company has announced that its IONIQ 6 Electrified Streamliner will deliver 614 kilometres of all-electric range per charge, according to the Worldwide Harmonised Light Vehicle Test Procedure (WLTP).
IONIQ 6 customers will benefit from Hyundai Motor Group's commitment to developing advanced battery technology that enables stress-free driving performance and long range. With WLTP-rated energy consumption of 13.9 kWh/100 kilometres, IONIQ 6 will be one of the most energy-efficient electric vehicles (EV) on the market when it goes on sale later this year in select markets in Europe.
From the start of IONIQ 6's development, we set our sights on making it the leading all-electric range EV. To become the global leader in electric vehicles, we are committed to providing the best possible EV performance and ownership experience.
IONIQ 6's E-GMP architecture supports customers' diverse lifestyles
IONIQ 6's impressive all-electric range performance is made possible in large part by Hyundai Motor Group's dedicated architecture for EVs, Electric-Global Modular Platform (E-GMP), and the Electrified Streamliner's ultra-low wind resistance. E-GMP delivers optimal electric performance and provides 800V ultra-fast charging with up to 351 kilometres of range in just 15 minutes, or 10 to 80 % in about 18 minutes and supports 400V charging without the need for additional components or adapters.
The Electrified Streamliner takes advantage of E-GMP to provide a segment leading long, 2,950‑mm wheelbase to best meet passengers' needs. With E-GMP, IONIQ 6 can be a workstation or a portable power bank on wheels thanks to innovative Vehicle-to-Load (V2L) technology. This enables the model to charge electric devices, such as camping or outdoor projects, to create new usage scenarios that fit with customers' diverse, on-the-go lifestyles.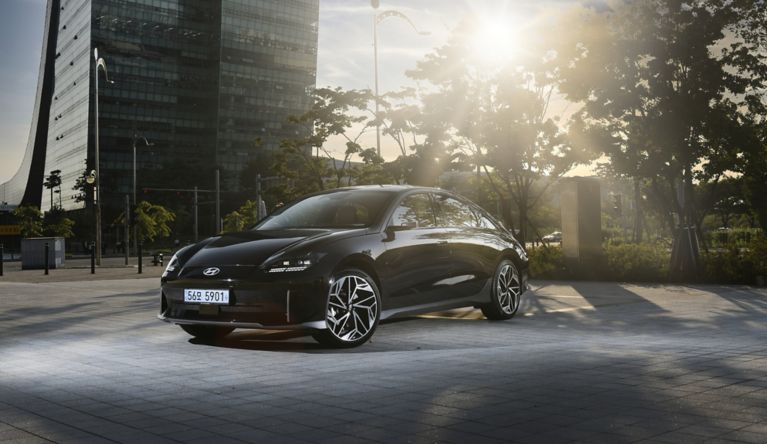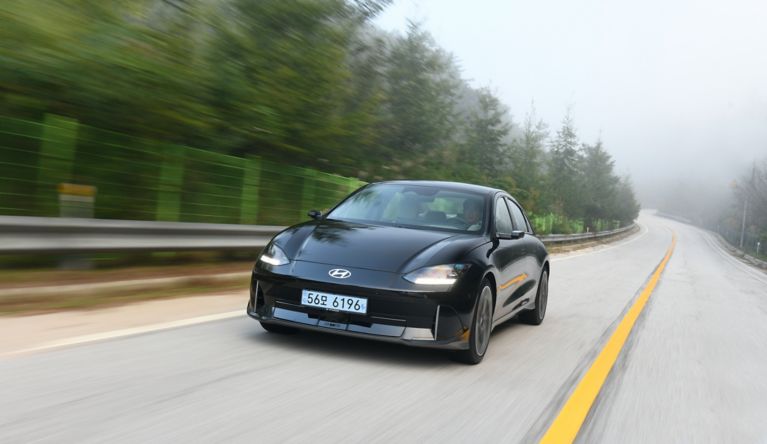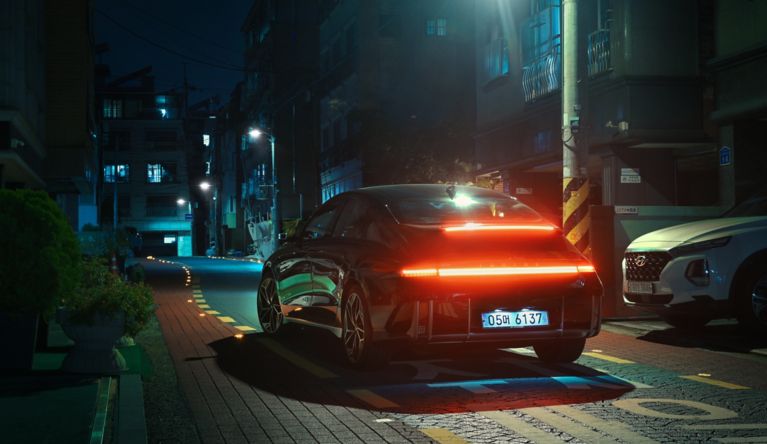 How IONIQ 6 achieved the lowest drag coefficient in Hyundai Motor's line-up
Hyundai Motor maximised IONIQ 6's all-electric driving range through extensive aerodynamic design and engineering work. The vehicle's drag coefficient of 0.21 is the lowest in the company's line-up and one of the lowest in the industry.
IONIQ 6's streamlined appearance and various design elements, such as an active air flap, wheel air curtains, integrated rear spoiler and wheel gap reducers, significantly enhanced the model's aerodynamics performance, placing it among the sleekest vehicles worldwide. In particular, wheel gap reducers minimise the empty space between the front bumper and tyres to improve aerodynamic performance around the wheel wells. Applied for the first time in a Hyundai model, this makes it possible for the company's Electrified Streamliner to enhance passengers' riding comfort while simultaneously overcoming the aerodynamics challenges caused by its short front overhang.
We put every effort into designing the most efficient car in the EV segment. Our focus on improving aerodynamics helped to achieve one of the longest all-electric range vehicles available, which will reduce customers' EV range anxiety and help grow the segment.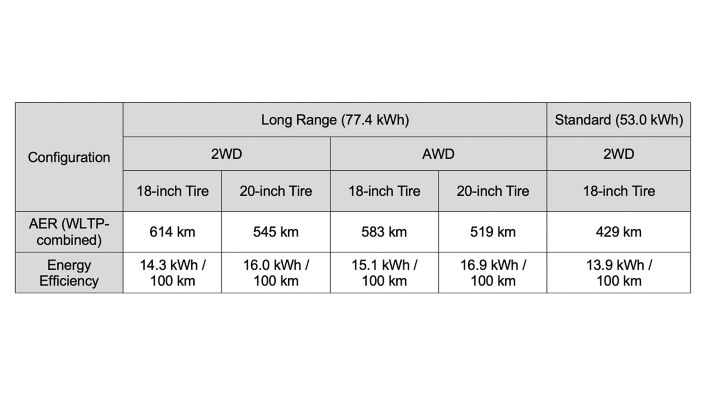 Disclaimer: electricity consumption and emissions data
Electricity consumption combined for the Hyundai IONIQ 6 53 kWh with 2WD in kWh/100 km: 13.9; CO2 emissions combined in g/km: 0 (WLTP)
Electricity consumption combined for the Hyundai IONIQ 6 77.4 kWh (18" alloy rims) with 2WD in kWh/100 km: 14.3; CO2 emissions combined in g/km: 0 (WLTP)
Electricity consumption combined for the Hyundai IONIQ 6 77.4 kWh (20" alloy rims) with 2WD in kWh/100 km: 16.0; CO2 emissions combined in g/km: 0 (WLTP)
Electricity consumption combined for the Hyundai IONIQ 6 77.4 kWh (18" alloy rims) with 4WD in kWh/100 km: 15.1; CO2 emissions combined in g/km: 0 (WLTP)
Electricity consumption combined for the Hyundai IONIQ 6 77.4 kWh (20" alloy rims) with 4WD in kWh/100 km: 16.9; CO2 emissions combined in g/km: 0 (WLTP)