Growing EV sales in Europe increase the need for reliable and extensive public charging infrastructure
Hyundai supports the overall success of e-mobility by partnering with major players in Europe's EV charging network, including the Digital Charging Solutions network and IONITY
Today, the Charge myHyundai charging service offers more than 460,000 charge points in 30 European markets
With functions like ultra-fast charging and Plug & Charge in its models, Hyundai is making charging even more convenient for its customers
Going beyond operating as an automotive manufacturer, Hyundai Motor is taking its dedication to the future of mobility one step further by supporting the development of the charging infrastructure. The company has partnered with several entities to continue strengthening the European EV charging network, not only for its customers but for all drivers of EVs in Europe.
Through Hyundai's partnerships that build upon universal mobility, support an emission-free society, and shape a sustainable future, the company is delivering on its 'Progress for Humanity' brand vision. Currently, more than 80 per cent of Hyundai's European line-up offers an electrified powertrain. The company plans to electrify its entire line-up in Europe beyond 2025 and to sell only zero-emission vehicles in Europe by 2035.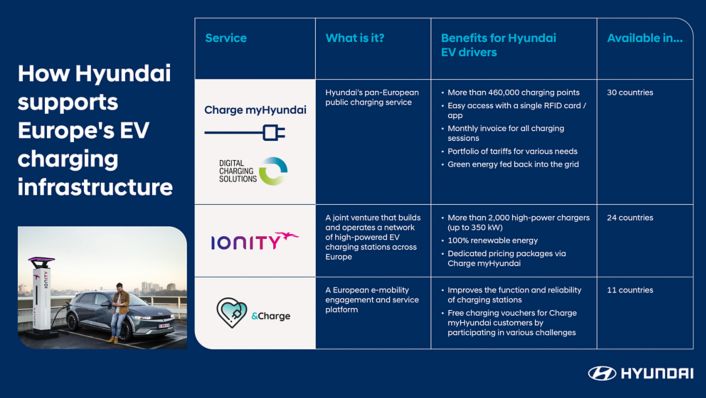 Rising EV sales across Europe
As the sales numbers for electric vehicles continue to increase across Europe, Hyundai is taking a proactive approach to ensure that future EV drivers will have a reliable charging network wherever they might want to go.
Due to a major paradigm shift in consumer habits when it comes to purchasing automobiles in Europe, Hyundai is certain that its share of zero-emission vehicle (ZEV) sales will continue to grow in the years ahead. In 2022, 16 per cent of total sales were zero-emission vehicles.
As mobility in Europe is transitioning to be electrified, we want to make sure that the roads stretching across this continent are well-equipped for the number of EVs that will soon be on the streets. To transform infrastructure and the future of mobility, we need the engagement and commitment of all relevant stakeholders. Therefore, Hyundai has entered into joint ventures and started partnerships with key players in Europe's EV charging network to ensure that the transition to electrified mobility unfolds efficiently. That is the sustainable future we wish to foster.
Flexibility as a driver
Convenience is a major customer benefit that drives more EV sales. In addition to being better for the planet, EVs provide owners with more flexibility than ICEs. For example, EV owners can charge overnight at home or at a charging point in their neighbourhood. However, Europe's EV charging infrastructure must be expanded along motorways. This applies to EV owners who are driving on longer journeys or who do not have the option to conveniently charge at home.
EV charging technology continues to advance to provide owners with more convenience. That is why older EV charging stations need to enable high-power charging. For example, Ioniq 5 and Ioniq 6 both offer ultra-fast charging capabilities. Because both models can charge from ten to 80 per cent in 18 minutes, owners spend less time charging and more time on the road. Additionally, EV owners do not have to attend to their cars while charging. Because of this, they can spend this time the way they wish, whether that is stretching their legs, getting something to eat, or taking a nap.
This year, Hyundai plans to make EV charging even more convenient and secure by making Plug & Charge available in Ioniq 6. Plug & Charge is a third-party service that can only be used at charging points that are 'Plug & Charge ready', e.g., IONITY. With no smartphone application or charging card required, EV owners only need to plug in their vehicle to charge. The authentication to initiate a charging session takes place directly between the vehicle and the public charging point, so EV owners save time and hassle.
Providing a user-friendly charging experience with Charge myHyundai
Charge myHyundai offers a customer-centric experience that streamlines the entire charging experience. The seamless and convenient solution gives Hyundai's EV customers access to one of the most-expansive public charging networks in Europe with more than 460,000 public charging stations across 30 countries. Drivers of Hyundai EVs also benefit from different tariffs for various driving needs, straightforward access with a single RFID card or the app, as well as one monthly invoice for all charging sessions.
In its 2022 Charging App Comparison Report, eMobility Excellence, a market comparison of various charging services available in Germany, ranked Charge myHyundai in second place. The report compared a total of six OEM smartphone applications that support customers during the charging process. The ranking was based on five categories: availability of station information, preselecting and filtering charging stations, range of app functions, displaying station availability, and ability for users to provide feedback.
Along with an easy search function for charging points, app users can benefit from a navigation function, apply filter options – such as plug type, charging speed, and access type – and profit from real-time updates on charging fees and availability.
With several services supporting the continued roll-out of a stable EV charging network in Europe, the continent's charging infrastructure will continue to improve. The ever-increasing number of charging points across the continent alleviates range anxiety while high-power chargers ensure short charging times. Additionally, access to completely renewable energy guarantees that driving an EV is fully sustainable. Never before has driving an EV been more convenient and viable.
Opening up green energy with Digital Charging Solutions
With the goal of shifting toward carbon neutrality through its products and operations in Europe by 2035, Hyundai also wants to provide its EV customers with cleaner energy. Thanks to the e-mobility service provider Digital Charging Solutions GmbH (DCS), Hyundai has integrated green energy into Charge myHyundai, making it one of the first OEMs to offer environmentally friendly public charging.
DCS ensures that, for every charge undertaken by its customers over its pan-European public charging service, the equivalent amount of energy is fed back into the electrical grid as green energy.
Expanding high-power charging with IONITY
In 2020, Hyundai Motor Group joined IONITY as a strategic partner and shareholder. By entering into this joint venture, the Group drives the expansion of the high-power charging network along Europe's motorways with currently more than 2,000 charging points. This way, EV customers have access to Europe's leading high-power charging network for emission-free and CO2-neutral travel.
EVs will only be a fully green option once the electricity that powers them is 100-per cent renewable. However, if they continue to run on primarily fossil fuel-generated power while their numbers continue to rise, then this may result in more greenhouse gas emissions or extend the life of fossil fuels. That is why IONITY only selects providers that generate electricity exclusively from wind, water, sun, and biomass.
Furthermore, customers can also enjoy dedicated IONITY pricing packages using the Charge myHyundai service with just one app and a single card, allowing them to charge at IONITY charge points at reduced charging fees.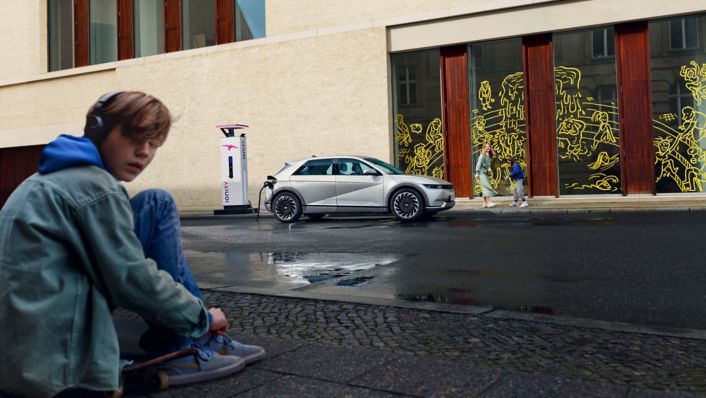 Improving EV charging stations with &Charge
The cooperation with European e-mobility engagement and service platform &Charge aims to ensure a well-functioning and reliable public charging infrastructure by improving the quality of charging stations in eleven European markets. With &Charge app users in Austria, Denmark, France, Germany, Italy, the Netherlands, Norway, Spain, Sweden, Switzerland, and the UK sharing real-time feedback on individual charging stations and their charging experience, the crowd-sourced data can help Charge Point Operators (CPOs) to detect any faults and improve the service at their own charging stations even more rapidly.
On top of that, the cooperation helps to even lower the total cost of ownership for Hyundai's EV customers: As an incentive, Hyundai customers and Charge myHyundai users who provide feedback can collect &Charge reward points that can be converted into vouchers to charge their Hyundai EVs for free.
About Digital Charging Solutions GmbH
Digital Charging Solutions develops charging solutions for automobile manufacturers and fleet operators, making it one of the world's most important drivers of the transition to electromobility. The full-service white-label solutions of DCS allow OEMs and fleet operators to realise their electromobility strategies since, with integrated digital solutions, the company makes charging at charging stations easy, safe, and comfortable. In the process, with more than 460,000 charging points in 31 markets worldwide, as well as transnational charging, Digital Charging Solutions GmbH boasts the fastest-growing charging network in Europe.
About IONITY
IONITY builds and operates a high-power charging network along Europe's highways, using state-of-the-art technology with a charging capacity of up to 350 kW. EV drivers benefit from maximum charging speeds and a reliable network in 24 countries. IONITY sources 100-per cent renewable energy for both emission-free and carbon-neutral driving.
About &Charge
&Charge is a leading platform that combines smart user engagement with value-added services related to electric vehicle charging. The technology company has created unique plug-and-play value-added services (software as a service) within the global e-mobility eco-system that target B2B customers and offers every EV driver an end-customer app that makes charging cheaper, more reliable, and more engaging.
&Charge attaches great importance to sustainability and has been a climate-neutral company since its foundation in 2019. The company avoids, reduces, and offsets the CO2 emissions produced not only by its own business activities but also by its users.
Disclaimer: CO2 and emissions data
Electricity consumption combined for the Hyundai Ioniq 5 58 kWh with 2WD in kWh/100 km: 16.7; CO2 emissions combined in g/km: 0 (WLTP)
Electricity consumption combined for the Hyundai Ioniq 5 58 kWh with 4WD in kWh/100 km: 18.1; CO2 emissions combined in g/km: 0 (WLTP)
Electricity consumption combined for the Hyundai Ioniq 5 77.4 kWh (19" alloy rims) with 2WD in kWh/100 km: 17.0; CO2 emissions combined in g/km: 0 (WLTP)
Electricity consumption combined for the Hyundai Ioniq 5 77.4 kWh (20" alloy rims) with 2WD in kWh/100 km: 18.0; CO2 emissions combined in g/km: 0 (WLTP)
Electricity consumption combined for the Hyundai Ioniq 5 77.4 kWh (19" alloy rims) with 4WD in kWh/100 km: 17.9; CO2 emissions combined in g/km: 0 (WLTP)
Electricity consumption combined for the Hyundai Ioniq 5 77.4 kWh (20" alloy rims) with 4WD in kWh/100 km: 19.1; CO2 emissions combined in g/km: 0 (WLTP)
Electricity consumption combined for the Hyundai Ioniq 6 53 kWh with 2WD in kWh/100 km: 13.9; CO2 emissions combined in g/km: 0 (WLTP)
Electricity consumption combined for the Hyundai Ioniq 6 77.4 kWh (18" alloy rims) with 2WD in kWh/100 km: 14.3; CO2 emissions combined in g/km: 0 (WLTP)
Electricity consumption combined for the Hyundai Ioniq 6 77.4 kWh (20" alloy rims) with 2WD in kWh/100 km: 16.0; CO2 emissions combined in g/km: 0 (WLTP)
Electricity consumption combined for the Hyundai Ioniq 6 77.4 kWh (18" alloy rims) with 4WD in kWh/100 km: 15.1; CO2 emissions combined in g/km: 0 (WLTP)
Electricity consumption combined for the Hyundai Ioniq 6 77.4 kWh (20" alloy rims) with 4WD in kWh/100 km: 16.9; CO2 emissions combined in g/km: 0 (WLTP)