The all-new midsize SUV's exterior and interior display a radical transformation made possible by a lifestyle-based design typology that maximizes rear cargo capacity
The new concept connects city and nature in a seamless way offering 'expansion of experiences' in the everyday life
Robust exterior design with fine details makes a powerful statement; H-lights harmonize Santa Fe's front and rear, creating a differentiated presence on the road
Large tailgate and spacious interior offer best-in-class terrace-like space that's great for urban life and even better for the outdoors
Interior and exterior feature unique H-shaped design cues and eco-friendly materials
All-new Santa Fe to make world premiere in August via Hyundai's YouTube channel
Hyundai Motor Company today revealed its radically transformed all-new Santa Fe. The fifth-generation midsize SUV carries forward its signature nature-meets-city appeal while implementing major updates shaped by big data around the latest outdoor lifestyle trends.
For Santa Fe's first full model change since 2018, Hyundai Motor took an unconventional approach with a lifestyle-based design typology to maximize rear cargo capacity and better accommodate outdoor and urban activities. As a result, the powerful new model boasts a robust yet delicately detailed exterior design and spacious, versatile interior that flows from the openness of its enlarged tailgate, providing users with a terrace-like space whenever and wherever they need it.
The all-new Santa Fe is an SUV that finds a perfect balance between city life and the great outdoors, handling everything from busy family itineraries to car camping adventures. With its longer wheelbase, roomy interior and terrace-like tailgate space, the new Santa Fe leans into its SUV strengths to offer more versatility than ever before as well as a premium customer experience.
Maximizing presence with a strong, unique exterior design
The all-new Santa Fe's boxy shape and distinctive silhouette are derived from its long wheelbase and wide tailgate area.
The front of the vehicle creates a sense of grandeur with its high hood, H-shaped headlamps and bold, sharp fenders. The H-shaped headlamps harmonize with the H-motif lower front design to enhance visual completeness. The H-shaped design elements reinterpret Hyundai's 'H' emblem.
The extended tailgate and accommodating cabin provide best-in-class space
With ample room for adventurers and their gear, the all-new Santa Fe's interior offers generous living space for an effortless outdoor lifestyle.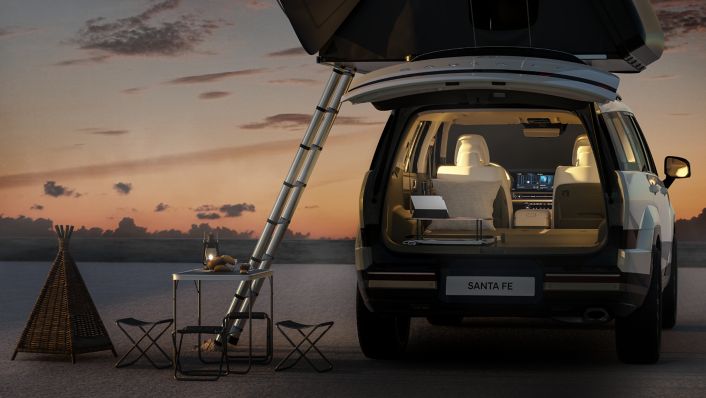 The more accommodating tailgate creates a spacious interior with a terrace-like feel at the rear when open. The fully foldable second- and third-row seats provide class-leading interior space. All of these attributes make it possible for users to enjoy the outdoors in the easiest way possible.
The all-new Santa Fe's interior refinement is exemplified by a variety of high-tech features, including a Panoramic Curved Display and dual wireless charging. The curved display connects the 12.3-inch digital cluster and infotainment system and enhances driver visibility while delivering a sense of luxury.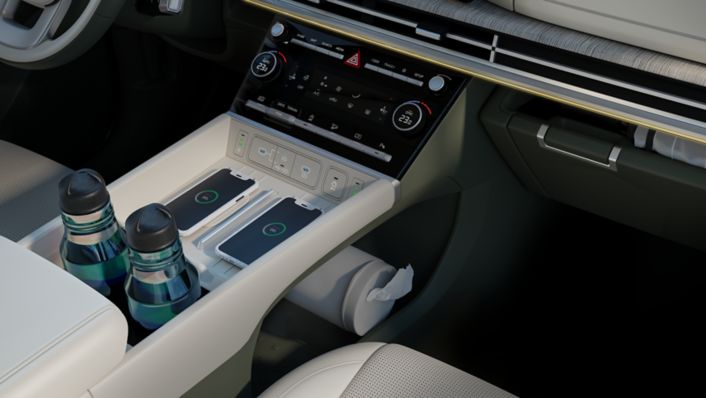 In addition, the brightly colored seats and headliner create a sense of spaciousness, while the soft-touch wood-patterned garnish and Nappa leather seats with delicate embroidery add sophisticated style.
The new SUV also incorporates a number of sustainable materials. The suede headliner, car mats, and second- and third-row seatbacks are made from recycled plastic, while the crash pad and door trim covers are made from eco-friendly leatherette. 
The interior and exterior colors, inspired by natural light, highlight the unique style of the all-new Santa Fe, bringing inspiration and vitality to everyday life and adventure in the city and great outdoors.
The all-new Santa Fe will make its world premiere in August on Hyundai's YouTube channel.
* Note: Availability of specifications described in the release and images may vary by trim, variant and market.