2023 May global sales totaled 349,194 units, up 7.8% Y/y 

Hyundai Motor sold 280,514 units outside of Korea, a 7.7% increase Y/y
Sales in Korea increased 8.4% Y/y to 68,680 units
The gradual recovery from the global parts shortage and newly launched models spurred the company's robust sales momentum
Hyundai Motor Company today announced its May 2023 global sales of 349,194 units, an 7.8 percent increase year-over-year. Despite the continuing uncertainties in the business environment, the company maintained its robust sales momentum this year, thanks to solid demand for Hyundai vehicles.
In May, sales outside Korea increased by 7.7 percent to 280,514 units. The gradual recovery from  the global parts shortage and production stabilization have helped the company secure solid performance in North America, Europe and India.
Sales in Korea were up 8.4 percent from a year earlier to 68,680 units with the introduction of new models, including the all-new Grandeur (badged as Azera outside of Korea), and strong demand for SUV models. In Korea, the Grandeur sold over 11,500 units and Hyundai's SUV models collectively sold more than 20,254 units.
Hyundai Motor maintained its electric vehicle (EV) sales momentum by selling around 23,000 units around the globe in May. Hyundai's dedicated battery electric IONIQ models, including IONIQ 5 and IONIQ 6, accounted for nearly 70 percent of its total EV sales.
To meet its customers' diverse needs, Hyundai Motor will continue implementing various measures to deliver class-leading products, including the all-new KONA SUV launched in March, Santa Fe SUV and IONIQ 5 N, to be launched later this year. More details about the new models will be shared in the near future.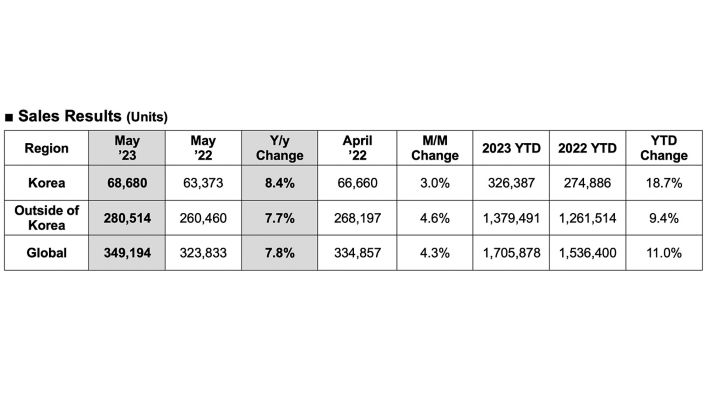 * Monthly sales figures provided in this press release are unaudited and on a preliminary basis.

Sales in Korea is based on retail sales while overseas sales (global sales excluding Korea) is based on wholesales.
Sales results include sedan, SUV and CV models produced by Hyundai Motor.
This press release contains forward-looking statements that are based on current expectations about possible future events. Our actual results may differ due to a variety of factors.