KONA Electric pursued by more than 110 corporate clients through five major leasing companies
Fully-electric subcompact SUV was named Best Zero Emission Car Under £40,000
Hyundai BEVs can be charged throughout Europe at thousands of charge points via the Charge myHyundai app
Hyundai Motor UK named Most Improved Fleet Manufacturer at Fleet News Awards 2022
The Hyundai KONA Electric is growing in popularity among the corporate fleets of companies across Europe. Between January and December 2021, over 15,000 units of the KONA Electric have been delivered within the True Fleets in Europe. In fact, the fully-electric subcompact SUV was named Best Zero Emission Car Under £40,000 at the UK Fleet News Awards 2022. The Hyundai TUCSON, meanwhile, earned the title Highly Commended in the same awards ceremony.
In the G5 countries Germany, UK, France, Italy and Spain the more than 11,000 units represent 4.2 per cent of the entire 'battery electric vehicle (BEV)' category of the True Fleet segment. When comparing the sales channels, KONA Electric is even more successful proportionally on the Fleet channel than the Private channel (3.5 per cent of BEV). Since its launch, the KONA Electric reached the benchmark of 100,000 units sold in Europe last September.
Satisfied fleet customers across Europe
Integrating more units of the KONA Electric into corporate fleets, Hyundai has closed five major contracts with the biggest corporate leasing partners. Through these leasing companies, Hyundai has relationships with more than 116 active customers, at least, at a European level; most customers have signed an international agreement. Among companies that have already included the KONA Electric in their corporate fleet are Coca-Cola, and Uber.
KONA Electric delivers corporate benefits
Through Hyundai's fleet partnerships, 15,000 units of KONA Electric were leased in 2021 across Europe. One of the major reasons why the KONA Electric is so popular with fleet customers is its fully electric powertrain options with zero local emissions. KONA Electric comes in two battery-electric powertrains – a 64 kWh or 39.2 kWh battery option – that meet customer requirements, whether that is lower carbon emissions to meet new corporate sustainability targets or a driving range for long commutes. According to WLTP, the 64 kWh battery delivers an impressive driving range of 484 kilometres on a single charge. However, the actual driving range may vary; the BEV has been reported to have travelled up to 1,026 kilometres on a single charge.
With the KONA Electric, Hyundai also offers European companies a comfortable and convenient fleet car. The subcompact SUV is small enough to travel without problems on narrow European roads but still roomy enough to let occupants travel in comfort. The car also offers power front seats, heated second-row seats, and three-step ventilation. With the seats up, passengers can also take advantage of 332 litres of cargo space – 1,114 litres with the seats folded.
KONA Electric customers can also be assured when it comes to safety. Hyundai's Smart Sense technology includes features like Rear Cross-Traffic Collision-Avoidance Assist (RCCA), Blind-Spot Collision-Avoidance Assist (BCA), Safe Exit Warning (SEW), Rear Occupant Alert (ROA), and Leading Vehicle Departure Alert (LVDA). These features, among others, keep passengers safer and enable more attentive driving for peace of mind.
KONA Electric was first launched in 2018, and in 2020 it underwent a comprehensive product enhancement, bringing more style, connectivity, and technology to the model than ever before. Today, it remains one of the most compelling vehicles in the commercial fleet market.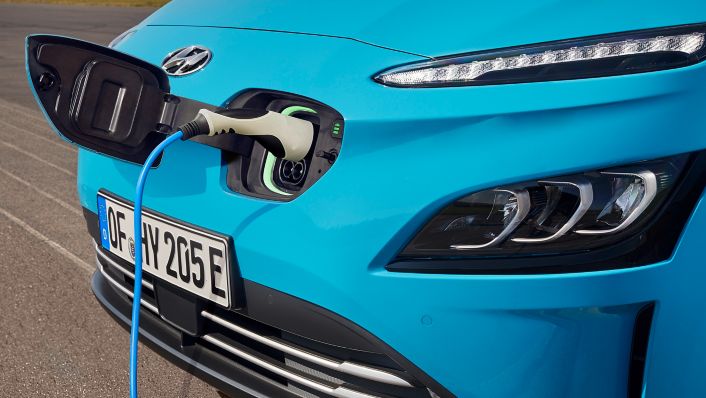 Advantages of BEVs
Corporate clients can benefit greatly from having a fully-electrified fleet. The most apparent benefit is that BEVs are a more sustainable mode of transportation. These green vehicles produce less noise and fewer local emissions, reducing inner-city air pollution.
Companies can enjoy fiscal incentives through electrified fleets as well. Many European countries offer incentives to owners of green vehicles in the form of lower road taxes, higher fiscal deductibility, and purchase subventions. These benefits help offset the cost of investing in BEVs themselves.
BEVs are also practical. As technology advances, fully-electric cars will feature even longer driving ranges and even faster charging times. An already expansive charging infrastructure in Europe, coupled with an increasing number of charge points, makes eco-friendly cars viable for business fleets.
Hyundai as a fleet expert
Even after closing a fleet-related deal, Hyundai continues to accompany its fleet partners as a 360-degree mobility solutions provider. In fact, Hyundai Motor UK was named Most Improved Fleet Manufacturer at the Fleet News Awards 2022: in 2021, the company experienced the largest year-on-year True Fleet growth of any manufacturer in the UK, achieving a total of 104 per cent growth.
On top of helping corporate clients to comply with CO2 regulations and meet their internal sustainability targets, Hyundai offers technical innovations that make fleet experiences easier, such as short charging times.
Private customers as well as corporate partners with Hyundai models in their fleet can take advantage of Charge myHyundai, a pan-European integrated public charging service. As a shareholder of IONITY, Europe's leading high-power charging network, Charge myHyundai connects fleet customers with more than 400 high-power charging stations across 24 European countries. Thanks to a partnership with Digital Charging Solutions (DCS), Charge myHyundai also has access to more than 300,000 charge points in 29 European countries, which include both AC and DC connectors. The charging network can be accessed one of two ways: via a single radio-frequency identification RFID card, which uses electromagnetic fields to automatically identify and track tags attached to objects, or the app with just one set price for each country.
Hyundai has established itself as a Smart Mobility Solutions Provider. The company offers eco-friendly solutions for every type of commute, whether urban drivers or long-distance commuters. Unlike other fleet vehicle providers, Hyundai offers a range of electrified options – including, not only BEVs like the KONA Electric, but also 48V mild hybrids, HEVs, and PHEVs – across most models.
By offering solutions – and not just cars, Hyundai improves the total cost of ownership (TCO) for its fleet partners. The company does this by remaining in close collaboration with leasing companies and offering warranties. All Hyundai customers are covered under Hyundai Motor's five-year unlimited mileage warranty. Hyundai's high-voltage BEV batteries are ensured under an eight-year or 160,000-kilometre warranty.
The KONA Electric is not Hyundai's sole option with zero local emissions for fleet customers. Companies also have the option to add Hyundai IONIQ or the fully-electric Hyundai IONIQ 5 to their corporate fleets. IONIQ 5 has won a host of company car awards, including Carbuyer Best Company Car 2022, Company Car and Van Car of the Year, and overall winner in the 2022 Company Car Today CCT 100 Awards. In addition, the model was named overall Car of the Year in five European countries in 2021, and was a finalist in the European Car of the Year award.
Hyundai aims to add more ZEVs to its fleet portfolio in the future.
About Fleet News Awards
The Fleet News Awards is an annual celebration of the best in the automotive business-to-business industry, judged by a jury of fleet and automotive experts in the UK.
Disclaimer: CO2 and emissions data
Electricity consumption combined for the Hyundai KONA Electric 39.2 kWh in kWh/100 km: 14.3; CO2 emissions combined in g/km: 0 (WLTP)
Electricity consumption combined for the Hyundai KONA Electric 64 kWh in kWh/100 km: 14.7; CO2 emissions combined in g/km: 0 (WLTP)
Electricity consumption combined for the Hyundai IONIQ Electric in kWh/100 km: 13.8; CO2 emissions combined in g/km: 0 (WLTP)
Fuel consumption combined for the Hyundai IONIQ Hybrid in l/100 km: 5.2 - 4.4; CO2 emissions combined in g/km: 119 - 100 (WLTP)
Fuel consumption combined for the Hyundai IONIQ Plug-in in l/100 km: 1.1; electricity consumption combined in kWh/100 km: 11.7; CO2 emissions combined in g/km: 26 (WLTP)
Electricity consumption combined for the Hyundai IONIQ 5 58 kWh with 2WD in kWh/100 km: 16.7; CO2 emissions combined in g/km: 0 (WLTP)
Electricity consumption combined for the Hyundai IONIQ 5 58 kWh with 4WD in kWh/100 km: 18.1; CO2 emissions combined in g/km: 0 (WLTP)
Electricity consumption combined for the Hyundai IONIQ 5 72.6 kWh (19" alloy rims) with 2WD in kWh/100 km: 16.8; CO2 emissions combined in g/km: 0 (WLTP)
Electricity consumption combined for the Hyundai IONIQ 5 72.6 kWh (20" alloy rims) with 2WD in kWh/100 km: 17.9; CO2 emissions combined in g/km: 0 (WLTP)
Electricity consumption combined for the Hyundai IONIQ 5 72.6 kWh (19" alloy rims) with 4WD in kWh/100 km: 17.7; CO2 emissions combined in g/km: 0 (WLTP)
Electricity consumption combined for the Hyundai IONIQ 5 72.6 kWh (20" alloy rims) with 4WD in kWh/100 km: 19.0; CO2 emissions combined in g/km: 0 (WLTP)
Fuel consumption combined for the Hyundai TUCSON 1.6 T-GDI 48V (150 PS) with 6iMT 2WD in l/100 km: 6.8 - 6.5; CO2 emissions combined in g/km: 154 - 147 (WLTP)
Fuel consumption combined for the Hyundai TUCSON 1.6 T-GDI 48V (150 PS) with 7DCT 2WD in l/100 km: 6.6 - 6.3; CO2 emissions combined in g/km: 150 - 143 (WLTP)
Fuel consumption combined for the Hyundai TUCSON 1.6 T-GDI 48V (180 PS) with 6iMT 2WD in l/100 km: 6.7 - 6.4; CO2 emissions combined in g/km: 152 - 145 (WLTP)
Fuel consumption combined for the Hyundai TUCSON 1.6 T-GDI 48V (180 PS) with 7DCT 4WD in l/100 km: 7.1 - 6.9; CO2 emissions combined in g/km: 162 - 156 (WLTP)
Fuel consumption combined for the Hyundai TUCSON 1.6 CRDi 48V (136 PS) with 6iMT 2WD in l/100 km: 5.3 – 4.9; CO2 emissions combined in g/km: 139 - 127 (WLTP)
Fuel consumption combined for the Hyundai TUCSON 1.6 CRDi 48V (136 PS) with 7DCT 2WD in l/100 km: 5.3 - 5.0; CO2 emissions combined in g/km: 139 - 130 (WLTP)
Fuel consumption combined for the Hyundai TUCSON 1.6 CRDi 48V (136 PS) with 7DCT 4WD in l/100 km: 5.9 - 5.5; CO2 emissions combined in g/km: 154 - 143 (WLTP)
Fuel consumption combined for the Hyundai TUCSON 1.6 T-GDI (150 PS) with 6MT 2WD in l/100 km: 7.0 - 6.6; CO2 emissions combined in g/km: 159 - 150 (WLTP)
Fuel consumption combined for the Hyundai TUCSON 1.6 T-GDI (150 PS) with 6MT 4WD in l/100 km: 7.8 - 7.3; CO2 emissions combined in g/km: 178 - 165 (WLTP)
Fuel consumption combined for the Hyundai TUCSON 1.6 CRDi (115 PS) with 6MT 2WD in l/100 km: 5.5 - 5.1; CO2 emissions combined in g/km: 144 - 135 (WLTP)
Fuel consumption combined for the Hyundai TUCSON 1.6 T-GDI Hybrid with 6AT 2WD in l/100 km: 5.9 - 5.5; CO2 emissions combined in g/km: 135 - 125 (WLTP)
Fuel consumption combined for the Hyundai TUCSON 1.6 T-GDI Hybrid with 6AT 4WD in l/100 km: 6.6 - 6.2; CO2 emissions combined in g/km: 149 - 140 (WLTP)
Fuel consumption combined for the Hyundai TUCSON 1.6 T-GDI Plug-in Hybrid with 6AT 4WD in l/100 km: 1.4; CO2 emissions combined in g/km: 31 (WLTP)