The dog-friendly Hyundai BAYON is equipped with a range of features to support four-legged friends
Pets can make most of BAYON's comfortable and roomy interior 
Adventures with animal companions are assured thanks to best-in-class advanced safety features
Playing fetch, going for a hike, or staying close to home – quality time spent with a dog can happen anywhere. Whether a four-legged friend prefers long treks through the forest, or just enjoys a quick jaunt through the city park, the Hyundai BAYON is the perfect companion for humans or pets alike.
Designed to maximise interior space in a compact and agile SUV exterior, BAYON meets the needs of the most insatiable of pups. From advanced safety technologies to comfort-oriented features, Hyundai's stylish and sleek crossover SUV is the perfect companion for dog owners in and out of the city.
An agile yet robust design
From the tiniest Chihuahua to the tallest Alaskan Malamute, dogs come in all shapes and sizes. No matter how big or small the dog, when taking them out in the car for a road trip, it is imperative they have enough room to relax.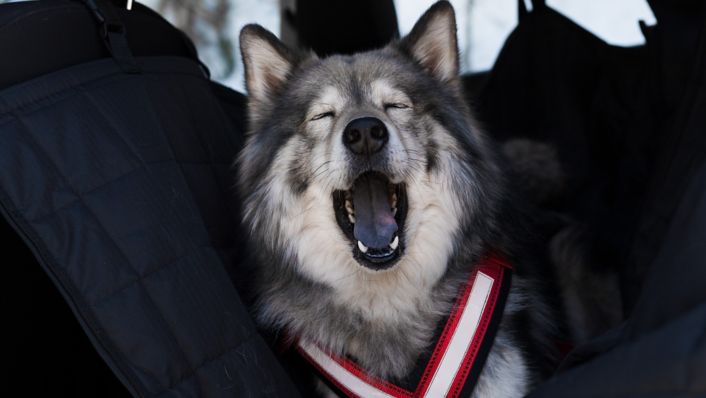 By combining the agility of a B-segment vehicle with a 411 litres of cargo volume, BAYON offers everything drivers need to make their dogs feel comfortable. This standout roominess and usability provides ample space for pets as well as any toys they might need for the ride. To curtail the most curious of furry passengers, BAYON's high centre console also helps prevent climbing and access to the front seats, providing even more assurance for customers while out on the road.
As well as pets, BAYON's SUV design also supports human occupants. A high seating position provides excellent visibility for drivers, while its compact size improves everyday handling and agility in the city. For drivers that prefer to get out of town with their pets, BAYON's high ground clearance and robust SUV DNA make it an optimum choice of vehicle to take a dog to trails.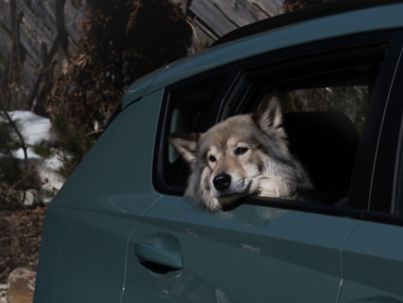 Advanced safety features for all occupants
Before embarking on any journey for a significant amount of time, drivers want to feel assured that they will be protected in the strongest possible way, and know that they will be able to enjoy stress-free driving. Thanks to its best-in-class safety package, BAYON keeps all passengers safe – whether they have two legs or four.
A range of advanced safety features are designed to reassure BAYON owners and ensure they remain focused on driving. One example is Driver Attention Warning (DAW), which analyses driving patterns to identify if the driver is feeling drowsy, and when this is the case it recommends they take a break in order to stay alert on the road – some downtime outside of the vehicle will also be appreciated by their four-legged companions. Another, Forward Collision-Avoidance Assist (FCA), brakes to prevent forward collisions to provide occupants with significant levels of protection. Meanwhile, Rear Occupant Alert (ROA) will send a warning if it detects that the rear doors have been opened before driving off.
An assortment of accessories for furry friends*
As well as arriving in a variety of sizes, factors such as age and medical conditions mean dogs also vary significantly in terms of their own personal mobility. With this in mind, Hyundai developed a range of pet-friendly accessories exclusively for BAYON, to improve convenience and safety for every escapade with an adventurous hound.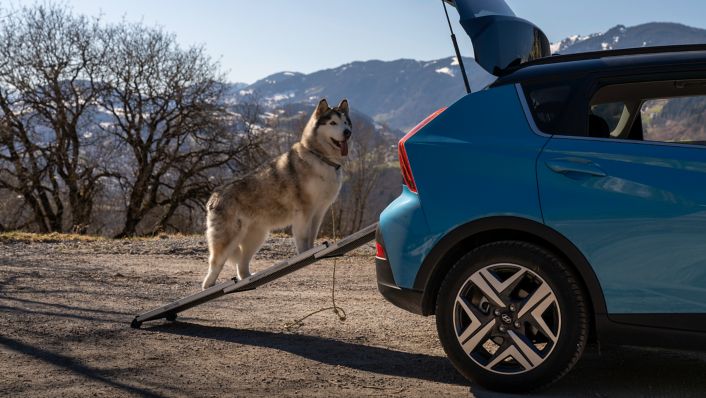 A collapsible pet ramp ensures easy access to BAYON's boot, while also relieving pets from having to jump or be lifted. Accessories like pet seatbelts and rear compartment gates allow drivers focus on the road without worrying that their dog might roam freely in the back of the car. Meanwhile, pet-friendly blankets and floor mats deliver even more comfort for four-legged friends on longer journeys.
Advanced features that cater for the needs of pet owners, too
With advanced connectivity, efficiency and comfort, BAYON also has a lot to offer pets' human companions.
A 10.25-inch digital cluster combined with an equally sized infotainment system seamlessly integrates Apple CarPlay and Android Audio into the driving experience. The infotainment system is further enhanced by a high-quality eight-speaker Bose Premium Sound System and configurable sound atmosphere, so that occupants can enjoy their favourite playlists and podcasts.
Meanwhile, Hyundai's Bluelink Connected Car software provides information to customers' fingertips with live updates and precise navigation to destinations such as the nearest parks. For even more convenience, customers can locate, lock, and unlock their car remotely using the Bluelink app, or check vehicle information such as maintenance required or fuel levels.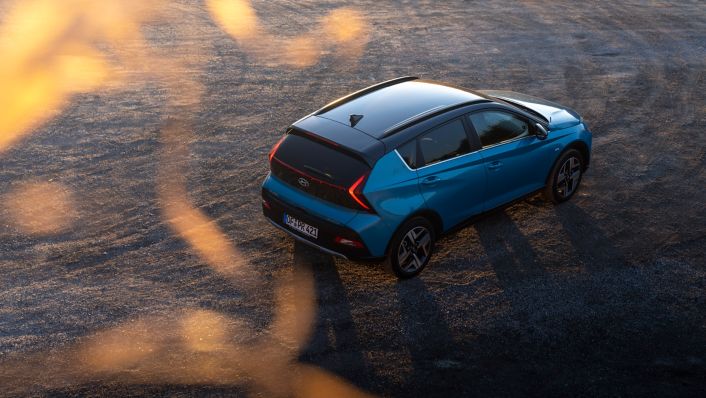 * Please check availability in your local market.
Disclaimer: CO2 and emissions data
Fuel consumption combined for the Hyundai BAYON 1.0 T-GDI (100 PS) with 6MT in l/100 km: 5.6 - 5.3; CO2 emissions combined in g/km: 129 - 122 (WLTP)
Fuel consumption combined for the Hyundai BAYON 1.0 T-GDI (100 PS) with 7DCT in l/100 km: 5.6 - 5.3; CO2 emissions combined in g/km: 128 - 122 (WLTP)
Fuel consumption combined for the Hyundai BAYON 1.0 T-GDI 48V (100 PS) with 6iMT in l/100 km: 5.5 - 5.2; CO2 emissions combined in g/km: 125 - 118 (WLTP)
Fuel consumption combined for the Hyundai BAYON 1.0 T-GDI 48V (100 PS) with 7DCT in l/100 km: 5.4 - 5.2; CO2 emissions combined in g/km: 124 - 118 (WLTP)
Fuel consumption combined for the Hyundai BAYON 1.0 T-GDI 48V (120 PS) with 6iMT in l/100 km: 5.5 - 5.2; CO2 emissions combined in g/km: 125 - 118 (WLTP)
Fuel consumption combined for the Hyundai BAYON 1.0 T-GDI 48V (120 PS) with 7DCT in l/100 km: 5.4 - 5.2; CO2 emissions combined in g/km: 124 - 118 (WLTP)
Fuel consumption combined for the Hyundai BAYON Kappa 1.4 with 6MT in l/100 km: 6.2; CO2 emissions combined in g/km: 142 (WLTP)
Fuel consumption combined for the Hyundai BAYON Kappa 1.4 with 6AT in l/100 km: 6.4; CO2 emissions combined in g/km: 147 (WLTP)