New campaign video shows how Hyundai Motor and Motional are preparing the roll-out of the driverless IONIQ 5-based robotaxi in Las Vegas in late 2023
The video shows the autonomous robotaxi safely navigating the streets of Las Vegas, responding to all types of unusual 'edge case' scenarios
Following the driverless roll-out in Las Vegas, the two companies plan to bring the autonomous robotaxi to Los Angeles and other major cities around the world
Hyundai Motor Company recently released a new campaign video for the upcoming launch of its all-electric IONIQ 5-based robotaxi (hereafter 'IONIQ 5 robotaxi') in partnership with Motional, a leading autonomous driving joint venture between Hyundai Motor Group and Aptiv.
The campaign video highlights the Level 4 autonomous driving technology and safety features of IONIQ 5 robotaxi, scheduled to be launched in late 2023 in Las Vegas, home of the most influential tech event in the world, CES.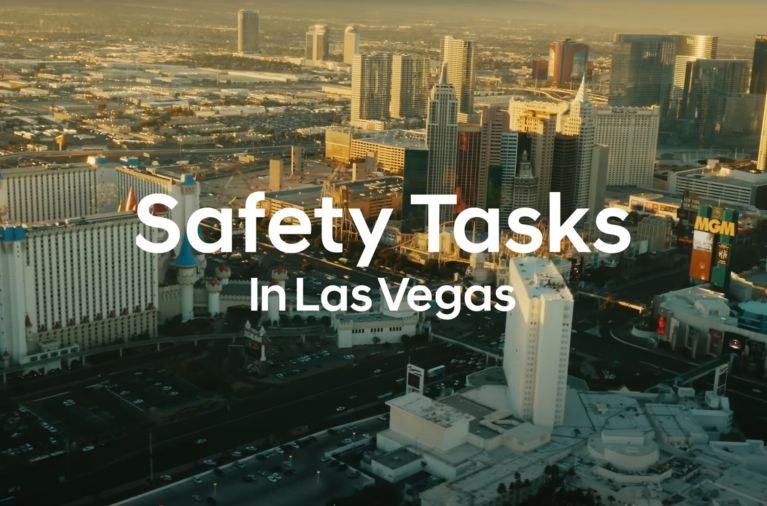 Considered 'the Entertainment Capital of the World,' Las Vegas is a constant hot spot for transient transportation, attracting up to 42.5 million visitors annually (its 2019 pre-pandemic high). As many visitors rely on taxis and ride-hailing services during their stay, the fully autonomous IONIQ 5 robotaxi will be the perfect way for many of them to get around safely and securely.
The campaign video portrays how this renowned tourist destination offers all sorts of unique 'edge case' scenarios for the robotaxi's testing and data collection.
The IONIQ 5 robotaxi is seen using its more than 30 advanced sensors — a combination of cameras, radars and lidar — and onboard computing system to navigate safely and confidently in an unusual environment populated by oddly-shaped vehicles, such as stretch limousines and billboard trucks, and pedestrians in unusual costumes, acting unpredictably. It is also seen demonstrating an attentive and safe passenger pick up in a crowded hotel driveway like an experienced chauffeur.
Following the roll-out in Vegas, IONIQ 5 robotaxi will also be available in Los Angeles, and eventually in other major cities both in the U.S. and globally. As part of its ongoing training regiment, the robotaxi is already learning how to master the narrow and curvy streets of Boston, navigate the street-level light rail service and protected bicycle lanes of San Diego and manage left-side traffic in Singapore.
In addition to an array of sensors and software to provide safe and secure driverless operation, autonomous EVs are also safer for the environment. The IONIQ 5 robotaxi supports sustainable mobility by emitting zero tailpipe emissions, providing an eco-friendly alternative to conventional vehicles.
Since Hyundai Motor launched its global manifesto campaign in May 2022, the company has provided the public with more opportunities to experience its robotaxi. Hyundai's vision of 'Progress for Humanity' reflects the assertion that the IONIQ 5 robotaxi is "a mobility solution with humanity inside – not just without a human driver."
Disclaimer: CO2 and emissions data
Electricity consumption combined for the Hyundai IONIQ 5 58 kWh with 2WD in kWh/100 km: 16.7; CO2 emissions combined in g/km: 0 (WLTP)
Electricity consumption combined for the Hyundai IONIQ 5 58 kWh with 4WD in kWh/100 km: 18.1; CO2 emissions combined in g/km: 0 (WLTP)
Electricity consumption combined for the Hyundai IONIQ 5 77.4 kWh (19" alloy rims) with 2WD in kWh/100 km: 17.0; CO2 emissions combined in g/km: 0 (WLTP)
Electricity consumption combined for the Hyundai IONIQ 5 77.4 kWh (20" alloy rims) with 2WD in kWh/100 km: 18.0; CO2 emissions combined in g/km: 0 (WLTP)
Electricity consumption combined for the Hyundai IONIQ 5 77.4 kWh (19" alloy rims) with 4WD in kWh/100 km: 17.9; CO2 emissions combined in g/km: 0 (WLTP)
Electricity consumption combined for the Hyundai IONIQ 5 77.4 kWh (20" alloy rims) with 4WD in kWh/100 km: 19.1; CO2 emissions combined in g/km: 0 (WLTP)