140 Combined MPGe* for the IONIQ 6 SE RWD Long Range 
Hyundai Confirms EPA-estimated Range for all 2023 IONIQ 6 Trim Levels
Single-Curved Aerodynamic Profile Creates Hyundai's Lowest Drag Coefficient
The new, all-electric 2023 Hyundai IONIQ 6 has completed final EPA testing with the IONIQ 6 SE Long Range RWD trim receiving an EPA-estimated range of 361 miles. The IONIQ 6 SE AWD achieved an EPA-estimated range of 316 miles1.
EPA testing also confirmed a 140 combined MPGe rating for the IONIQ 6 SE RWD Long Range. IONIQ 6's 140 combined MPGe rating matches the models that are at the top of Fueleconomy.gov's 2023 Top Ten Vehicles list.
Final EPA-estimated Range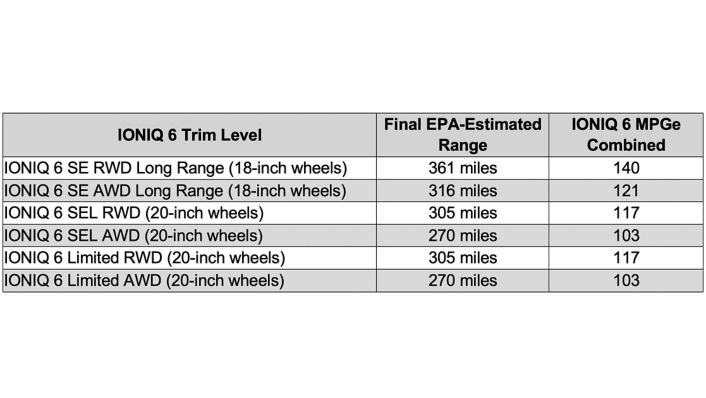 Continually improving the efficiency of our vehicles is always a top priority for our development teams. Instead of just adding a larger battery to increase the range, we chose to optimize IONIQ 6's aerodynamic performance and its Electric-Global Modular Platform for efficiency to produce these long driving ranges.
IONIQ 6's ultra-low drag coefficient of 0.212 is assisted by a low nose, active air flaps, wheel gap reducers, elliptical wing-inspired spoiler with winglet, slight boattail structure, separation traps on both sides of the rear bumper, full underbody cover, deflectors and reduced wheel-arch gaps.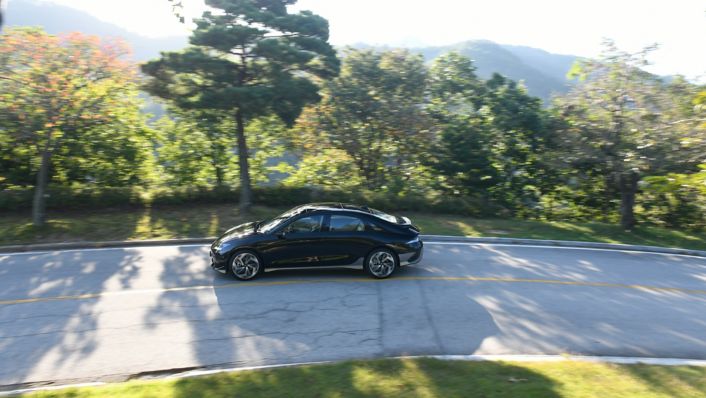 * MPGe stands for miles per gallon of gasoline-equivalent. Please see the fuel economy description on the EPA website for more details.
1 EPA-estimated 361 mile driving range for 2023 IONIQ 6 SE Long Range RWD; EPA-estimated 316 mile driving range for IONIQ 6 SE AWD. All figures are EPA estimates and based on a fully charged battery. For comparison purposes only. Battery capacity decreases with time and use. Actual range will vary based on a number of factors, including vehicle options, driving conditions and habits, vehicle and battery's condition, battery's temperature and outside temperature.
2 Without slim camera side mirrors, IONIQ 6's drag coefficient is 0.22. Camera side mirrors do not meet current NHTSA standards and are not available in the U.S.