IONIQ models incorporate sustainable materials to reduce carbon dioxide emissions and water consumption.
Hyundai partners with marine conservation organisation Healthy Seas to foster circular economy. 
Hyundai Motor Company has committed to becoming carbon neutral across global operations by 2045.
Under its vision of 'Progress for Humanity,' Hyundai Motor Company is committed to contributing to the sustainable future of society with the clear aim of becoming carbon neutral across its global operations by 2045. Hyundai is further accelerating its electrification efforts to provide cleaner mobility and a more sustainable future for all. With this ambitious goal in mind, the company has raised its annual sales target of battery electric vehicles (BEVs) to 2 million units by 2030. To that end, it plans to introduce more than 15 new BEV models by 2030 with 11 for the Hyundai brand and secure seven per cent of the global EV market share by 2030.
Generation IONIQ
Hyundai announced the launch of its new IONIQ dedicated BEV line-up brand in August 2020, opening a new chapter as a leader in the era of electrified mobility. The creation of IONIQ is the company's response to fast-growing market demand and accelerates its plan to lead the global EV market. It represents Hyundai's growing commitment to sustainability and innovation as well as reflects its ongoing transformation as a Smart Mobility Solutions Provider.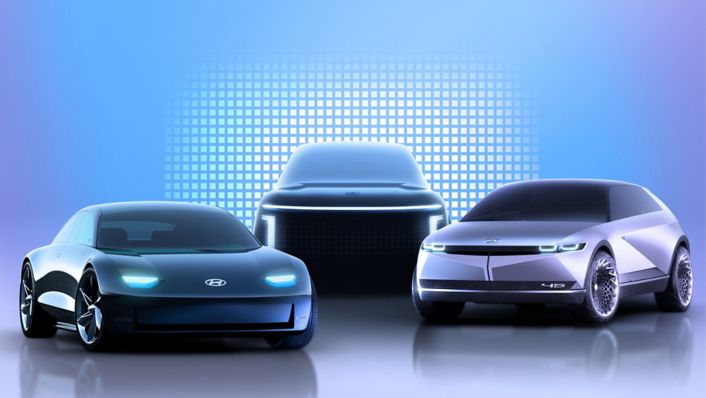 The IONIQ line-up brand was conceived to fuse life-changing mobility with environmental performance and has so far been a key factor in the company's mission to redefine the boundaries of electrified mobility. It is changing the paradigm of the EV customer experience, placing a new emphasis on connected living to offer electrified experiences that are integral to sustainable lifestyles.
IONIQ 5
Hyundai launched IONIQ 5, a fully electric midsize CUV and the first model based on the industry leading Electric Global Modular Platform (E-GMP), in 2021. With its progressive interior designed as a Smart Living Space, and innovative features, including ultra-fast 800-volt charging and Vehicle-to-Load functionality, it redefines the electric mobility lifestyle.
IONIQ 5's demonstration of environmental responsibility does not stop with electrification. The model offers a bridge to the future of electric mobility that is technologically advanced, eco-friendly, and plugged into today's customers' needs. Sustainability is at the centre of IONIQ's vision, which can be found throughout IONIQ 5 in eco-friendly materials and colours.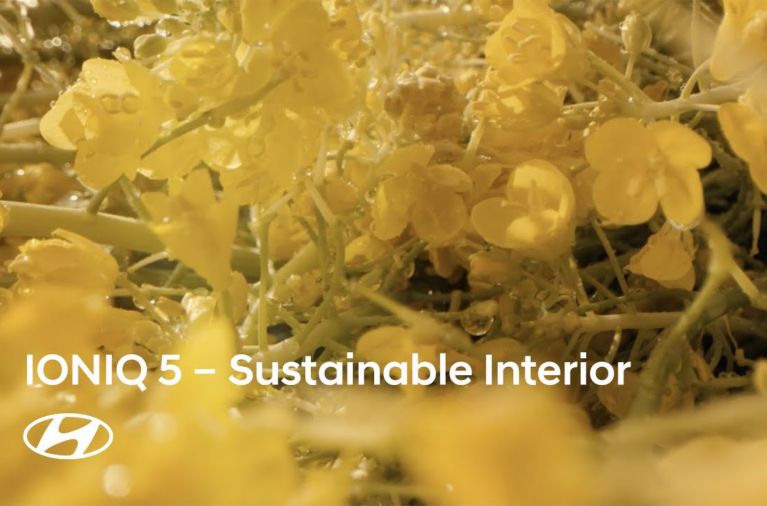 Many of IONIQ 5's interior touchpoints feature eco-friendly, sustainably sourced materials, such as the recycled plastic bottles used for the yarn found in its seat coverings and door armrests. Utilising yarn that comprises up to 39-per cent recycled material, every IONIQ 5 contains the equivalent of 32 recycled plastic bottles, helping to reduce the carbon dioxide emissions in the production of these parts by 70 per cent.
Bio PET fabric, another sustainable yarn, is used in the headliner, seat coverings, and floor of IONIQ 5.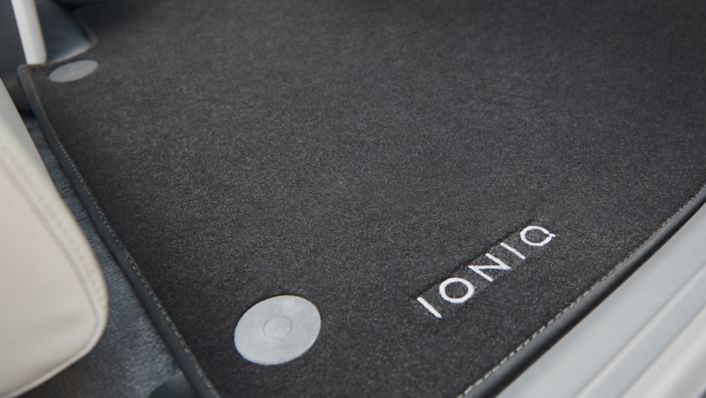 Containing organic ingredients, such as sugar cane and corn, its use allows Hyundai to replace a percentage of oil-based ingredients and reduce the production of these part's carbon dioxide emissions by 63 per cent. Other sustainable materials that illustrate Hyundai's commitment to sustainability when outfitting IONIQ 5's interior are Bio-TPO+ and PP yarn. Containing extracts from natural sugarcane, up to 22 per cent of these yarns are organic material.
On higher IONIQ 5 trim levels, Hyundai uses up to 30 per cent real wool in the seat coverings. Approximately 294 grammes of wool are used in this package, reducing carbon dioxide emissions by 80 per cent.
IONIQ 5's door trim, door switches and modular crash pads are painted with bio paints, containing up to 13 per cent bio polyol. The bio paints contain biomaterial from corn, palm, and bean oil as well as grape tannin extract. Also in the higher trim package, IONIQ 5's floor mats are fully made of ECONYL®, a regenerated nylon yarn made of nylon 6 waste, including the fishing nets recovered by Hyundai's partner, the marine conservation organisation Healthy Seas.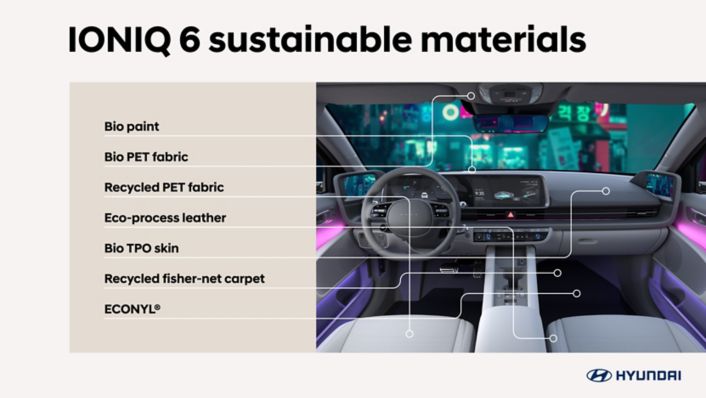 IONIQ 6
Launched in 2022, IONIQ 6 – the second model in Hyundai's IONIQ dedicated all-electric vehicle line-up brand – is aerodynamically sculpted and makes innovative use of sustainable materials to reflect the values of today's EV customers. The Electrified Streamliner incorporates an overall design theme of Ethical Uniqueness, which reflects Hyundai's customer-centric commitment to energy efficiency and environmental responsibility.
Inspired by Hyundai's Prophecy EV Concept, IONIQ 6 is characterised by clean, simple lines and a pure aerodynamic form that Hyundai designers describe as 'Emotional Efficiency'. Hyundai's designers extended the use of sustainable materials to the Electrified Streamliner's aerodynamically sculpted exterior.
For the body itself, the designers utilised bamboo charcoal pigment paint, a sustainable alternative to virgin petro-based pigment paint. Recycled pigment paint from end-of-life tyres is applied to the cladding of IONIQ 6 as well. The floor mats in all IONIQ 6 units sold in Europe are made with ECONYL®.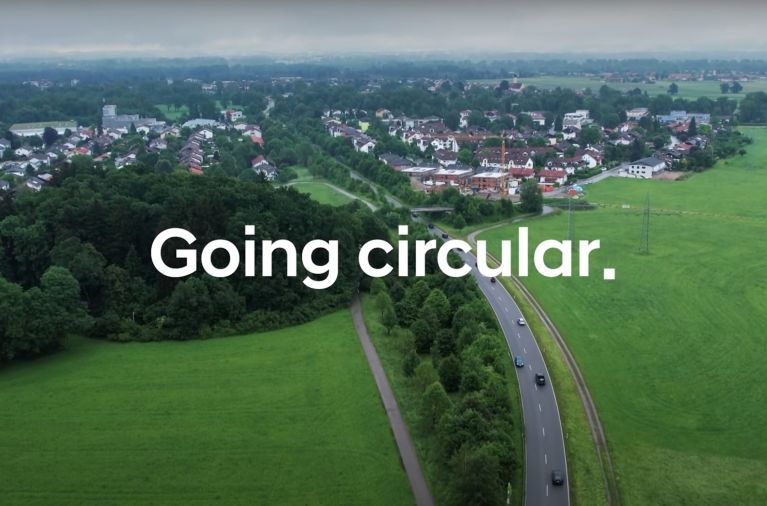 ECONYL: the circular economy in action
Since 2021, Hyundai has partnered with Healthy Seas to combat ocean pollution, nurture sustainable marine ecosystems, and support a circular economy. Through this cooperation, Hyundai shows its commitment to the circular economy by working with Healthy Seas' founding partner Aquafil, which transforms reclaimed fishing nets and other nylon waste into ECONYL® to make new sustainable products. Hyundai will continue to look for even more opportunities to integrate eco-friendly materials, including ECONYL®, into its models.
Through this collaboration with Healthy Seas, the company will support steps towards providing a cleaner environment for generations to come but will shape sustainable futures for the communities it works with. Working with a network of partners, Healthy Seas ensures the recovered waste is recycled into new materials in a circular economy.
As a company leading the way in clean and future mobility solutions, cleaning up and preventing marine pollution aligns with 'Hyundai Continue', a company initiative for a sustainable future through its three core areas: Continue Earth, Continue Mobility, and Continue Hope. Continue Earth represents HMC's desire to take care of the planet and combat climate change. The technology and advancements from Continue Mobility will democratise mobility and make it safer. Continue Hope aims to educate future generations and support the growth of talented young people.
Disclaimer: CO2 and emissions data
Electricity consumption combined for the Hyundai IONIQ 5 58 kWh with 2WD in kWh/100 km: 16.7; CO2 emissions combined in g/km: 0 (WLTP)
Electricity consumption combined for the Hyundai IONIQ 5 58 kWh with 4WD in kWh/100 km: 18.1; CO2 emissions combined in g/km: 0 (WLTP)
Electricity consumption combined for the Hyundai IONIQ 5 77.4 kWh (19" alloy rims) with 2WD in kWh/100 km: 17.0; CO2 emissions combined in g/km: 0 (WLTP)
Electricity consumption combined for the Hyundai IONIQ 5 77.4 kWh (20" alloy rims) with 2WD in kWh/100 km: 18.0; CO2 emissions combined in g/km: 0 (WLTP)
Electricity consumption combined for the Hyundai IONIQ 5 77.4 kWh (19" alloy rims) with 4WD in kWh/100 km: 17.9; CO2 emissions combined in g/km: 0 (WLTP)
Electricity consumption combined for the Hyundai IONIQ 5 77.4 kWh (20" alloy rims) with 4WD in kWh/100 km: 19.1; CO2 emissions combined in g/km: 0 (WLTP)
Electricity consumption combined for the Hyundai IONIQ 6 53 kWh with 2WD in kWh/100 km: 13.9; CO2 emissions combined in g/km: 0 (WLTP)
Electricity consumption combined for the Hyundai IONIQ 6 77.4 kWh (18" alloy rims) with 2WD in kWh/100 km: 14.3; CO2 emissions combined in g/km: 0 (WLTP)
Electricity consumption combined for the Hyundai IONIQ 6 77.4 kWh (20" alloy rims) with 2WD in kWh/100 km: 16.0; CO2 emissions combined in g/km: 0 (WLTP)
Electricity consumption combined for the Hyundai IONIQ 6 77.4 kWh (18" alloy rims) with 4WD in kWh/100 km: 15.1; CO2 emissions combined in g/km: 0 (WLTP)
Electricity consumption combined for the Hyundai IONIQ 6 77.4 kWh (20" alloy rims) with 4WD in kWh/100 km: 16.9; CO2 emissions combined in g/km: 0 (WLTP)