Hyundai America Technical Center, Inc. turned the TUCSON into the "Beast" for Sony Pictures' film Uncharted
Hyundai designers made TUCSON "Beast" ready for adventure with rugged features and utilitarian accessories
The popular SUV sold more than 137,000 units in Europe in 2021
Hyundai America Technical Center, Inc. (HATCI) gave the Hyundai TUCSON a makeover for its appearance as the TUCSON "Beast" concept prototype in Sony Pictures' film Uncharted. HATCI is the design, technology and engineering arm for all North American models of Hyundai Motor Group.
The TUCSON is packed with adventurous features, making it the perfect Hyundai candidate to be transformed into the "Beast". The TUCSON's size makes it agile and easy to manoeuvre on any adventure. As a true SUV it comes with 4x4 capabilities; Hyundai's signature HTRAC all-wheel-drive technology furthermore enables agile handling and better torque application, depending on wheel grip and vehicle speed. Based on personal preferences, drivers can select from various drive modes: Normal, Sport, and Eco. In addition to the drive modes, the Terrain Mode selector – Mud, Sand and Snow – optimises performance and HTRAC settings for an enhanced driving experience on a variety of terrain.
The adaptive driving technology of TUCSON's Electronic Controlled Suspension (ECS) offers drivers additional flexibility. ECS automatically and continuously controls the vehicle's suspension to maximise driving comfort and performance.
TUCSON continues to be a popular model, selling more than 137,000 units in Europe last year. Attributing to TUCSON's popularity is its design, powertrains, spaciousness, and comfort features. Thanks to the combination of the 1.6 Turbo engine and electric motor with a six-speed automatic transmission, the TUCSON Hybrid and the TUCSON Plug-in Hybrid are even more fun to drive.
Awakening the "Beast"
TUCSON "Beast", a customised concept prototype of the Hyundai TUCSON, boasts a futuristic, utilitarian design. Delivering an extraordinary driving experience and versatile capabilities, the "Beast" is ready for any adventure.
The HATCI designers' inspiration for the model's exterior in the movie derived from the famous Uncharted video games.
The designers only had roughly one to two weeks to complete the design process before commencing the creation of TUCSON "Beast". Despite these challenges, they were able to meet the ambitious deadline connected to the filming schedule.
Normally, our projects take two to three years to get a production vehicle on the road. See something come to fruition that fast, it's rewarding as a designer.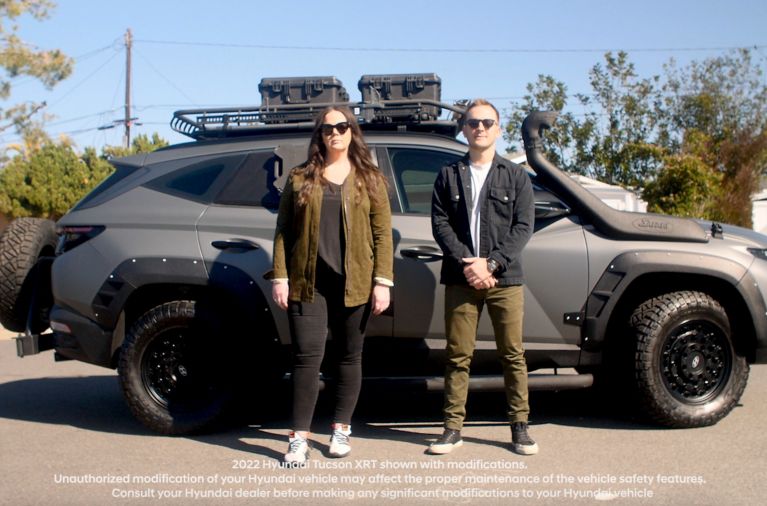 The exterior of TUCSON "Beast" was designed for adventure. To pull this off, the designers had to enhance the modified TUCSON's ruggedness and capabilities.
Starting at Black Rhino Armory wheels in matte gun black, larger fender claddings were installed to give it a wider stance. Outfitting the wheels were 33-inch Nitto Trail Grappler tyres, allowing the "Beast" to traverse a range of terrains.
The designers added protective elements to both the front and rear. This included custom-made, fortified bumpers, a front skid plate, as well as headlight and taillight guards. These protections had stippled textures to hide scuffing and marring resulting from the treasure-hunting escapade in the film.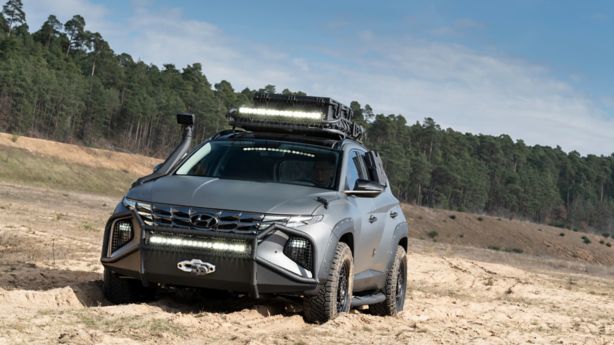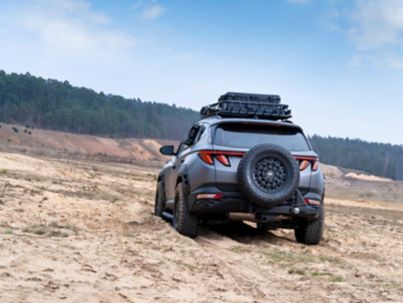 Other outdoor-ready accessories were also included on TUCSON "Beast" for an added adventure look, such as a steel ARB roof basket with mesh floor, two Trail Master tow straps, and two Smittybilt Recovery Utility Tool shovels.
For a more sinister, powerful look, many exterior design elements decorating the "Beast" were coloured in black.
The designers who worked on TUCSON "Beast" hope that the adventure-ready TUCSON will catch cinema-goers' eyes. Their goal is to make future customers curious about TUCSON and Hyundai as a brand.
Sony Pictures' Uncharted, which is currently playing in cinemas, has made over $300 million at the worldwide box office.
About Uncharted
Street-smart Nathan Drake (Tom Holland) is recruited by seasoned treasure hunter Victor "Sully" Sullivan (Mark Wahlberg) to recover a fortune amassed by Ferdinand Magellan and lost 500 years ago by the House of Moncada. What starts as a heist job for the duo becomes a globe-trotting, white-knuckle race to reach the prize before the ruthless Santiago Moncada (Antonio Banderas), who believes he and his family are the rightful heirs. If Nate and Sully can decipher the clues and solve one of the world's oldest mysteries, they stand to find $5 billion in treasure and perhaps even Nate's long-lost brother...but only if they can learn to work together.
Directed by Ruben Fleischer. Screenplay by Rafe Lee Judkins and Art Marcum & Matt Holloway. Based on the PlayStation video game by Naughty Dog. Produced by Charles Roven, Avi Arad, Alex Gartner and Ari Arad. The film stars Tom Holland, Mark Wahlberg, Sophia Ali, Tati Gabrielle and Antonio Banderas.
Disclaimer: CO2 and emissions data
Fuel consumption combined for the Hyundai TUCSON 1.6 T-GDI 48V (150 PS) with 6iMT 2WD in l/100 km: 6.8 - 6.5; CO2 emissions combined in g/km: 154 - 147 (WLTP)
Fuel consumption combined for the Hyundai TUCSON 1.6 T-GDI 48V (150 PS) with 7DCT 2WD in l/100 km: 6.6 - 6.3; CO2 emissions combined in g/km: 150 - 143 (WLTP)
Fuel consumption combined for the Hyundai TUCSON 1.6 T-GDI 48V (180 PS) with 6iMT 2WD in l/100 km: 6.7 - 6.4; CO2 emissions combined in g/km: 152 - 145 (WLTP)
Fuel consumption combined for the Hyundai TUCSON 1.6 T-GDI 48V (180 PS) with 7DCT 4WD in l/100 km: 7.1 - 6.9; CO2 emissions combined in g/km: 162 - 156 (WLTP)
Fuel consumption combined for the Hyundai TUCSON 1.6 CRDi 48V (136 PS) with 6iMT 2WD in l/100 km: 5.3 - 4.9; CO2 emissions combined in g/km: 139 - 127 (WLTP)
Fuel consumption combined for the Hyundai TUCSON 1.6 CRDi 48V (136 PS) with 7DCT 2WD in l/100 km: 5.3 - 5.0; CO2 emissions combined in g/km: 139 - 130 (WLTP)
Fuel consumption combined for the Hyundai TUCSON 1.6 CRDi 48V (136 PS) with 7DCT 4WD in l/100 km: 5.9 - 5.5; CO2 emissions combined in g/km: 154 - 143 (WLTP)
Fuel consumption combined for the Hyundai TUCSON 1.6 T-GDI (150 PS) with 6MT 2WD in l/100 km: 7.0 - 6.6; CO2 emissions combined in g/km: 159 - 150 (WLTP)
Fuel consumption combined for the Hyundai TUCSON 1.6 T-GDI (150 PS) with 6MT 4WD in l/100 km: 7.8 - 7.3; CO2 emissions combined in g/km: 178 - 165 (WLTP)
Fuel consumption combined for the Hyundai TUCSON 1.6 CRDi (115 PS) with 6MT 2WD in l/100 km: 5.5 - 5.1; CO2 emissions combined in g/km: 144 - 135 (WLTP)
Fuel consumption combined for the Hyundai TUCSON 1.6 T-GDI Hybrid with 6AT 2WD in l/100 km: 5.9 - 5.5; CO2 emissions combined in g/km: 135 - 125 (WLTP)
Fuel consumption combined for the Hyundai TUCSON 1.6 T-GDI Hybrid with 6AT 4WD in l/100 km: 6.6 - 6.2; CO2 emissions combined in g/km: 149 - 140 (WLTP)
Fuel consumption combined for the Hyundai TUCSON 1.6 T-GDI Plug-in Hybrid with 6AT 4WD in l/100 km: 1.4; CO2 emissions combined in g/km: 31 (WLTP)