Hyundai Motorsport will enter two Hyundai i20 N Rally2 cars into the FIA World Rally Championship 2 (WRC2) class in 2022
Finnish driver Teemu Suninen and Paraguayan Fabrizio Zaldivar will drive the two cars in seven events during the season, starting with Rally de Portugal in May
RedGrey Team will operate under the Hyundai Motorsport N flag for a third consecutive year as it seeks to bring home the WRC2 title
Hyundai Motorsport has set out its ambitions to compete for the 2022 FIA World Rally Championship 2 (WRC2) title with Teemu Suninen and Fabrizio Zaldivar representing the manufacturer entry in the category this season.
As part of its ongoing commitment to nurturing rally talents, two Hyundai i20 N Rally2 cars will be entered in seven WRC events this year, starting with Rally de Portugal (19-22 May). The cars will be run for a third consecutive season by RedGrey Team and compete under Hyundai Motorsport N.
With a new line-up that boasts a potent mix of experience and talent, Hyundai Motorsport is confident it can achieve its title target. Finn Teemu Suninen previously finished second in the WRC2 class at Rally de España in 2021 with the Hyundai i20 N Rally2 before he deputised for Ott Tänak in the Hyundai i20 Coupe WRC in Rally Monza. As well as boasting considerable experience of WRC, Suninen has claimed 15 podiums and six victories in the WRC2 class. For the 2022 season, Suninen will be once again joined by co-driver Mikko Markkula.
I am very excited to team up with Hyundai Motorsport again and contend a full WRC2 season with the Hyundai i20 N Rally2. Mikko and I have already had a small taste of what to expect with our outing in Rally de España last year, where we finished second. For me, the opportunity to take part in regular testing and play a role in the development of the car was the reason why this was an attractive offer for this year. I have the potential to not only create a competitive rallying package but also grow as a driver with the support of the teams in Estonia and Alzenau.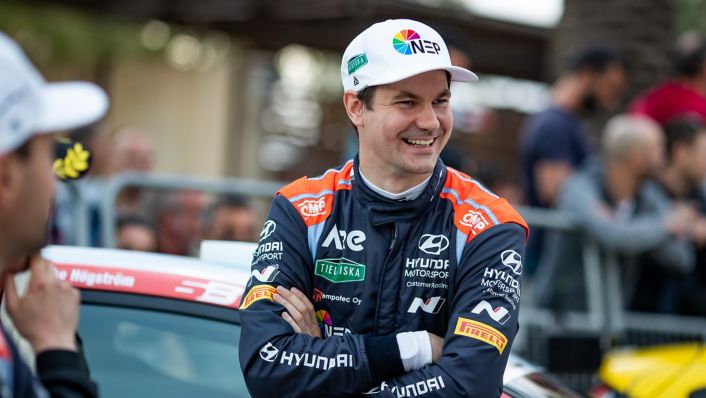 Paraguayan driver Fabrizio Zaldivar makes the step up after a consistent year in the WRC3 category. Zaldivar has experience of competing in Hyundai Motorsport machinery, having contested the 2021 Paraguayan championship with the Hyundai i20 R5, supported by Hyundai Paraguay. He will compete in his debut WRC2 season with co-driver Carlos del Barrio.
This is the most important moment in my career so far. Joining a manufacturer and having access to a wealth of support and experience is every driver's dream. My goal is to perform consistently in every rally; it will take some time to get up to speed with the car, but I want to create a forward momentum that will see me improve throughout the season. I've competed with the Hyundai i20 R5 for the past two seasons in Paraguay, winning a title last year, so I hope to have similar success with the Hyundai i20 N Rally2.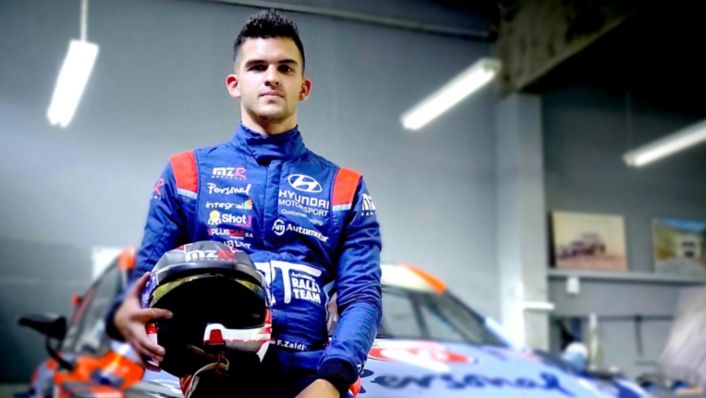 In preparation for the start of the campaign, both crews will conduct pre-event tests with the Hyundai i20 N Rally2 to get up to speed with the new car in its first full competitive season on the world's stages.
Our involvement in WRC2 is still a critical element of our motorsport activities, and we're looking forward to another exciting season. The competitive category gives us an excellent platform to develop the rising stars of the rally and put our Customer Racing machinery through its paces at the pinnacle of the sport. We're pleased to welcome back Teemu Suninen, who impressed us on his debut in the Hyundai i20 N Rally2 in Spain last year, for a full season with our team. Fabrizio Zaldivar is also an excellent addition to our line-up, a consistent performer in WRC3 and a rising star in rallying. Our Customer Racing department has worked tirelessly over the winter to further develop the Hyundai i20 N Rally2 for its first full season of competition, and with the talent of Teemu and Fabrizio behind the wheel we believe we can bring home the WRC2 title this year.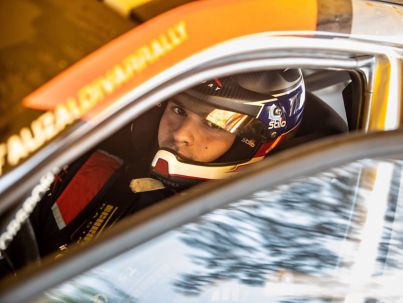 Crew notes: Teemu Suninen and Mikko Markkula
Teemu Suninen
WRC debut: 2014
WRC podiums: 3
WRC starts: 70
WRC2 debut: 2015
WRC2 wins: 6
WRC2 podiums: 15
WRC2 starts: 24
Mikko Markkula
WRC debut: 2001
WRC podiums: 2
WRC starts: 108
WRC2 debut: 2015
WRC2 wins: 6
WRC2 podiums: 15
WRC2 starts: 24
Crew notes: Fabrizio Zaldivar and Carlos del Barrio
Fabrizio Zaldivar
WRC2 debut: 2022
WRC3 debut: 2021
WRC3 starts: 7
Carlos del Barrio
WRC debut: 1991
WRC wins: 3
WRC podiums: 13
WRC starts: 104
WRC2 debut: 2022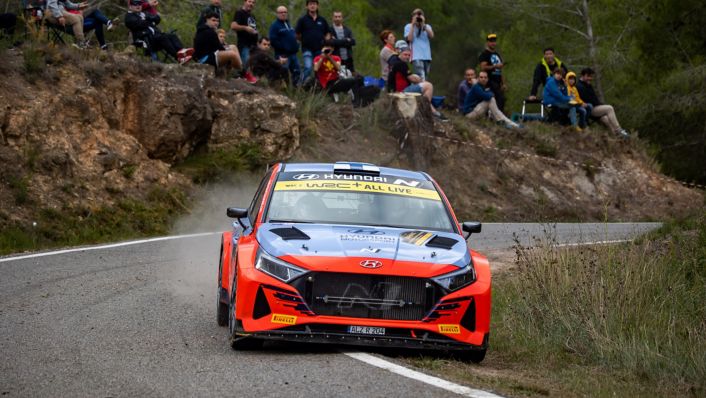 Hyundai i20 N Rally2 Technical Specifications
Engine  
Type: 1.6-litre direct injection turbocharged
Air Restrictor: 32mm*
Power (Max): 290 PS @ 5,000rpm
Torque (Max): 420Nm @ 4,000rpm
Transmission
Type: Four-wheel drive
Gearbox: Sequential gearbox. Five forward gears and one reverse
Differential: Mechanical front and rear
Clutch: Cerametallic twin-disc
Cockpit
Seats: OMP FIA 8862 competition seats
Belts: OMP six-point HANS compatible
Dashboard: Compact configurable driver's display
Chassis - Suspension
Front and Rear: MacPherson struts with three-way adjustable dampers
Steering: Hydraulic power-assisted rack and pinion.
Braking System: Ventilated brake discs (300mm diameter for gravel, 355mm diameter for tarmac) four-piston callipers
Handbrake: Hydraulic control
Wheels: 8x18 inch for tarmac, 7x15 for gravel
Chassis – Bodywork
Structure: FIA-conformant reinforced steel body with Hyundai Motorsport designed welded multi-point roll cage
Length: 4040mm
Wheelbase: 2560mm
Width: 1820mm
Track Width: 1810mm
Fuel Tank Capacity: 80 litres
Weight: 1,230kg minimum – 1,390kg with driver and co-driver*
*mandated by FIA regulations
Hyundai Motorsport N - WRC2 Calendar 2022*
Rally de Portugal 19-22 May
Rally Italia Sardegna 02-05 June
Safari Rally Kenya 23-26 June
Rally Estonia 14-17 June
Rally Finland 04-07 August
Acropolis Rally Greece 08-11 September
Rally de España 20-23 October
*subject to modifications along the season