BAYON generates positive reviews from the international automotive media, following its launch earlier this year
Hyundai's crossover SUV praised for its modern design, comfortable handling and strong ride quality
Developed and designed specifically to meet the needs of European customers, the model features a compact exterior and roomy interior, as well as advanced connectivity technology
Since its start of production in April, Hyundai's crossover SUV BAYON has generated a variety of positive reactions from the international media.
BAYON was developed and designed for the diverse and unique streets of Europe. Named after Bayonne, a seaside town nestled in the French Basque country and a popular holiday destination, BAYON is a unique entry in the successful European SUV segment.
The smallest member of Hyundai's SUV family, BAYON showcases the company's "Sensuous Sportiness" design identity, defined by the harmony between proportion, architecture, styling and technology. In addition, customers can enjoy advanced connectivity technology, and Hyundai Smart Sense safety features, as well as a large amount of storage space.
Media from across Europe recently had the opportunity to get behind the wheel of BAYON. The crossover SUV was praised for its stylish design, driving comfort and user-friendly technology, in particular. In addition, BAYON has also triumphed in a number of comparison tests, including in German automotive publications Auto Zeitung and auto motor und sport.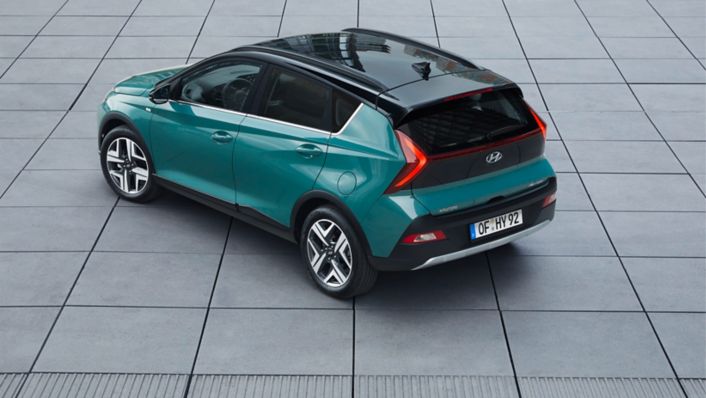 Press reactions to BAYON
This is what the press had to say about BAYON:
Spain's Elmundo.es commended the model for its contemporary look: "BAYON offers modern and original design lines, especially from the rear pillar with its arrowhead finish, which matches the rear lights."
Meanwhile, German automotive heavyweight Auto Zeitung described BAYON as a "stylishly cool crossover", and also lauded the model for its strong driving performance:
Usually, one does not expect excessive driving dynamics in this segment. This makes the performance of BAYON all the more astonishing. Its comparatively tight spring damper coordination helps to effectively prevent excessively disruptive body movements when cornering.
UK publication What Car? asserted that BAYON is a "confident and comfortable" vehicle, complimenting its handling in particular: "BAYON's main strength is the quality of its ride, which is cushy enough to soak up scruffy roads with ease, and is pleasantly relaxed whether you're on the motorway or bumbling through town."
Autocar, another magazine from the UK, highlighted BAYON's "comfort, refinement and easy drivability", stating that the vehicle is "a pretty complete, well-priced, practical and dynamically respectable compact family car".
Italian newspaper La Repubblica described BAYON as "an intelligent response to the increasingly crowded B-segment", noting its smoothness on the road:
Driving is pleasant thanks to the very soft suspension that eliminates the holes and roughness of the ground.
Spanish website Autopista.es reported that all occupants can expect a pleasant ride in BAYON: "Its suspension filters irregularities very well at medium speeds to achieve a good level of comfort in all seats."
The UK's Auto Express emphasised how Hyundai's intelligent Manual Transmission (iMT) enables BAYON to deliver a convincing ride quality: "Only a few small cars are as easy to drive as BAYON". Summarising the model, the popular motoring magazine went on to applaud the automaker's product strategy:
It's another step in the right direction for Hyundai, which is on a roll right now.
Italy's Motor1.com recently put a 1.0 T-GDI 48V BAYON through its paces across 360 kilometres on mixed roads from Rome to Forlì to test for efficiency, and praised the car as one of the best gasoline models around in terms of consumption. "The consumption results for BAYON 48V are impressive: it sets a new record for mild-hybrid, becoming the most efficient model with 48V powertrain marking 3,75 L/100 km."
Finally, in its overall verdict of the newest member of Hyundai's SUV family, France's L'Auto-Journal praised BAYON for its design, quality of drive and technology, as well as its attractive price point.
A quirky look, an original and welcoming interior, a joyful driving experience with a sparkling engine, up-to-date technology and comfortable equipment as standard on this top-of-the-range version… BAYON is right on target.
Disclaimer: CO2 and emissions data for BAYON
Fuel consumption combined for the Hyundai BAYON 1.2 MPi (84 PS) with 5MT in l/100 km: 5.7 - 5.4; CO2 emissions combined in g/km: 129 - 124 (WLTP)
Fuel consumption combined for the Hyundai BAYON 1.0 T-GDI (100 PS) with 6MT in l/100 km: 5.6 - 5.3; CO2 emissions combined in g/km: 129 - 122 (WLTP)
Fuel consumption combined for the Hyundai BAYON 1.0 T-GDI (100 PS) with 7DCT in l/100 km: 5.6 - 5.3; CO2 emissions combined in g/km: 128 - 122 (WLTP)
Fuel consumption combined for the Hyundai BAYON 1.0 T-GDI 48V (100 PS) with 6iMT in l/100 km: 5.5 - 5.2; CO2 emissions combined in g/km: 125 - 118 (WLTP)
Fuel consumption combined for the Hyundai BAYON 1.0 T-GDI 48V (100 PS) with 7DCT in l/100 km: 5.4 - 5.2; CO2 emissions combined in g/km: 124 - 118 (WLTP)
Fuel consumption combined for the Hyundai BAYON 1.0 T-GDI 48V (120 PS) with 6iMT in l/100 km: 5.5 - 5.2; CO2 emissions combined in g/km: 125 - 118 (WLTP)
Fuel consumption combined for the Hyundai BAYON 1.0 T-GDI 48V (120 PS) with 7DCT in l/100 km: 5.4 - 5.2; CO2 emissions combined in g/km: 124 - 118 (WLTP)
Fuel consumption combined for the Hyundai BAYON Kappa 1.4 with 6MT in l/100 km: 6.2; CO2 emissions combined in g/km: 142 (WLTP)
Fuel consumption combined for the Hyundai BAYON Kappa 1.4 with 6AT in l/100 km: 6.4; CO2 emissions combined in g/km: 147 (WLTP)