Hyundai IONIQ 5 named 'Best Long-Distance Electric Car' and presented with 'Technology Award' at 2022 DrivingElectric Awards
Hyundai TUCSON SUV named 'Best Family Hybrid Car' at 2022 DrivingElectric Awards
Latest in a continuous run of critical acclaim, 2022 DrivingElectric Awards affirm Hyundai's lead in sustainable mobility
Judges hail Hyundai IONIQ 5's range and 800-volt ultra-rapid charging
Hyundai IONIQ 5 proclaimed 'an EV not just for today, but for 2022 and beyond'
Technology-laden Hyundai TUCSON SUV 'spacious, economical, good to drive'
Hyundai's lead in automotive sustainability and its ability to consistently deliver alluring, high-technology hybrid and electric vehicles has been affirmed yet again.
The Hyundai IONIQ 5 has been named 'Best Long-Distance Electric Car' and presented with a special Technology Award by DrivingElectric. The Hyundai TUCSON was hailed 'Best Family Hybrid Car' at the same ceremony.
Very few electric cars can equal the exceptional driving range of the IONIQ 5, and none can match its unique blend of qualities, as DrivingElectric Editor Richard Ingram explains:
Several models now manage more than 298 miles on a charge, but few match this with 800-volt ultra-rapid charging. The Hyundai IONIQ 5 goes further still by offering a truly spacious cabin and a comfortable ride; the DrivingElectric judges were unanimous in naming it our favourite long-distance electric car.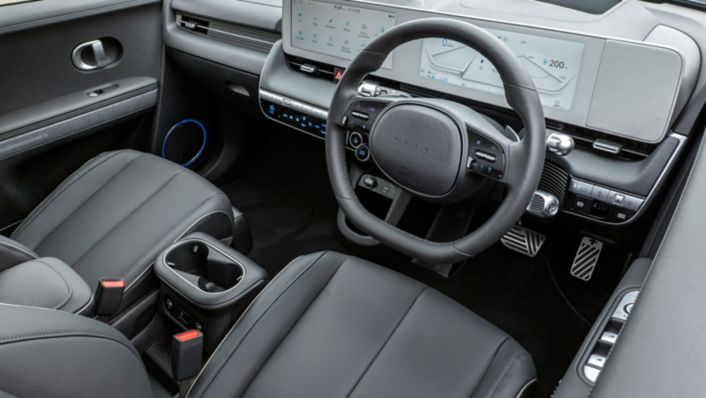 The judging panel bestowed a second accolade upon the Hyundai IONIQ 5 – the coveted Driving Electric Technology Award. Ingram reveals the reasoning behind the decision:
The Hyundai IONIQ 5 deserves a special mention in the 2022 DrivingElectric Awards. Not only is it our Best Long-Distance Electric Car, but it also earned our coveted Technology Award. With its intuitive infotainment system, long-range, 800-volt electrics and vehicle-to-load (V2L) charging, this is an EV not just for today, but for 2022 and beyond. The IONIQ 5 is as close to future-proofed as anything currently on the market.
Competition in the long established hybrid marketplace is fierce. Here, the Hyundai TUCSON SUV faced a vast array of rivals from almost every major manufacturer. Yet, once again, Hyundai's unsurpassed ability to blend carbon-footprint-reducing technology with peerless driver and family appeal raised the Hyundai TUCSON SUV to the top of the field, as Ingram confirms:
Hybrids are proven to lessen environmental impact and lower running costs, but none makes such light work of family duties as the Hyundai TUCSON SUV. It's spacious, economical and good to drive, plus it comes loaded with technology – a worthy winner of DrivingElectric's Best Hybrid Family Car for 2022.
The trio of accolades won by Hyundai at the 2022 DrivingElectric Awards continues a remarkable year for the brand, which has seen its products receive critical acclaim from all quarters. Highlights have included: Auto Express' Car of the Year for the IONIQ 5, Carbuyer's Car of the Year for the New TUCSON and Top Gear's Car of the Year for the i20N along with Top Gear's Manufacturer of the Year for Hyundai.
Commenting on the 2022 DrivingElectric Awards, Ashley Andrew, Managing Director, Hyundai Motor UK, said:
What makes the 2022 DrivingElectric Awards so pleasing is that they are bestowed by a judging panel that knows electric and hybrid mobility inside out and tests every product the industry has to offer. At Hyundai, we pride ourselves on being at the forefront of sustainability, delivering future-focused products that excel for our customers today. It is always immensely gratifying to have that critically confirmed by the experts.
Priced from £28,760, the Hyundai TUCSON is offered to customers with a choice of three powertrains, Hybrid, Plug-in Hybrid and Petrol with Mild Hybrid. The TUCSON's styling is sophisticated yet rugged, performance is consummately blended with efficiency, and the engaging driving experience is backed up by best-in-class safety. Every TUCSON is equipped with advanced safety features such as Forward Collision Avoidance Assist (FCA) Car, Pedestrian and Cycle and Multi Collision Braking (MCA) as standard.
Priced from £36,995, the sleekly styled Hyundai IONIQ 5 pays homage to the marque's design heritage whilst placing its focus on delivering the future of electric mobility to customers today. Thanks to Hyundai's industry-disrupting new Electric Global Modular Platform (E-GMP), the IONIQ 5 provides faster charging times, increased driving range, enhanced handling, and superior interior space. The modular, flat-floor E-GMP has also enabled Hyundai's designers to revolutionise the car interior. The IONIQ 5 redefines what is possible with a completely new in-car experience and living space, offering sustainable materials, fully flexible seating, and numerous custom options.