Embarking on a family road trip – whether a long journey to visit the grandparents or a scenic drive through the countryside – calls for a car that seamlessly integrates into the rhythm of everyday life. In pursuit of automotive excellence, the Hyundai Tucson emerges as a trustworthy companion, purposefully designed and meticulously crafted with the customer at its core. Tucson stands out as a testament to customer-centric ingenuity, addressing needs with precision in design, unparalleled convenience, and commitment to safety.
Tucson offers several other interior design features that not only elevate its aesthetic appeal, but also make it a customer favourite for its thoughtful and user-friendly design. For example, the ergonomically positioned armrest, connected to the shift-by-wire system, not only enhances the interior's aesthetics but also ensures intuitive usage, placing control at the driver's fingertips. Additionally, the mood lighting takes centre stage once the sun sets, creating an ambience that adapts to the driver's preferences and transforms the interior into a personalised haven.
In essence, Tucson's exterior and interior design cater to the diverse needs and desires of customers. From its bold exterior that shows confidence on the road to the thoughtfully crafted and technologically advanced interior, Tucson captures the essence of customer-centric design, ensuring that each journey is not just a drive but an immersive and satisfying experience for all passengers.
Making life easier with convenience features
Tucson is the perfect companion for any type of journey, taking convenience and comfort to unprecedented levels with a range of human-oriented features. To kick it off, the model offers the widest range of electrified powertrains in its segment. That way, customers of all lifestyles can find exactly what they are looking for.
The entire family will be spoiled in the cabin. Multi-Air Mode enhances the air conditioning and heating experience with a combination of direct and indirect air vents, providing gentler airflow for a pleasant indoor environment. On top of three-zone climate control, occupants can achieve optimal comfort with heated and ventilated seats. Additionally, with Walk-in Device, the passenger seat can slide and recline for the convenience of occupants with mobility challenges.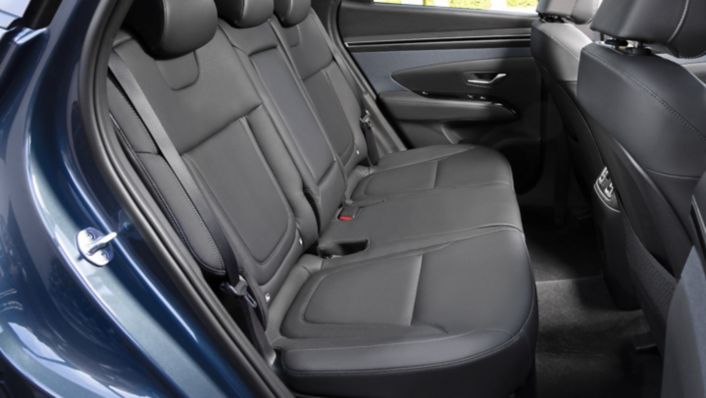 Tucson redefines spaciousness with dynamic proportions and an expanded platform, offering an open interior space that ensures comfort on long journeys. By placing the battery underneath the rear seats, passengers in the rear enjoy an additional 26 millimetres of legroom. Depending on the variant, the boot space reaches a capacity of up to 620 litres with seats up. For even more storage, customers can conveniently fold up the rear seats in a 40:20:40 ratio at the touch of a button or remotely and take advantage of up to 1,799 litres.
Keeping occupants safe at all costs
Hyundai's Smart Sense features are designed to create a safer and more intuitive driving experience.
Driving with family, especially children, in the car can become distracting. With features like Forward Collision-Avoidance Assist with Junction Turning (FCA-JT) and Navigation-based Smart Cruise Control – Curve Zone (NSCC-C), Tucson offers families an extra layer of protection. FCA-JT detects cars, pedestrians, and cyclists – even when turning left – and automatically applies the brakes to help avoid collisions. For extended journeys, NSCC-C utilises Tucson's advanced navigation system to anticipate upcoming curves or straights and adjusts the speed for a safer, more comfortable drive.
Blind-Spot View Monitor (BVM) and Blind-Spot Collision-Avoidance Assist (BCA) enhance visibility, so drivers can better manage in busy traffic situations. BVM takes the guesswork out of lane changes by providing an enhanced view on the side mirror when the turn signal is activated. BCA takes it a step further. It applies differential braking to recentre the car when a vehicle is detected in the blind spot while changing lanes.
Whether a weekend getaway or visiting the grandparents, Highway Driving Assist 1.5 (HDA 1.5) makes driving on motorways a breeze.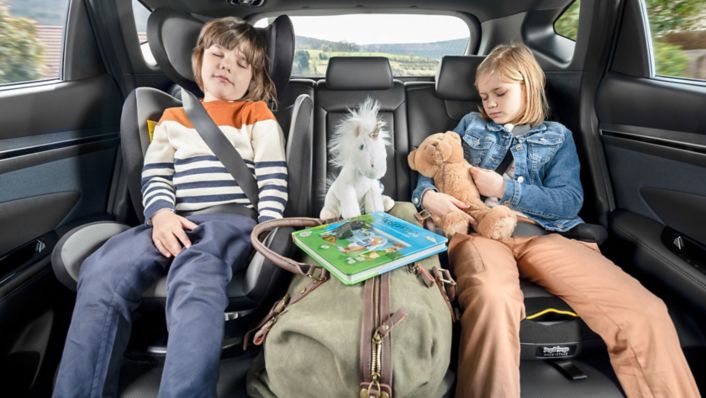 HDA 1.5 regulates the distance and speed from the vehicle ahead when driving on motorways and helps centre the vehicle in the lane, even through a curve. This ensures a smooth and stress-free journey for customers seeking the perfect balance between safety and convenience.
The images display the current Hyundai Tucson that is available in Europe.
Disclaimer: CO2 and emissions data
Fuel consumption combined for the Hyundai Tucson 1.6 T-GDI 48V (150 PS) with 6iMT 2WD in l/100 km: 6.8 - 6.5; CO2 emissions combined in g/km: 154 - 147 (WLTP)
Fuel consumption combined for the Hyundai Tucson 1.6 T-GDI 48V (150 PS) with 7DCT 2WD in l/100 km: 6.6 - 6.3; CO2 emissions combined in g/km: 150 - 143 (WLTP)
Fuel consumption combined for the Hyundai Tucson 1.6 T-GDI 48V (180 PS) with 6iMT 2WD in l/100 km: 6.7 - 6.4; CO2 emissions combined in g/km: 152 - 145 (WLTP)
Fuel consumption combined for the Hyundai Tucson 1.6 T-GDI 48V (180 PS) with 7DCT 4WD in l/100 km: 7.1 - 6.9; CO2 emissions combined in g/km: 162 - 156 (WLTP)
Fuel consumption combined for the Hyundai Tucson 1.6 CRDi 48V (136 PS) with 6iMT 2WD in l/100 km: 5.3 - 4.9; CO2 emissions combined in g/km: 139 - 127 (WLTP)
Fuel consumption combined for the Hyundai Tucson 1.6 CRDi 48V (136 PS) with 7DCT 2WD in l/100 km: 5.3 - 5.0; CO2 emissions combined in g/km: 139 - 130 (WLTP)
Fuel consumption combined for the Hyundai Tucson 1.6 CRDi 48V (136 PS) with 7DCT 4WD in l/100 km: 5.9 - 5.5; CO2 emissions combined in g/km: 154 - 143 (WLTP)
Fuel consumption combined for the Hyundai Tucson 1.6 T-GDI (150 PS) with 6MT 2WD in l/100 km: 7.0 - 6.6; CO2 emissions combined in g/km: 159 - 150 (WLTP)
Fuel consumption combined for the Hyundai Tucson 1.6 T-GDI (150 PS) with 6MT 4WD in l/100 km: 7.8 - 7.3; CO2 emissions combined in g/km: 178 - 165 (WLTP)
Fuel consumption combined for the Hyundai Tucson 1.6 CRDi (115 PS) with 6MT 2WD in l/100 km: 5.5 - 5.1; CO2 emissions combined in g/km: 144 - 135 (WLTP)
Fuel consumption combined for the Hyundai Tucson 1.6 T-GDI Hybrid with 6AT 2WD in l/100 km: 5.9 - 5.5; CO2 emissions combined in g/km: 135 - 125 (WLTP)
Fuel consumption combined for the Hyundai Tucson 1.6 T-GDI Hybrid with 6AT 4WD in l/100 km: 6.6 - 6.2; CO2 emissions combined in g/km: 149 - 140 (WLTP)
Fuel consumption combined for the Hyundai Tucson 1.6 T-GDI Plug-in Hybrid with 6AT 4WD in l/100 km: 1.4; CO2 emissions combined in g/km: 31 (WLTP)