El proyecto de investigación examina la relación entre la naturaleza, el arte y el diseño, y explora cómo podemos crear sociedades social y ambientalmente justas
El profesorado y los estudiantes exploraron cuatro áreas distintas -óptica y vidrio, cerámica digital, robótica y paisajes tecnológicos- en torno al tema "Futuros sostenibles
La iniciativa forma parte de la colaboración de investigación RISD x Hyundai, creada en 2020
Hyundai Motor Group (el Grupo) y la Rhode Island School of Design (RISD) han revelado hoy la última fase de la RISD x Hyundai Research Collaborative, una asociación plurianual.
El Grupo y la RISD llevan trabajando juntos desde 2020 para estudiar futuros ambientalmente justos. La colaboración refleja el compromiso del Grupo con el fomento de una sociedad sostenible, al tiempo que pone de relieve la experiencia del profesorado del RISD y la creatividad experimental de los estudiantes para concebir realidades futuras sostenibles.
La colaboración de este año nos ha brindado la oportunidad de imaginar un futuro sostenible en el que los seres humanos aprendan de la sabiduría de la naturaleza y coexistan con el medio ambiente. Este año, el estudio New Horizons, una unidad centrada en el desarrollo de vehículos de máxima movilidad, también participó en nuestra investigación conjunta y aportó nuevas perspectivas. Tenemos previsto seguir ampliando el alcance dentro de HMG y establecer una cultura más innovadora mediante la identificación de ideas para futuros negocios.
Lo que aspiramos a hacer no existe. A través de la colaboración, la experimentación y la abstracción, nuestra investigación imagina realidades futuras y busca producir nuevas ideas para la creación de sociedades social y ambientalmente justas. Estamos encantados de tener en Hyundai un socio que comparte nuestra creencia en el poder del descubrimiento, y el profundo aprecio y respeto por los diversos tipos de investigación. Estamos deseando que llegue la siguiente fase de nuestra colaboración.
En este tercer año de colaboración, con el tema "Futuros sostenibles", los profesores de la mundialmente conocida escuela de diseño aprovecharon su experiencia para ayudar al Grupo a profundizar en importantes cuestiones de sostenibilidad con el apoyo de tres docenas de estudiantes investigadores.
Cuatro equipos creativos con experiencia en cerámica, medios digitales, vidrio y robótica investigaron formas de construir futuros más sostenibles, aprovechando diferentes perspectivas y tecnologías. En cada uno de estos temas, la naturaleza se concibe como un punto de partida complejo y tecnológicamente mediado para nuevas formas de ver y hacer el mundo.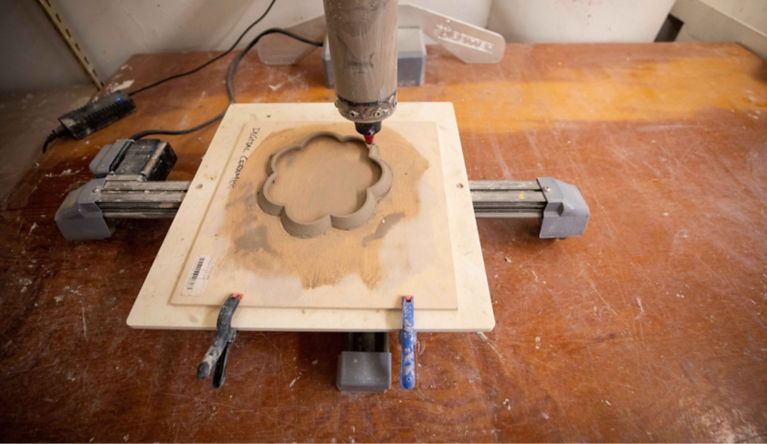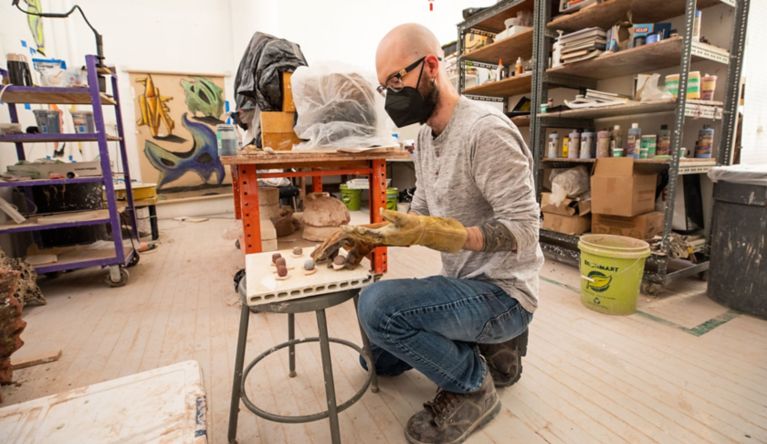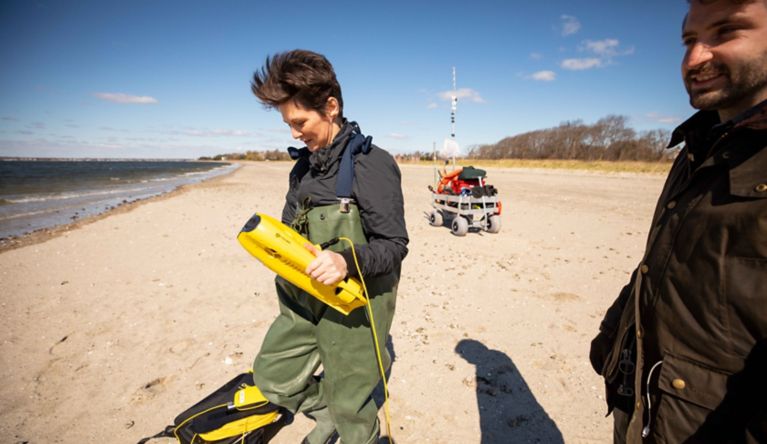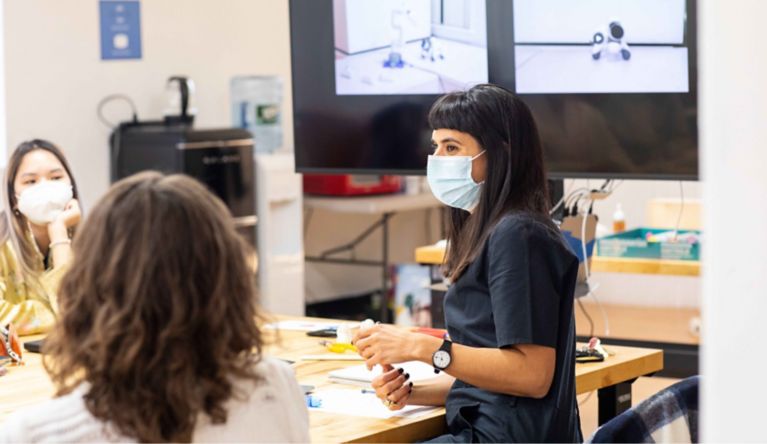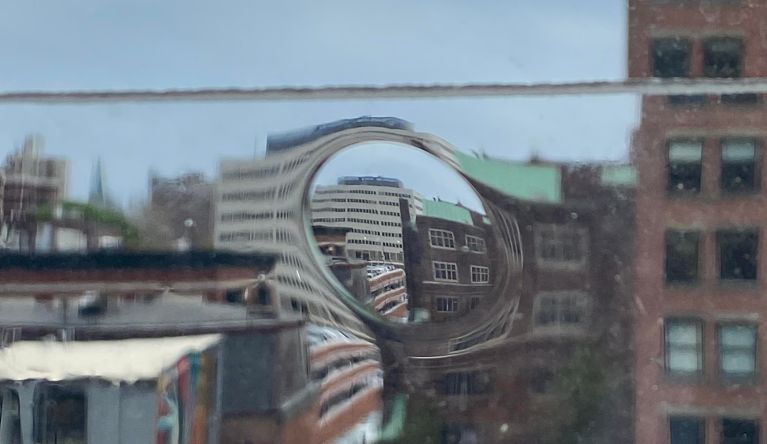 Digital Ceramics
Faculty lead: Lesley Baker, Ceramics
The Digital Ceramics research studio explored the use of newer technologies to produce forms composed of both traditional and new potential materials, such as salt, sand, sawdust and coffee grounds, with an emphasis on sustainability. Modeling applications, including 3D scanning in collaboration with the Nature Lab, have been used to produce forms that can be fabricated by additive technologies, including paste clay extrusion and the use of experimental sustainable materials. Students worked with an open-source printer to gain a better understanding of how shared technology leads to unexpected connections and new ways of making.
Experiments in Optics
Faculty lead: Jocelyne Prince, Glass
The graduate research studio focused on optics and their role in observing and imaging nature. The research was organized around the theoretical and technological aspects of optics with an emphasis on their relationship to glass, exploring physics, projection, magnification, perception, imaging and their role in media, within both historical and contemporary contexts. Visiting experts brought new and unexpected perspectives to the research, including biologist and Hyundai Research Fellow Felipe Shibuya, who spoke to the class about other animal species' vision.
Robotics for the Pluriverse
Faculty lead: Paula Gaetano-Adi, Experimental and Foundation Studies
Robotics for the Pluriverse is a Computation, Technology and Culture-affiliated research studio and experimental laboratory for analyzing, studying, imagining, speculating and making robots and other artificially 'intelligent' beings.
For this year's project, the studio interconnected a diverse array of perspectives and disciplines, from state-of-the-art robotic and AI technologies to the cultural work of sci-fi cinema and literature to the pluriversal praxes and methodologies that challenge Western thought and science. In one assignment, students made robots whose main mission is to repair something, opening dialogue about the role of robotics in proposing alternative social, environmental and sustainable futures.
Technological Landscapes
Faculty lead: Shona Kitchen, Digital + Media
Technological Landscapes is an experimental, interdisciplinary research studio focusing on the intersection of place, landscape and technology, with participants who have worked with NASA's Airborne Sensor Facility, Stanford's Linear Accelerator, URI's Inner Space Center and the Naval War College.
Their research investigated new modes of creative inquiry related to place-based practice, including fieldwork and site visits, interdisciplinary collaboration and public art. Participants explored the psychological, social and environmental consequences of technological advancement and failure, speculating about possible near futures where science fiction meets the built reality. Projects functioned as imagined propositions, revealing and subverting the unseen technological forces in the world around us and exposing our shifting role as creators, consumers and unwitting victims of technology.
The Group and RISD's 'Sustainable Futures' joint research project continues to build upon the collaborative research platform created by Strategic Partnerships at RISD, which was designed solely for Hyundai in 2020.
RISD's collaborative research partnership with Hyundai has become one of the most exciting studio options for RISD students seeking to work across disciplines on complex issues of global import. Over the three years of this partnership, RISD and HMG have developed a remarkable creative synergy, working across time zones, geographies, knowledge domains and institutional cultures. Driving this synergy is a shared conviction that art and design have enormous power to reveal futures we would otherwise never imagine. We also share the conviction that radical change is just over the horizon, and it is our unique responsibility to envision, and then make, a better tomorrow.
The research was informed by the expertise and methodologies of trained scientists at RISD's Edna W. Lawrence Nature Lab, working with RISD faculty and students on biodesign topics, including biomimicry, biomaterials and biosystems applications. Hyundai and Kia designers provided necessary input and feedback on projects throughout the process. Additional support in research activities came from expert staff support in Co-Works, RISD's interdisciplinary research and making lab focused on emerging technologies.
The study of nature and many of its optimized mechanisms, enables us to move forward to a sustainable future. Through this collaboration, we were able to broaden our insights to go beyond the typical approach and delve deeper into the wisdom that nature provides.
As the responsibility of design has changed over the decades, we must consider its impact on our society not only for human life, but also for the planet. This collaborative research with RISD, which deeply explores and learns from nature, the greatest innovator, has allowed us to expand our perspective on future sustainability that encompasses humans, technology and nature.
The 2022 research groups reflect 12 RISD degree programs (Architecture, Ceramics, Digital + Media, Film/Animation/Video, Glass, Graphic Design, Industrial Design, Interior Architecture, Photography, Printmaking, Sculpture and Nature-Culture-Sustainability Studies) and the RISD-Brown Master of Arts in Design Engineering (MADE) program.
This summer, 13 students from this cohort will continue to work with the four faculty leads, spending eight weeks of intensive, continued activity on expanding Sustainable Futures research in collaboration with the design teams at Hyundai and Kia. An exhibition at RISD displaying student projects in the form of images, videos and physical prototypes is planned for fall 2022.
Download images, videos and other artifacts on this project
View a short video about the 2021 research collaboration