New flagship SUV celebrates 'Shackleton's Return' the recent 30-day Antarctic expedition by Sir Ernest Shackleton's Great Grandson, which was completed in a Hyundai Santa Fe
Initially limited to 500 models, the Santa Fe Endurance will be based on the 7-seat Premium SE 2.2-litre diesel with Convenience Pack and automatic transmission and will feature 19-inch alloy wheels and 'Endurance' logos. The Endurance edition sits at the top of the range and will be priced at £38,995. Customers can order from 18 May 2017.
The Expedition saw standard 2.2-litre diesel Hyundai Santa Fe with limited modifications traverse the Antarctic continent from Union Camp to McMurdo and back again driven by Patrick Bergel, great-grandson of Sir Ernest Shackleton
See the film here: Shackletonsreturn.hyundai.com or on https://youtu.be/J01mqggN0h8
Hyundai Motor UK announces the launch of a highly-equipped SUV perfect for those who consider every drive an expedition – the Sante Fe Endurance Edition.
Sitting at the top of Hyundai's range, it celebrates a recent history-making drive by Patrick Bergel, the Great Grandson of legendary polar explorer, Sir Ernest Shackleton. 
In December 2016, Bergel completed a 30-day expedition in a near-standard 2.2-litre diesel Santa Fe, driving across Antarctica from Union Camp to McMurdo and back again, commemorating the centenary of Shackleton's heroic Trans-Antarctic expedition of 1914-16.
This was the first time a passenger vehicle had ever traversed the Antarctic continent and the standard 2.2-litre Santa Fe used by Bergel featured only a handful of modifications to counter the tough Antarctic conditions, such as the fitment of large, low-pressure tyres, a 250-litre fuel tank and a pre-heater for the cold.
To commemorate this incredible achievement, Hyundai Motor UK will make just 500 Endurance Edition models available.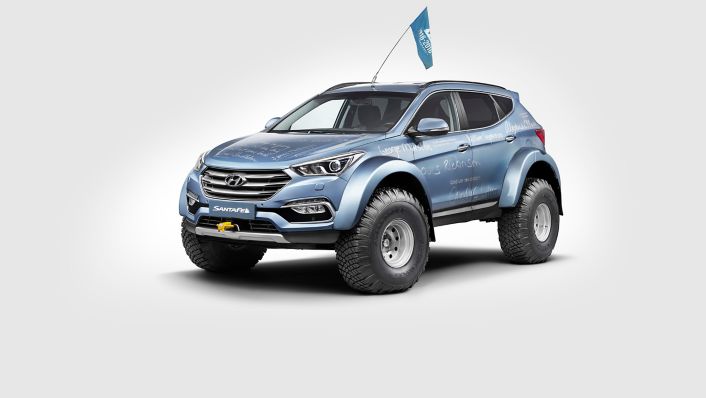 Each car is based on the 2.2 diesel 7 seat 4WD Automatic Sante Fe in Premium SE trim with Convenience Pack, which boasts Smart Electric Tailgate, Panoramic Sunroof, Autonomous Emergency Braking, Smart Cruise Control and Around View Monitor. In addition, the Santa Fe Endurance will also feature additional special equipment.
Customers can choose from five limited colours: solid Creamy White, pearl White Crystal, metallic Titanium Silver, pearl Phantom Black and metallic Mineral Blue - the same colour as that of Bergel's expedition car.
Endurance Editions are further marked out by 19-inch alloy wheels – wrapped in 235/55 R19 tyres – Side Bar Sport running steps. The final touch is a special Endurance logo, which can be found on the B-pillar and interior floor mats. The eye-catching logo commemorates Shackleton's Endurance expedition and features the Shackleton Family Motto and a 28-point compass representing the 28 crew that survived.
The Santa Fe Endurance will be priced at £38,995, representing a saving of £2,400 over a standard Premium SE with Convenience Pack and Automatic transmission and can be ordered from 18 May 2017.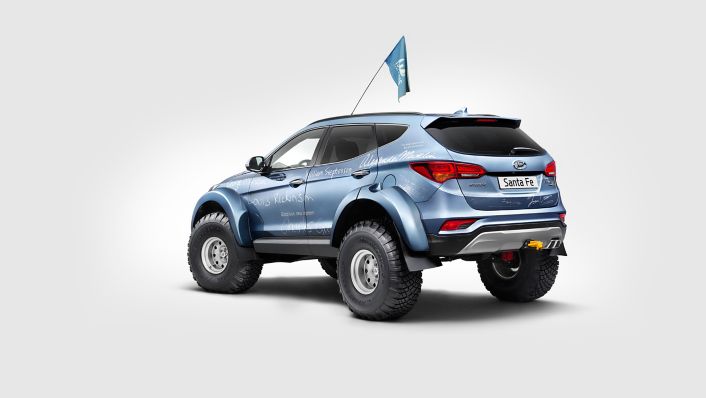 This new Endurance Edition offers customers an incredibly well-equipped Santa Fe, one that will be able to tackle everything family life throws at it….and more. As Sir Ernest Shackleton's Great Grandson, Patrick Bergel proved just a few months ago, with just a few choice modifications, you could even traverse Antartica!