Hyundai is calling on villages across the UK to put themselves forward for an ultimate event of community spirit and EV innovation this summer
With a passion for using technology and innovation to do good, Hyundai is searching for a village to host the world's first car powered village fete this summer. The unique project will drive innovation into this iconic British tradition and create a look into the future for rural communities and powering net zero experiences.
Hyundai is looking for compelling stories from villages on why they should host this pioneering event. Whether it's a village where a fete has been or is at risk of being cancelled – or it's simply in need of some community spirit. The village could even be particularly proud of its sustainable practices or businesses within its community. Hyundai is encouraging villages big and small to put themselves forward.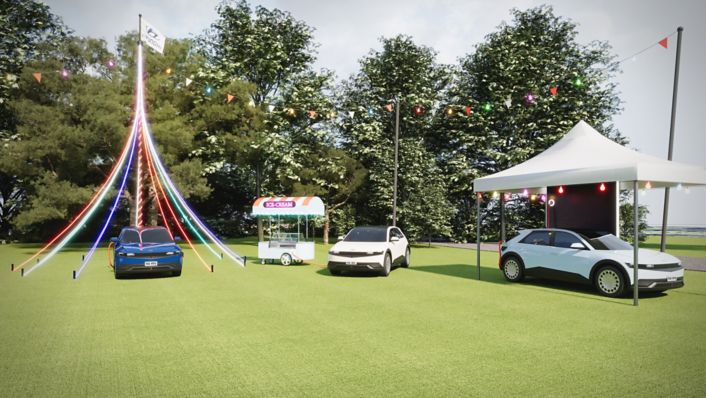 To host the fete, the village will need access to an open space such as a local village green, park or field that can accommodate a fleet of vehicles to power the fete, that is available on 2nd or 3rd September 2023. For further details, please visit Car Powered Fete.
The off-grid fete experience will be powered by Hyundai's Vehicle-To-Load (V2L) feature, which takes electricity directly from electric cars' batteries to power anything, anywhere. The event will take power from Hyundai's IONIQ 5 and IONIQ 6 models, as well as the all-new 2023 KONA Electric.
This idea was inspired by our unique ability to bring power to new places. We hope that seeing EV's in this innovative and distinct way will also help people better understand their potential. We believe the unique fete will not only create a memorable experience for a particular community, but also showcase and inspire other villages to adopt more sustainable practices. We can't wait to 'supercharge' a village and work with them to pull off the world's first car powered village fete.
To put your village forward to be considered for the world's first car powered village fete, please visit Car Powered Fete to find out more.
Nominations are open until Wednesday 12th July 2023.