Hyundai uses its rolling labs to explore ways to work with diverse and inspiring technology to lead the electrification transition
N Vision 74 represents Hyundai N's vision for high-performance sustainable driving fun beyond BEV era with first ever hydrogen fuel cell hybrid architecture
Another rolling lab, RN22e, meets technical challenges of high-performance EVs through innovative functions relating to weight, cooling and charging
N Vision 74 is a unique rolling lab that combines Hyundai Motor's innovative fuel cell-hybrid architecture with a daring, iconic design, representing the company's mid-to-long-term vision of the future.
Hyundai first announced this vision of technology in 2015, when it unveiled the N 2025 Vision Gran Turismo concept car alongside the launch of its performance sub-brand Hyundai N, to envision the future of fuel cell-based high performance.
Just seven years later, the cutting-edge technology that this virtual concept car previewed is now available in a fully driveable vehicle. N Vision 74 is the world's first hydrogen hybrid high-performance vehicle and underlines Hyundai's leadership in sustainable performance technology.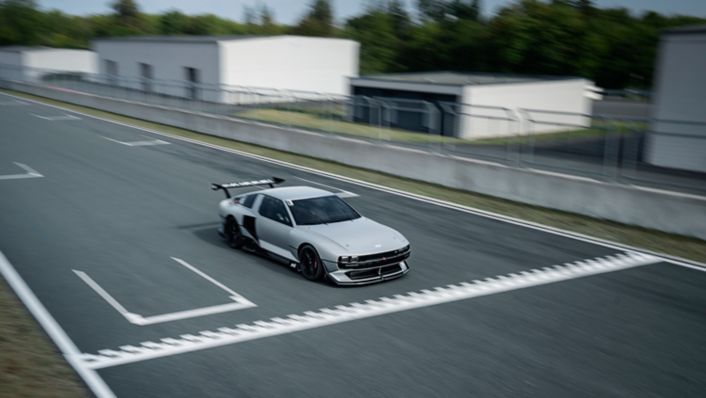 Hyundai's rolling labs
Rolling labs are a 'playground' where Hyundai's N brand can explore anything that connects new, high-performance motorsport technologies with future N models, building a bridge between its motorsport and production vehicles. Undergoing extensive testing, the purpose of these vehicles is to bring those high-performance technologies from the world of motorsport to the road.
The company began developing rolling labs in 2012 when it embarked on Project RM (which refers to the N prototype model's 'Racing Midship' rear-drive, midship powertrain configuration). Since the initiation of project RM and the subsequent evolution of the RM series, RM models have undergone thorough extensive road testing to validate newly-developed technologies, observe their effects on performance, and improve them for subsequent application in future N models. Examples of previous technologies that were initially developed in rolling lab models before entering production cars include e-LSD (electronic-Limited Slip Differential), 8-speed wet DCT (dual-clutch transmission) and all the advanced technology such as the performance PE system, EV twin clutch and torque vectoring.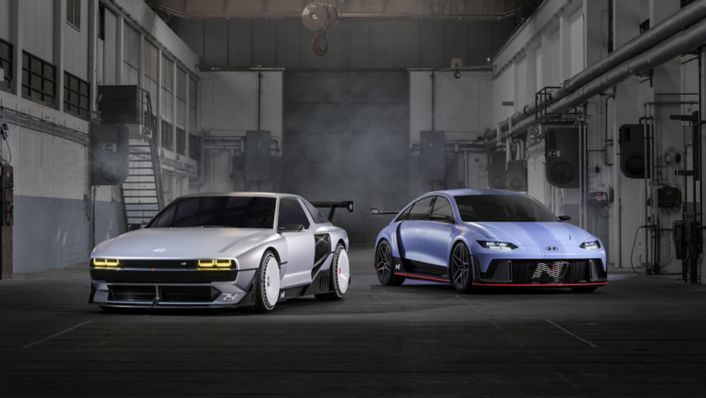 Challenges of developing a high-performance EV
Electrification is no longer simply an option for the car industry – it is here to stay, and this also applies to high-performance cars. However, to completely replace ICEs, high-performance EVs face a number of technical hurdles.
Firstly, large-capacity batteries not only add weight but also limit car dynamics. In order to produce high performance, powerful motors and large batteries are required, creating a challenge that engineers must overcome.
Second is the issue of cooling, the most important factor for a high-performance EV. Without sufficient cooling, performance deteriorates rapidly, which limits lengthy driving sessions under track conditions due to overheating. Finally, EV charging is significantly longer than the refuelling of ICE cars.
Adhering to N's philosophy, Hyundai's engineers are continuously working to overcome these issues, while maintaining N's three pillars of performance. To implement 'Corner Rascal', they have worked to overcome physical limits of heavier weight, whilst enabling the vehicle to withstand extreme track driving conditions to give it 'Racetrack Capability'. All while ensuring that none of the practical capabilities that make it an 'Everyday Sports Car' are sacrificed.
In order to deliver N's Everyday Sports Car pillar in the age of electrification, Hyundai's engineers and researchers work together at R&D centres across the globe to analyse technical hurdles and continuously propose new ideas to achieve the company's performance goals in terms of specifications, power performance and driving range.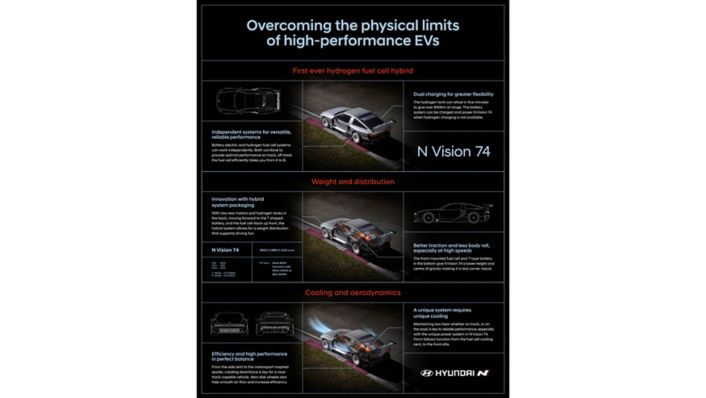 How N Vision 74 was developed
In order to resolve the limitations of EVs, Hyundai's engineers set about developing its N Vision 74 rolling lab. During the development phase, they opted to develop a hybrid structure of a battery-electric in combination with a fuel cell electric vehicle (FCEV) system.
Fuel cells work by combining hydrogen with oxygen taken from the air to produce electricity, heat and water. When hydrogen stored in the tanks enters the fuel cell stack, it is broken down into protons and electrons. The flow of electrons created in the fuel cell provides electricity that drives the electric motor, and the protons react with oxygen molecules from the air, generating heat and water.
While the advantages of battery-electric vehicles (BEVs) are well documented, FCEVs also offer a range of benefits. Aside from water, FCEVs produce no tailpipe emissions. FCEVs even improve air quality as they drive: since the fuel cell stack requires purified air, the air filter removes micro-particulates and expels unused air. In addition FCEVs are also an attractive future source of energy for electric mobility as they offer longer ranges and shorter refuelling times compared to BEVs.
Although N Vision 74 uses a hydrogen-electric hybrid drivetrain, it boasts a system configuration that is different from a general hydrogen fuel cell or battery-based electric vehicle. Unlike existing FCEVs that use integrated hydrogen fuel cell stacks that feed electricity directly to motors, N Vision 74 introduces an added step with its high capacity battery. This helps improve the peak load of the batteries, keeping them within the optimum temperature range for a consistent delivery of power.
N Vision 74's two different power energy can be used flexibly depending on different driving conditions. Hyundai's engineers chose this bold new approach because they believe in the benefits of both technologies in their individual area of application.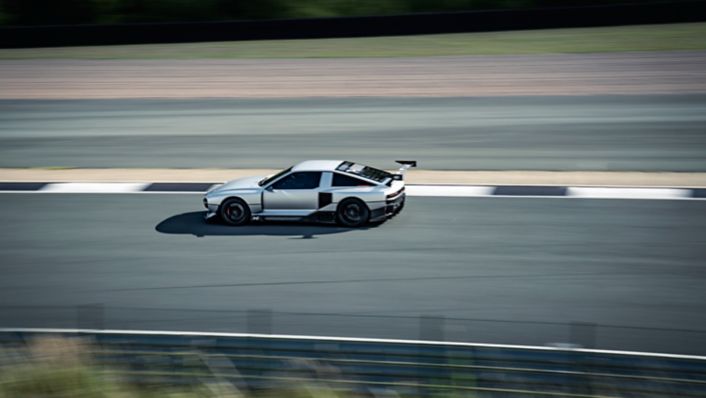 Architecture of N Vision 74
As Hyundai N's first fuel cell hybrid rolling lab to explore 'driving fun' in the electrification era, N Vision 74's powertrain is designed to provide high endurance and rapid charging during track conditions. Engineers developed a cooperative control system to allow the two different sources of power to work together in maximum synergy.
The car's hydrogen fuel cell stack is mounted in the front, with a T-type battery fitted just behind the driver to lower the overall height and centre of gravity. While the lower centre of gravity of EVs does not fully compensate for the extra weight they carry, this feature does offer significant advantages, such as better traction and less body roll, delivering a more stable ride, especially at high speeds.
Two 2.1 kg hydrogen tanks were placed on the rear axle above two powerful motors – one to power each rear wheel independently – that generate a total of 500 kW. The development of N Vision 74's in-house-developed system integration and control software development was far more advanced than that of a normal EV, having more in common with that of Hyundai's XCIENT Fuel Cell trucks that have been in operation in Switzerland for two years and will soon operate in Germany.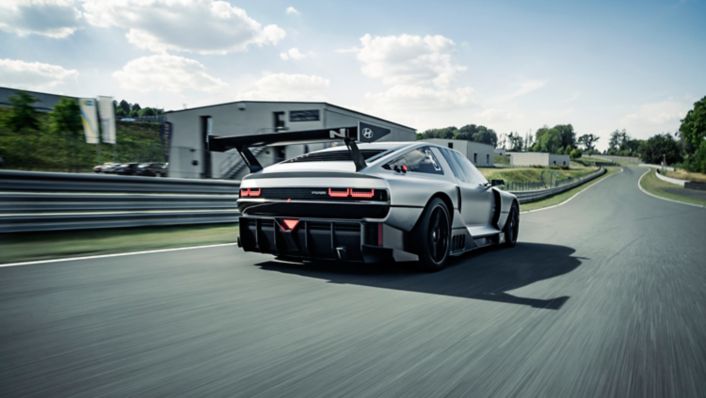 Dual charging provides flexibility
N Vision 74's battery-electric and hydrogen fuel cell power systems can work separately. When not being used for full performance, the fuel cell powers the car; when high performance is required, both systems work in combination.
The dual-charging nature of this hybrid system gives engineers a lot of flexibility, depending on what they are doing with N Vision 74. Its hydrogen fuel cells can be refuelled in under five minutes and can be used to charge the battery when the car is in operation, while its battery-electric power system ensures the car remains fully functional even if hydrogen is not available.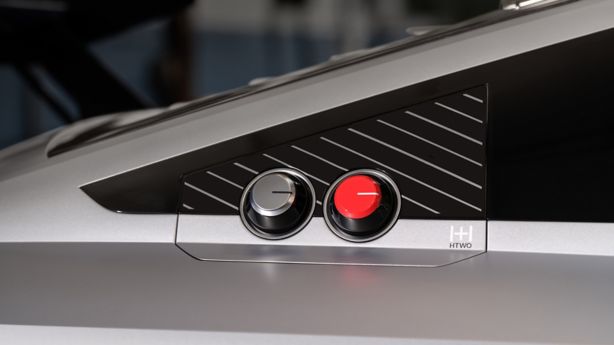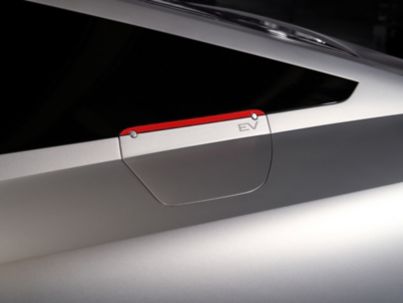 Functional aesthetics: cooling and aerodynamics
With a complex cooling system, N Vision 74 achieves efficient airflow and maximised cooling in high output conditions. This offers the right balance between being racetrack-capable and maintaining a low heat.
The packaging of the fuel cell, battery, motor, and other parts was optimised to deliver three independent cooling channels. This enables optimised energy efficiency in different driving situations, such as track driving.
Form follows function: the cooling elements of N Vision 74 are fully integrated into its aerodynamic design, such as its pixelated front grille and side and rear vents. In addition, the air breather on the car's front wheels guides the side airflow into large cooling inlets to enable heat management of the power electric system.
The design also enables better aerodynamics. The end-shape of the side skirt and motorsport-inspired spoiler create rear downforce that allows better dynamics for high-performance driving, while aero disc wheels balance aerodynamic efficiency and performance.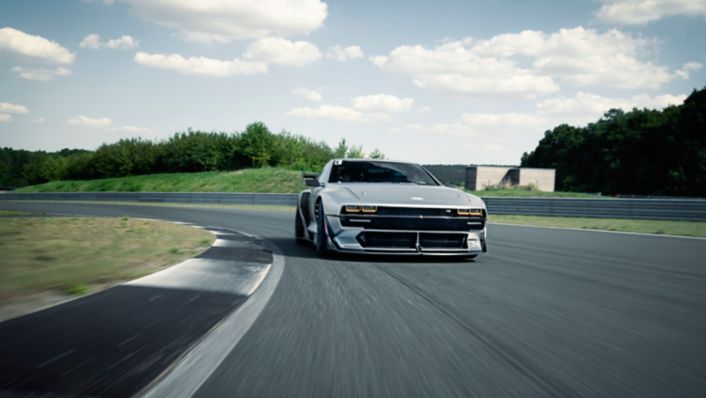 Innovative FCEV logic (VCU) system with torque vectoring technology
N Vision 74 is equipped with an FCEV logic VCU (Vehicle Control Unit) system with torque vectoring technology in the rear dual motor. Hyundai's engineers developed their own in-house torque vectoring control software that works like a virtual limited slip differential.
This bespoke logic VCU system for N Vision 74 powers e-TVTM (electronic Torque Vectoring by Twin Motors) to enhance the cornering experience with 235 kW motors on each rear wheel. It allows for precise and rapid control of independent left/right power distribution and torque to satisfy different driving environments. Optimal handling and traction enhance the cornering experience, making it perfect for racetracks and ensuring drivers can truly experience N's Corner Rascal character.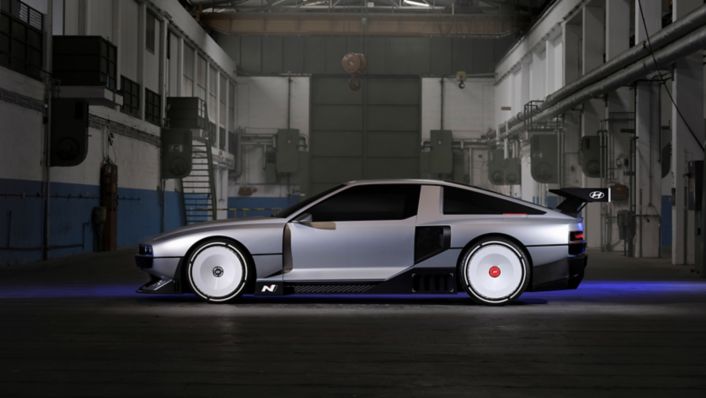 Rolling labs as test beds for the future
Hyundai has a decade-long history of working with rolling labs – the two most recent being N Vision 74 and RN22e. Rolling labs offer new opportunities for BEVs and FCEVs in motorsport to achieve more sustainable driving fun.
N Vision 74's long range and fast refuelling characteristics have the potential to revolutionise the field of motorsport.
Packaged in an IONIQ 6-based streamliner design, RN22e combines motorsport technology with Hyundai's Electric-Global Modular Platform (E-GMP). It plays an important role as the rolling lab for upcoming EV N models, namely IONIQ 5 N.
Developing N Vision 74 and RN22e in parallel with other high-performance EVs is beneficial to Hyundai's engineers in terms of knowledge exchange. For example, EVs tend to have different weight distribution than vehicles with internal combustion engines, so N engineers can test and develop cooling and braking technologies in extreme conditions at its Nürburgring test centre. By serving as rolling labs, N Vision 74 and RN22e will help make Hyundai's technical vision of electrified high-performance soon become a reality.