Unique Interior and Exterior Design Cues Inspired by the Iconic Iron Man Suit
Kona Iron Man Edition to be "Built-to-Order" with Limited Global Production
In Stark-like fashion, Hyundai Motor today unveiled a special edition Iron Man-inspired Kona SUV on the opening day of San Diego Comic-Con 2018.
Taking centre stage at the Marvel booth, the Kona Iron Man Edition features both exterior and interior design elements that closely resemble and give a nod to the dynamic Iron Man suit. The Kona Iron Man Edition will be available to customers via a limited global production run. Production is scheduled to begin in December, with the first units available in the first quarter of 2019. For more details, visit KonaIronManEdition.com.
Hyundai's ongoing collaboration with Marvel is a great way for us to become a part of what people are interested in and engage with a highly passionate fan base. Our relationship is more than just product placement as we aim to create custom experiences that resonate with the Marvel audience. The Kona Iron Man Edition is a perfect example of blending our two worlds together into one special vehicle that we hope will excite fans of both brands all around the globe.
"Hyundai is excited to work with Marvel on the Kona Iron Man Edition; it really is the perfect mash up," said Dean Evans, chief marketing officer, Hyundai Motor America. "The first time we saw the Kona, we knew its unique, rugged design drew a compelling resemblance to the strong and iconic Iron Man suit. There is also a nice synergy between the fun and adventurous nature of the Kona and the playful yet bold character of Iron Man/Tony Stark. The outcome is a remarkable special edition that we're sure will appeal to Marvel fans and SUV enthusiasts alike."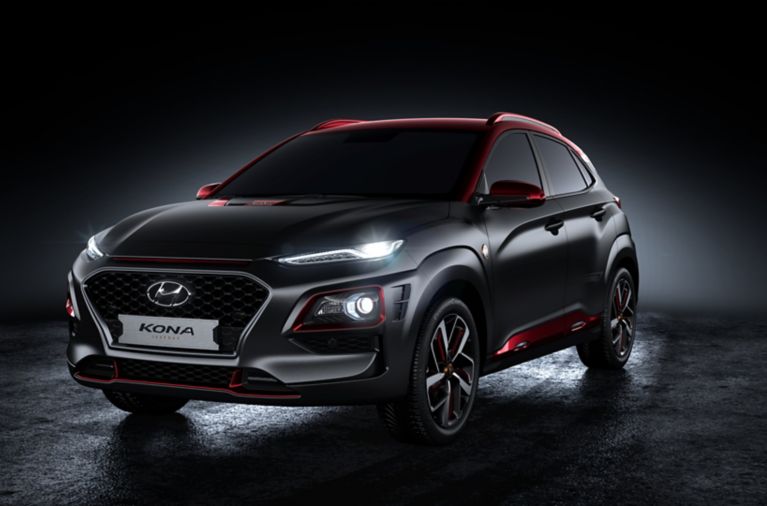 "Seeing this car come to life is like wish fulfillment for so many of us," said Mindy Hamilton, Marvel's SVP of Global Partnerships & Marketing. "When you grow up reading comics, you dream of seeing that technology and those inventions become reality. We hope that everyone has just as much fun jumping into this one-of-a-kind vehicle as they would putting on the actual Iron Man suit of armour!"
On the outside, the Kona Iron Man Edition has a unique front-lighting signature, including a custom daytime running light form that closely resembles the facemask and eye shape of the Iron Man suit. This shape is immediately recognizable and is one of the key design inspirations for Kona.
Besides the front fascia design and unique lighting signature, other Stark-like flourishes include an Iron Man mask motif on the roof, a unique V-shaped hood garnish, front bonnet Iron Man mask badging, Stark Industries lower fascia and rear door decals, Iron Man-engraved headlamp internal surfaces, custom 18-inch alloy wheels with Iron Man mask center caps, an Iron Man engraving for the D-pillars, and a dark chrome front grille. The exterior color is an exclusive Iron Man red with matte gray.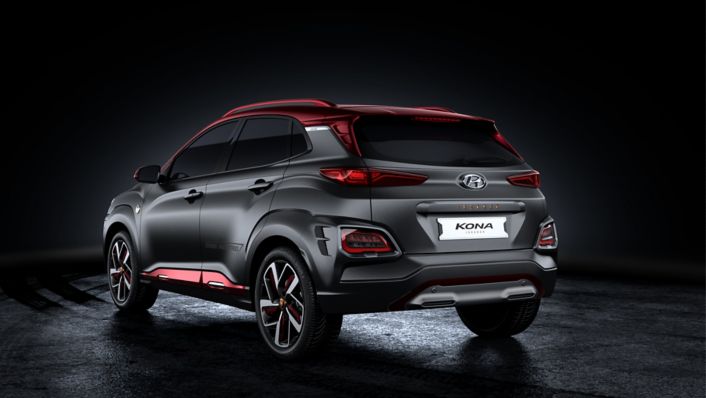 Inside, Tony Stark's signature adorns the instrument panel alongside a unique Iron Man shift lever knob, a special Head's Up Display and center stack featuring Iron Man visual graphics, and a custom seat design.
The Kona Iron Man Edition is the latest project to emerge from the ongoing collaboration between Marvel and Hyundai. This summer, the all-new
2019 Veloster Turbo
will appear in Marvel Studios' Ant-Man and The Wasp.