What Car? analysis puts KONA Electric top of the table for real-world driving range
First fully-electric subcompact SUV in Europe achieves 'Real Range' of 259 miles
IONIQ Electric also beats rivals with top energy efficiency rating of 3.9 miles per kWh
Hyundai Motor has achieved two top results in the first What Car? Real Range tests for electric cars.
In the motoring magazine's evaluation, which complements its 'True MPG' tests for petrol and diesel cars, the KONA Electric achieved a 'real-world' figure of 259 miles on a single charge – the longest driving range of any car tested*. Elsewhere, the Hyundai IONIQ Electric was also ahead of the competition, scoring the highest result for electric car efficiency, travelling 3.9 miles for every kWh of energy consumed.
The KONA Electric equipped with a 64kWh battery pack was tested by What Car? along with 13 other zero-emission cars at the Millbrook Proving Ground test track, in a mixed range of driving conditions. It achieved a real-world range of 259 miles – the equivalent of driving from London to Snowdonia on a single charge, and at a cost of just 3.3 pence per mile**.
Results of the What Car? testing comes just a few months after KONA Electric was crowned 'Affordable Electric Car of the Year 2018' by Auto Express magazine.
IONIQ Electric scored a second success for the brand in the new Real Range tests, achieving the highest energy efficiency and lowest cost-per-mile rating of any car tested. The zero-emission IONIQ covered an impressive 3.9 miles per kWh – 11% further per unit of energy than any other model from a different brand. It achieved a 'real-world' range of 117 miles in the What Car? test, at a cost of just 3 pence per mile**.
The results of the What Car? Real Range tests are a terrific endorsement of our zero-emissions models. Achieving not only the highest 'real-world' driving range, but also the best efficiency and lowest cost-per-mile figure of any brand is testament to our commitment to reducing the environmental impact of our vehicles. These cars are a compelling proposition for both fleet and retail customers, and we're confident that KONA Electric and IONIQ Electric will continue to attract praise from media and motorists alike.
Hyundai's IONIQ Electric provides a cleverly-packaged, responsive driving experience and is the world's first car offering three electrified powertrains; hybrid, plug-in hybrid and pure electric. The latter offers outstanding performance and pure e-mobility through a 28 kWh lithium-ion polymer battery, with instantly-available maximum torque of 295 Nm delivered by an 88 kW (120 PS) electric motor.
The KONA Electric provides all-electric zero emissions driving within a practical and stylish SUV body style. Characterised by its distinctive two-tone body, the fully-electric SUV lets buyers individualise their car with a wide range of colours. It seats five passengers in comfort and boasts a generous boot capacity of 322 litres (VDA).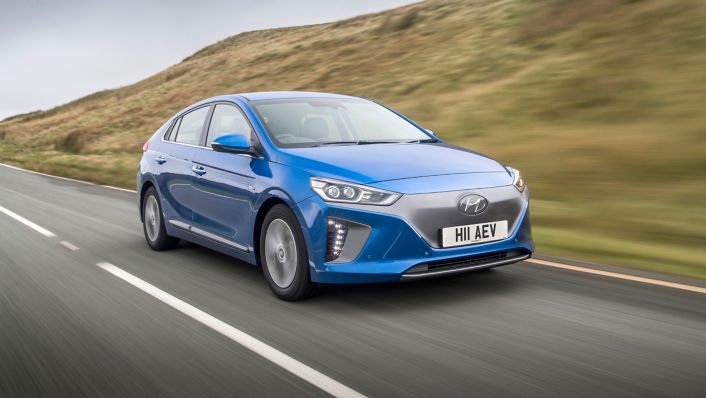 KONA Electric and IONIQ Electric both come with Hyundai's industry-leading five-year unlimited mileage warranty and roadside assistance package. Both cars also feature Hyundai's latest safety equipment, such as Autonomous Emergency Braking with Pedestrian Recognition, Blind Spot Detection, Rear Cross Traffic Alert, Lane Keep Assist and the Speed Limit Indicator Function.
The new What Car? Real Range test is the electric car equivalent of its well-known 'True MPG' test for combustion engine vehicles. The analysis is carried out at the Millbrook Proving Ground and incorporates a mix of town, A-road and motorway driving conditions. Testing is done with the lights on, climate control set to 22 degrees and in an ambient temperature of between 10 and 15 degrees.
Notes to editors
* KONA Electric equipped with 64 kWh battery pack
** What Car? based its calculations on a cost of 12 pence per kWh. However, many owners who charge their cars at home overnight will benefit from energy costs of less than 9 pence per kWh.