Hyundai Motorsport will reveal its brand-new electric car at the International Motor Show (IAA) media day in Frankfurt on September 10
It is the first-ever electric vehicle to be designed and developed by Hyundai Motorsport from its Alzenau-based headquarters  
A second sneak peek has been released on Hyundai Motorsport's social media channels ahead of the Frankfurt show.
Hyundai Motorsport is gearing up to unveil its first-ever electric race car at the International Motor Show (IAA) in Frankfurt next week.
The car, designed and built at the company's headquarters in Alzenau, will make its debut appearance during the annual motor show's media day on September 10. The IAA's slogan, 'Driving Tomorrow', makes it the perfect platform for Hyundai Motorsport to showcase its latest motorsport program.
Since its inception in 2012, Hyundai Motorsport has become well established in rallying and circuit racing. The company expanded its operations with a bespoke Customer Racing division in September 2015, from which it developed the competitive i20 R5, i30 N TCR and Veloster N TCR cars.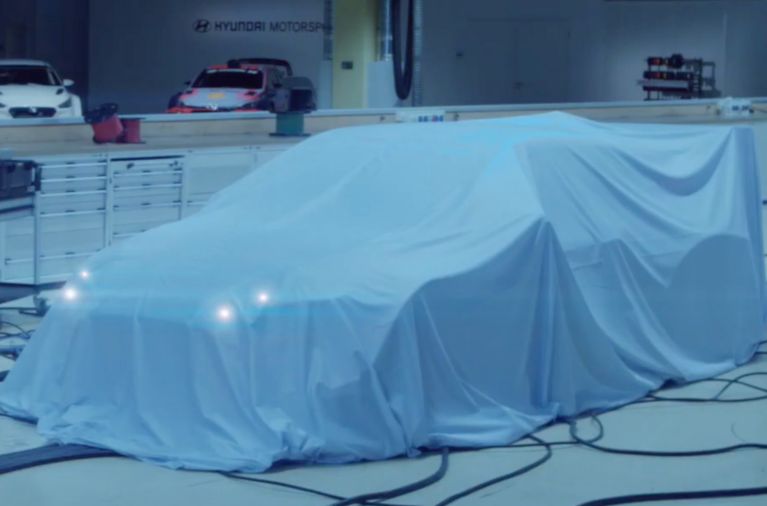 Hyundai Motorsport's move into electric underscores the company's ambition and credentials, its passion for cutting edge technology, all supported by Hyundai's high-performance N brand.
Following the first glimpse of the new electric car online last month, Hyundai Motorsport has released a second sneak peek video on its social media channels, set in its Customer Racing workshop at night and featuring current WTCR – FIA World Touring Car Cup champion Gabriele Tarquini.
After a positive reaction to our new electric project, we are excited to unveil the car at IAA. It will mark the continuation of our motorsport journey, starting a brand-new chapter, as we embrace new ventures. The future is looking bright, and we look forward to revealing more in Frankfurt next week.