Hyundai Motorsport has claimed a double podium in Rally Argentina, the fifth round of the 2018 FIA World Rally Championship (WRC), to increase its manufacturers' championship lead
Thierry Neuville finished second, having added two more stage wins on Sunday morning, including an impressive fastest time in the Power Stage
Dani Sordo took his second podium of the season in third place, while Andreas Mikkelsen took a stage win on the final day to finish fifth, just four seconds behind Sébastien Ogier.
Hyundai Motorsport has extended its lead in the FIA World Rally Championship (WRC) with a competitive double podium finish in the fifth round of the season, Rally Argentina.
Thierry Neuville claimed his third podium result of the season with a fine drive to second place, one year after claiming a nail-biting victory in Argentina. Finishing two places ahead of Sébastien Ogier, and taking maximum points in the Power Stage, the Belgian has been able to reduce the gap in the drivers' championship to ten points.
Dani Sordo completed the 18-stage rally in third place overall, registering his second gravel podium of the season after finishing second in Mexico last month. The Spaniard moves up to fifth in the drivers' table after a strong weekend.
Andreas Mikkelsen ensured all three Hyundai Shell Mobis World Rally Team crews finished inside the top-five on the Argentinian gravel, pushing Ogier hard on the final morning but ultimately finishing behind the Frenchman in fifth. The Norwegian's performance on the Power Stage added three points to his championship tally.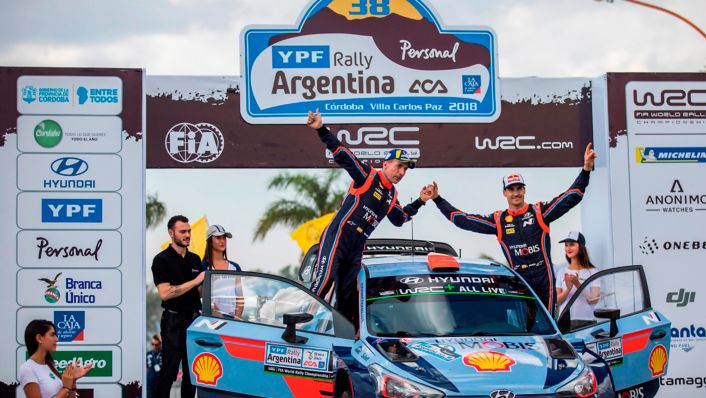 Three stages were run on Sunday, including two times through the hugely popular El Condor, with the route packed with thousands of fans, and the 22.41km Mina Clavero.
Hyundai Motorsport enjoyed a competitive final morning. Mikkelsen won SS16 (Copina-El Condor), leaving all three crews with stage victories in Argentina. Neuville increased the team's stage wins to five in SS17 (Giulio Cesare-Mina Clavero), heading up a 1-2-3 lock out for the Hyundai i20 Coupe WRC crews with Mikkelsen second and Sordo third. The second run up El Condor, which offered additional driver points as the Power Stage, saw Neuville take the squad's sixth stage win of the weekend with Mikkelsen in third.
A positive weekend  
Second double podium result of the season for Hyundai Motorsport after 1-3 in Sweden
Second 1-2-3 stage lockout with all crews taking stage wins over the weekend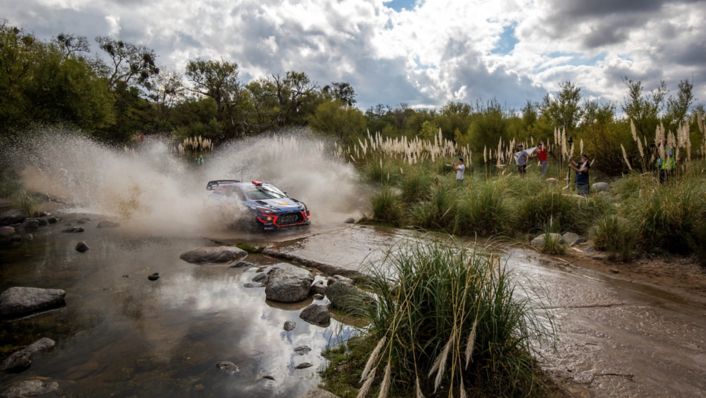 A good result for our team, and I think that is the best we could have achieved. Congratulations to Ott and Toyota on a supreme victory. They were beyond anyone's reach this weekend and thoroughly deserve this result. We set out to secure podium finishes with Thierry/Nicolas and Dani/Carlos, and the crews did everything we asked of them. The result has helped us to increase the manufacturers' championship lead slightly but Argentina has been another reminder that the competition is incredibly close this season. I said after Corsica that I wanted a stronger all-round team performance. With all three crews inside the top-five, stage wins for all crews and our second double podium of the season, I would say it's a job well done.
Next Rally
The WRC returns to Europe for the next gravel event, Rally de Portugal, from 17-20 May
Hyundai Motorsport finished 2-3 in Portugal last season and will field a four-car entry into this year's event with Hayden Paddon/Seb Marshall returning to action.