Hyundai Motor Company supports exploration of art-technology convergence as main sponsor of Christie's Art+Tech Summit   
Hyundai vehicles NEXO FCEV, Kona EV and 2020 Sonata to be on display at exhibition 'The Future Landscape,' featuring latest, advanced technologies, alongside artworks curated by Hyundai Motor
As the presenting sponsor of Christie's 2019 Art+Tech Summit: The A.I. Revolution, Hyundai will help explore the interactive relationship between artificial intelligence and the art world.
The exhibition 'The Future Landscape,' curated by Hyundai Motor, will showcase artworks created with cutting-edge technologies alongside its latest innovative vehicles. Together, they will serve as exemplars of the art-technology convergence and the human-centered sustainable mobility.
 
The summit at Christie's New York inside the Rockefeller Plaza on June 25 will be held in conjunction with Christie's Education, and presented by Hyundai Motor, a company dedicated to supporting art initiatives around the world.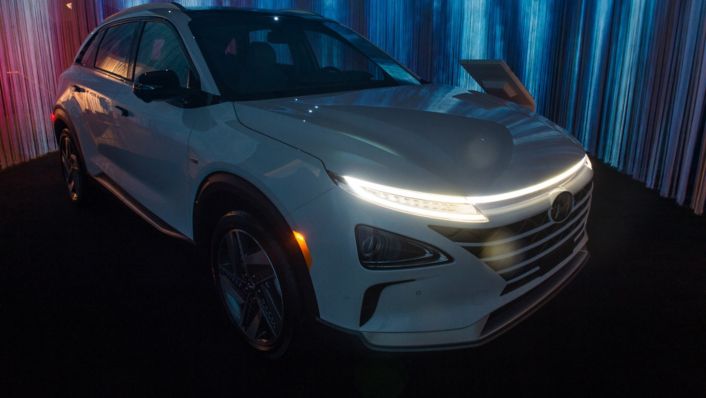 On display in a unique gallery at the 2019 Art+Tech Summit will be works of famed artists Quayola, Universal Everything and many others. Their objects of art will reveal various advanced technologies used in their creation processes, and nestled between the artworks, the Hyundai NEXO fuel-cell electric SUV, the Kona Electric SUV and the 2020 Sonata sedan will stand. All of the vehicles display features that are artfully tailored to spotlight their advanced, groundbreaking technologies. Each of the three rooms in the gallery is arranged in a unique theme as the following: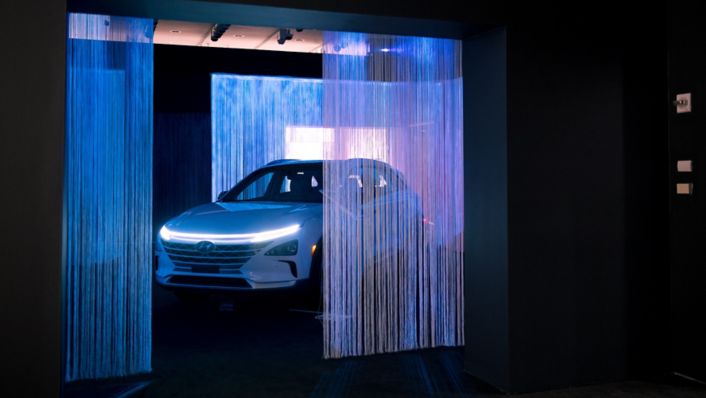 A room exhibits a series of digital paintings by Quayola, exploring the boundary between representation and abstraction. Next to it, 'Pluto and Proserpina,' a collection of works crafted by machine hands, highlights the tension between form and matter, the real and the artificial, and the old and new. 
In another room, a Hyundai NEXO is shrouded in a digital waterfall that surrounds the hydrogen-powered SUV with a curtain of IFR strings from floor to ceiling. Each curtain is projection-mapped with visuals of the waterfall cascading in reverse, symbolizing the water-electrolysis cycle incorporated within NEXO, as it emits only water as a by-product.
In the third room, the Kona Electric and 2020 Sonata are showcased, surrounded by works of artists Universal Everything, WOW and Shinseungback Kimyonghun. Using advanced computer tools, their works underline, respectively, choreographed bodily movements, cross-boundary forms between virtual and physical realities, and an assemblage of human-like images created by artificial intelligence that demonstrates the folly of the machine age.
Hyundai Motor Company supports the strong connection between art and technology. The two disciplines are woven together through our vision to become a leading mobility solutions company. Through this summit and our partnership with Christie's, we hope to further explore the intersection between art and technology as well as its promising future. We want to continue to spark conversations about the next evolution of sustainable mobility, and reflect on the human aspect of the next industrial revolution.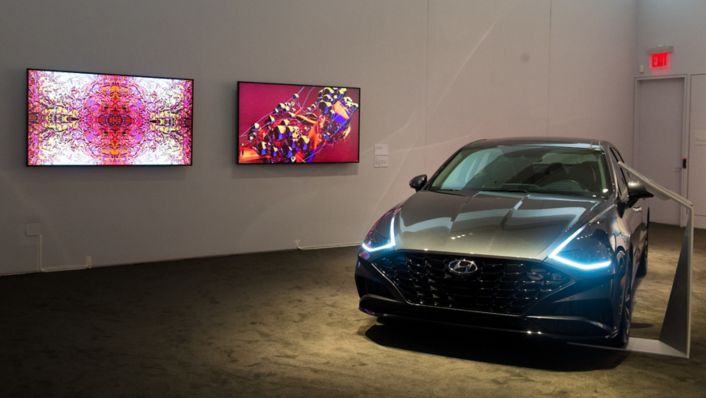 Convening top tech minds and innovators from Google, M.I.T. Technology Review, the New Museum and more, the Summit will offer a comprehensive program of lectures, talks and panel discussions on topics transforming the global industrial and arts landscapes. Prominent members of Hyundai's marketing team as well as world-renowned designers, entrepreneurs, technologists, curators, scholars, journalists and other professionals will give their insights.
Hyundai Motor Company CMO Wonhong Cho will give the opening remarks on Tuesday, June 25, along with Christie's Americas President Jennifer Zatorski and Christie's AVP Anne Bracegirdle. Alongside the summit's official events, several members of Hyundai's design team will share their thoughts.
From June 26-28, the Hyundai exhibit will be open to the public and will also feature presentations from members of Hyundai's design team, including Andrew Moir, senior manager, interior design; Liz Curran, senior manager, colors, materials and trim; Mike Wiedeman, creative manager, interiors; Mykola Kindratyshyn, senior designer, exteriors; and Geoff Velazco, senior designer, exteriors.
We recognize Hyundai Motor's strong commitment to the arts, particularly its focus on the relationship between art and tech, as seen in its support for LACMA's 'Art+Technology LAB' and its creation of the 'Art+Technology' video series with Bloomberg. Hyundai's philosophy of thinking beyond technology to create meaningful experiences, and to challenge the standards of design and workmanship, is evidenced in the innovative products they produce and the exceptional experiences they create. Christie's is honored to align with Hyundai in support of the Art+Tech Summit.