The rugged Hyundai i20 Active crossover costs £15,225 OTR, while new 1.0 T-GDi-powered i20 models start from £14,025
Refreshed i20 range sees 100PS 1.4-litre petrol manual replaced by efficient new 1.0-litre T-GDi 100 PS, for only £400 extra
Additional equipment added to i20 range, including DAB radio on SE and above, new 15-inch alloys on SE and TomTom Live services on Nav models
Starting price of i20 range remains unchanged, with the S 1.2-litre 75PS kicking off at £10,995 OTR
On sale – 3 March 2016
Hyundai Motor UK has today announced full pricing and specifications of the refreshed MY16 i20 range, which now includes the i20 Active compact crossover and efficient new 1.0-litre T-GDi engines.
The i20 Active costs £15,225 OTR, and comes packed full of equipment: 17-inch alloy wheels, LED daytime running lights, DAB radio and rear parking sensors are all standard equipment. With unique bumpers, roof rails, a rear spoiler and a 20mm-increased ride height, the Active is a purposeful and rugged addition to the i20 range.
The i20 Active is exclusively available with Hyundai's new three-cylinder 1.0-litre T-GDi 100PS engine, offering buyers excellent performance with low running costs thanks to combined fuel economy of up to 58.9mpg and CO2 emissions of just 110g/km.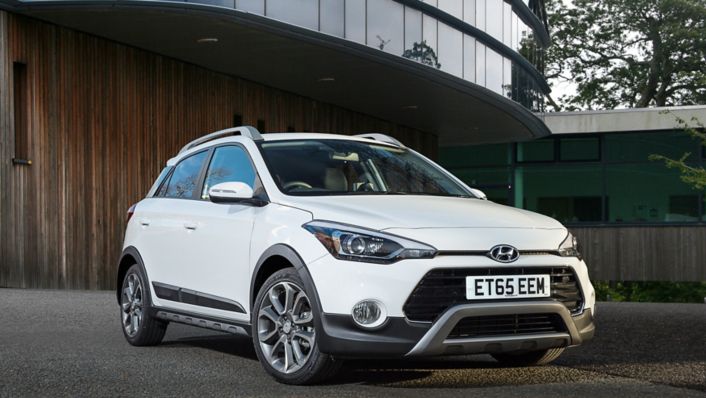 The innovative 1.0-litre T-GDi 100PS engine also features across much of the MY16 i20 range, replacing the 1.4-litre 100PS in manual-equipped i20s. With a price increase of only £400 over the outgoing engine, the 1.0-litre T-GDi offers much-improved performance and fuel economy of up to 65.7mpg and just 99g/km*. Available in SE models and above, the 1.0-litre T-GDi 100PS models cost from £14,025 OTR.
Hyundai has also introduced a new 1.0 T-GDi 120PS model to i20 Premium and Coupe Sport versions and above – the most powerful engine in an i20 to date. Despite the sporty performance, fuel economy is up to 58.9mpg combined*. Prices start from £15,525 OTR.
As part of the refreshed MY16 i20 range, Hyundai has built on its reputation for design, interior space and quality with new standard equipment that doesn't come with an increased price, giving more value for money than ever. The i20 SE, for example, now adds DAB radio and a fresh 15-inch alloy wheel design to its impressive line-up of rear parking sensors, cruise control, air conditioning and Bluetooth with voice recognition.
Premium Nav, Premium SE Nav and Coupe Sport Nav models now come with TomTom Live traffic services as standard, and cars specified in Iced Coffee, Passion Red and Stardust Grey now come with a black interior, rather than the brown and beige interiors.
As with all Hyundai models, the i20 range comes with Hyundai's industry-leading 5-year unlimited mileage warranty, giving customers exceptional peace of mind.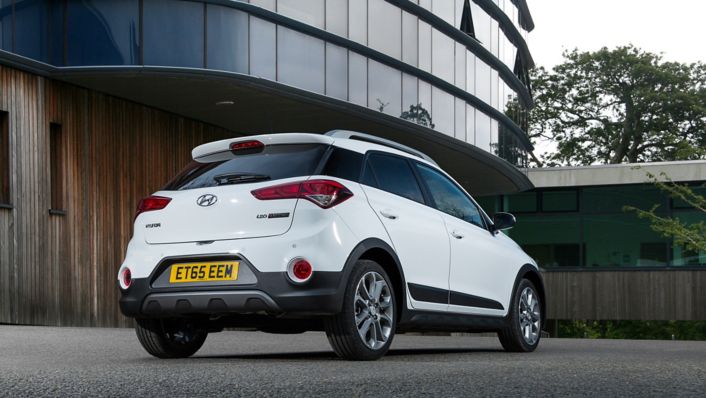 We've seen an incredible response from customers to the new i20, and for the MY16 range we've made things better still with added value and cutting-edge engine technology. With the addition of the i20 Active, our customers can now also have a stylish, well-equipped and rugged i20 at a very affordable price, and we're confident it'll be another successful addition to the Hyundai line-up.
Hyundai Motor has sold more than one million cars in the B-segment since the introduction of the Getz in 2002. Over the years, Hyundai Motor has established its credibility in Europe's most popular segment and after the replacement of the Getz in 2008, the Company has sold over 500,000 i20s across Europe, with 93,962 sold here in the UK.
The 2016 Hyundai i20 will be available in showrooms from 3 March 2016.
* Depending on tyre and trim specifications