In a landmark moment for the industry, the first customers to have bought via Hyundai's Click To Buy website are now in possession of their new cars
Keith Peile, 65, from Poole, Dorset was the first to buy directly on the new site choosing to collect his new i10 from his local dealer, Westover Hyundai
Meanwhile in York, 50-year old John Freel had his Tucson Sport Edition delivered to his home by local dealer Hatfields Hyundai
Both new owners praised the user-friendly nature of Click To Buy www.hyundai.co.uk/clicktobuy which allows customers nationwide to purchase a new Hyundai completely online via the no-haggle, discounted fixed-price site
Both Mr Peile and Mr Freel used the site's trade-in facility to put funds towards their new cars and both bought without test driving
Since its 6th January launch, Click To Buy has had more than 92,000 site visits with 23 cars ordered, 43 per cent of customers trading in and 93 per cent collecting their new model from their local dealer
Customers can buy a new Hyundai i10, i20, i30, Tucson and Santa Fe from Click To Buy – further models and greater functionality will be added later this year
Hyundai Motor UK is delighted to announce that the first customers to purchase via its innovative website, Click To Buy, have had their brand new cars handed over to them.
An industry first, Click To Buy
www.hyundai.co.uk/clicktobuy
was launched on 6th January and allows customers nationwide to purchase a new car completely online, offering a no-haggle, discounted fixed-price experience, making buying a brand-new Hyundai simple, quick and transparent. The entire process is possible to complete in less than five minutes when purchasing with cash, making it just as easy to buy a new car as it is to buy a weekly grocery shop online.
Since launch, 23 Hyundai cars have been ordered via Click To Buy and the site has had over 92,200 visitors with 43 per cent of customers trading in and 93 per cent collecting their new car from their local dealer.
First to buy was 65-year old retired security officer Keith Peile, from Poole, Dorset, who replaced his i10 with a brand new model. Mr Peile came across Click To Buy when he saw Hyundai's advertisement on television one evening.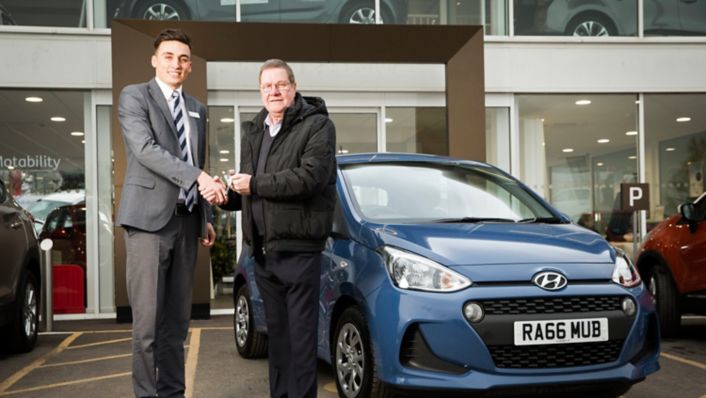 I picked up my tablet computer, looked at the site and was so impressed that by the next morning I'd bought a new car! It was just so straight-forward. It only took ten minutes to choose the options and paint colour of my new i10. I knew I would be getting the best deal from the site so I was very happy with the final price. Paying was easy too – I just put my details in once for the initial deposit which were immediately retrieved when I paid the balance.
As an existing owner of an i10, which he traded in via the site, Mr Peile felt he didn't need to test drive – an option which is open to all customers – and while he could have had his new car delivered to his home address, Mr Piele wanted to complete the purchase at his local dealership, as did 93 per cent of Click To Buy customers. Hyundai's existing digital sales experience points to the same trend: just 10 per cent of Rockar customers chose home delivery for their new car.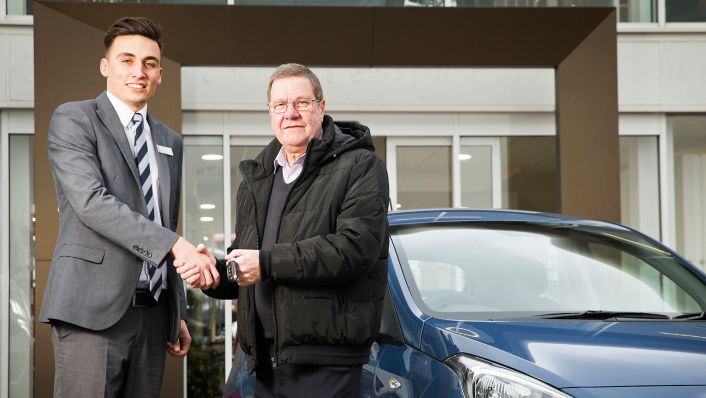 Click to Buy is definitely the future. It just gives people more choice, because you can purchase a car when it suits you. Would I buy a Hyundai over the internet again? Absolutely!
The first Click To Buy home delivery was made to John Freel, a Health and Safety Manager in York, who traded in his previous car, an i40, for a brand-new Tucson Sport Edition. Mr Freel came across the site on Hyundai's home page and having entered the details of his i40, was instantly impressed with the transparent price quoted.
Click To Buy allowed me to point out specific minor damage so the price was fair and that made me happy.
He also liked the no-hassle nature of buying online.
I can't be bothered going into showrooms half the time and I don't like being pressurised.
Customers can research and buy a new Hyundai for a discounted fixed price at a time that suits them - either from the comfort of their own home or when they're on the go using their smart phone, tablet, laptop or home computer.
Click To Buy was such an easy process. I was actually doing it at work and I liked the fact that I could save what I was doing and go back to it later. I did this a few times when things were quieter, and then thought 'fine, I'm just going to go for it, and click!'
Like Mr Peile, Mr Freel did not test drive before he bought, trusting in the Hyundai brand – and certainly feels that Click To Buy is the way forward.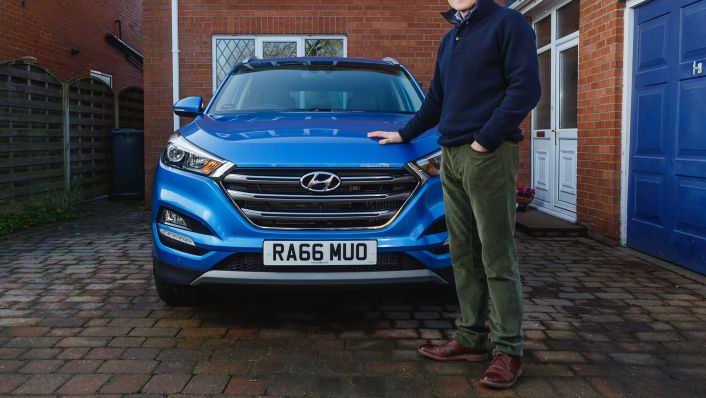 The Tucson is my fourth Hyundai in succession and I had an ix35 before so I roughly knew what I was getting anyway. The showroom is still there and you can still go in and see everything, but I would say that this is definitely the future. Amazon Prime is the classic example; it's the same methodology. You want to get on with your normal routine and have your goods delivered, so you don't have the hassle and you save time. We're all too busy these days. Everything is online, why not cars as well?
Currently, the Hyundai i10, i20, i30, Tucson and Santa Fe are available to purchase through the Click To Buy site at discounted fixed pricing. When customers visit Click To Buy, they are able to get a trade-in price for their current car, use trade-in funds towards the new car purchase, configure their new car, add accessories and service plans, arrange finance and pay a deposit. Configurations and finance valuations can also be saved for up to 14 days and returned back to at a later stage if the customer needs time to think about their decision.
The purchase is then completed online and customers buying with cash can either select their preferred handover slot at a dealership of their choice, or they can choose their preferred slot for home delivery. Home delivery is also available to customers buying through finance, although finance paperwork will need to be signed beforehand at a local dealership. Trade-in cars can either be taken to the dealership on the selected handover date, or will be collected from the customer if home delivery has been chosen.
For added flexibility, those purchasing through Click To Buy can also choose to collect their new car in the evening and at weekends from participating dealerships.
Click To Buy is an industry first developed by Hyundai in-house and it makes me incredibly proud to see the first new Hyundai cars purchased online handed over to absolutely delighted customers. Our aim with the site has always been to make the buying process easier and more transparent than ever before.
Hearing the glowing feedback from Mr Peile and Mr Freel, it is clear we are doing just that, offering them and many others, the ability to buy a car in the same way they'd be able to purchase clothes, electrical goods or food shopping. With discounted fixed prices, Click To Buy is hassle free and with our detailed online trade-in valuation tool, the whole process is clear and easy to understand.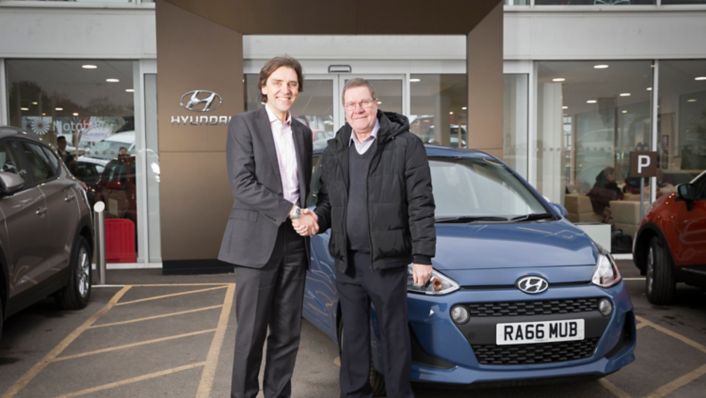 With more than 92,000 people visiting Click To Buy since it launched on 6th January, it's obvious that there is huge interest in purchasing a new car over the internet. I'm very pleased that Hyundai is playing a pivotal part in transforming how people buy and own cars. The response we have received so far has been very positive indeed – but we're certainly not going to rest on our laurels. Hyundai has been built on rapid change and continued innovation. We will continue to lead the charge within this space.
Further models and greater functionality will be added to the Click To Buy website later in the year.