i30 N prices start from £24,995 on the road
i30 N and i30 N Performance specifications available
The first performance car under the new Hyundai N sub-brand
2.0 T-GDI offers up to 275PS & 353 Nm torque
Hyundai Motor UK has officially announced the pricing and specification of the i30 N, which will go on sale in the UK on 4th January.
The i30 N is Hyundai's first performance model under the Hyundai N sub brand, engineered by Hyundai's dedicated High Performance Vehicle Division, led by Albert Biermann. The N moniker stands for both Namyang - Hyundai Motor's global R&D Centre in Korea where i30 N was born - and for the Nürburgring, home to Hyundai Motor's European Test Centre where the i30 N was further developed and tested.
The i30 N is available in two specifications, i30 N and i30 N Performance. Both models continue with the i30's already extensive list of standard equipment, whilst adding N specific interior and exterior equipment as well performance modifications.
The i30 N is priced from £24,995 on the road and features a host of standard equipment in line with the rest of the i30 range, including LED head and tail lights, Smart Adaptive Speed Control, Keyless Entry with Engine Start/Stop Button, 8" Touchscreen Satellite Navigation with Android Auto and Apple Car Play. i30 N also offers an array of performance equipment, including 18" alloy wheels with Michelin Pilot Super Sport tyres, Electronically Controlled Suspension, 17" ventilated front brake discs with 16" rear and manually operated hand brake. The performance equipment continues with the i30 N's Torque Vectoring System and steering wheel mounted Drive Mode Buttons, where the driver can access and customise engine and suspension settings.
Priced from £27,995 on the road, the i30 N Performance offers additional performance-specific equipment, including 19" alloy wheels with Pirelli P-Zero tyres of a compound that's specific to the i30 N, an additional 25PS of power, Electronical Limited Slip Differential and 18" ventilated front brake discs with 17" rear. The i30 N Performance also adds interior equipment, including leather and suede seats with electrical operation on the driver's and passenger's seats. i30 N Performance also includes an Active Variable Exhaust System which allows the vehicle to reveal its playful character with 'crackle' and 'pop' sounds from the exhaust when in N or Custom drive mode.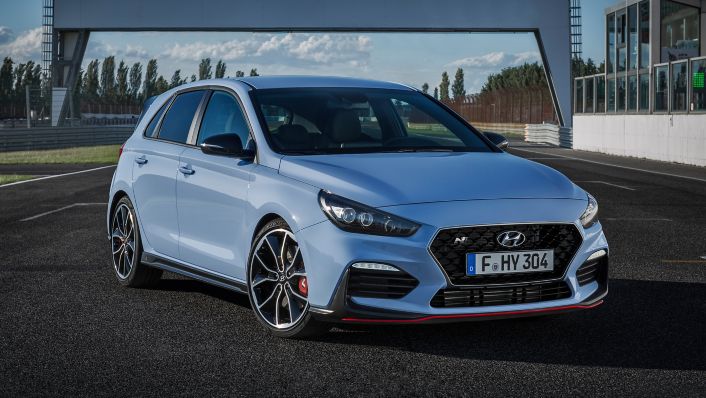 Both i30 N models feature standard 8" Touchscreen Satellite Navigation with Android Auto and Apple Car Play as found in other i30 models with the addition of N specific functions such as drive mode display, suspension, engine and transmission set up, lap timer, acceleration timer and performance gauges including engine torque, turbo boost and g force display. The i30 N models also feature a bespoke instrument cluster with a 4.2" LCD displaying a number of drive mode and vehicle control settings, shift timing lights and a variable LED tachometer, with a maximum engine rev light which adjusts according to engine temperature. The cluster also features soft blue lighting and the Hyundai N logo.
Other shared equipment includes Launch Control to assist the driver with maximum acceleration from a standing start, Rev Match Function to eliminate the need for heel and toe gear changes, and Brake Control knock back pre-fill to maximise braking response after high g-load cornering.
Body performance modifications over the standard i30 bring additions including re-inforced front suspension strut rings, strengthened front sub frame and a central tunnel support bracket. The body modifications continue inside with the addition of a rear stiffness bar across the rear wheel arch lowers. For the more focussed driver, the i30 N Performance also offers a no cost option of cloth seats in place of the standard leather and suede, providing a weight saving of 12.7 kgs.
In outright performance terms, both i30 N and i30 N Performance are electronically limited to 155 miles per hour, with the 0-62 sprint reached in 6.4 and 6.1 seconds respectively. Both models share a "standard" torque figure of 353Nm between 1500 – 4700 rpm, however the 2.0 turbocharged inline 4 engine can also deliver an additional 25Nm of torque during its over boost function, which is available at all times dependant on exhaust temperature.
The i30 N range is available in 6 colours - Clean Slate, Polar White, Micron Grey, Phantom Black and Engine Red. Alongside these there is also a new N specific colour of Performance Blue, inspired by Hyundai Motorsports WRC and TCR programmes.
We are incredibly excited about the arrival of Hyundai's first high-performance model under the N line-up. As well as the great value that our customers expect, the i30 N offers advanced technology and a high level of driver customisation – meaning it can play the role of comfort-oriented commuter as well as race track-ready performance car.
All i30 N models come with Hyundai's industry leading 5 Year Unlimited Mileage Warranty, 5 Year Roadside Assistance package, 5 Year Annual Health Check, and 12 Year Anti Corrosion Warranty.