Official Chelsea FC partner, Hyundai launches 'The Extra Mile' competition which will reward the dedication of Chelsea fans. To find out more, click here https://blog.hyundai.co.uk/the-extra-mile
To showcase how far some fans go in support of the Blues, Hyundai highlights the story of a superfan who travelled 12,000 miles in one week for his club
American, Jake Cohen flew from Boston, USA to watch John Terry's last game for Chelsea in May 2017, only to fly back to London the following week to watch the Blues face Arsenal in the FA Cup Final
Part of Hyundai's four year partnership with Chelsea FC
The lengths that Chelsea FC fans go to, to support their beloved club will be recognised by Hyundai, Official Chelsea FC partner, as part of its new 'Extra Mile' competition.
Every month, this competition will reward the most dedicated fans with club prizes including match tickets and club merchandise. At the end of the season, one of the monthly winners will win the ultimate prize for any football fan; the opportunity to travel across Europe to watch each of Hyundai's partner clubs in action – Chelsea, AS Roma, Atletico Madrid and Hertha Berlin. 
To enter, fans simply need to visit https://blog.hyundai.co.uk/the-extra-mile and tell Hyundai how they have gone the extra mile in support of Chelsea.
One Chelsea fan recognised by Hyundai is Jake Cohen who, in May 2017, flew over 12,000 miles in one week in support of the Blues.  Jake flew to London from Boston, USA, to watch Chelsea legend John Terry's last home game for the club, before flying back the following day for work. The next week, he travelled all the way back to London to watch the Blues play in the FA Cup Final against Arsenal at Wembley. Jake has now relocated to the UK so he can be closer to his beloved club. Watch Jake's story here: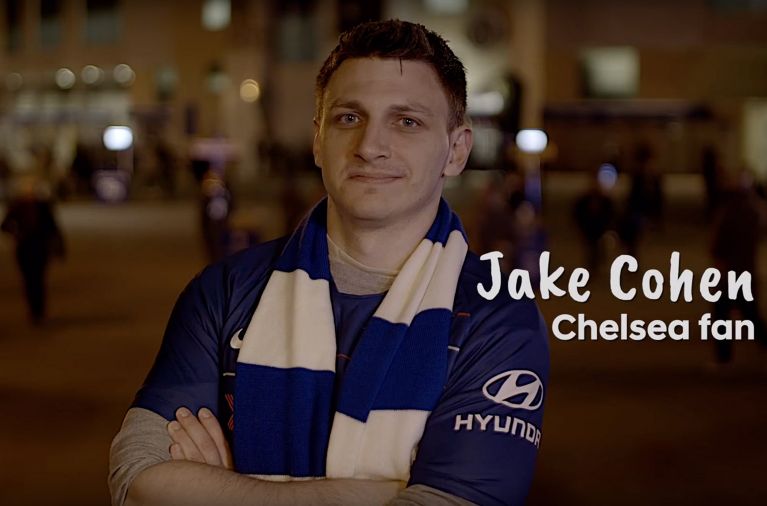 At the time, there were definitely some eyebrows raised among my friends and family when I told them I was flying to London to watch John Terry's last home game at Stamford Bridge, but it was well worth it. It's really fantastic to see Hyundai recognising the importance of fans and the lengths they go to follow their team with The Extra Mile. Through supporting Chelsea, I've met some incredible people from all over the world who also go the extra mile to support their club, from born and bred Londoners to fans from afar who use their holidays to come and watch Chelsea! I'm lucky enough now to live within walking distance from Stamford Bridge, so it's a lot easier to get to matches now!
To many, travelling that distance would seem extreme but to Jake it was just what he had to do. His dedication truly epitomises what football can mean to some people and his story is a great way for us to launch our search to find more fans that have gone to incredible lengths to support the Blues. The Extra Mile campaign fits perfectly with our aim of putting the fans at the heart of our partnership with Chelsea. We look forward to discovering and rewarding other supporters like Jake who have really gone that extra mile!
This season, Hyundai Motor announced a four-year partnership with Chelsea Football Club as Official Automotive Partner. As part of the partnership, Hyundai championed real Chelsea fans during the announcement, including giving away all tickets for the first home game to the fans. Hyundai also teamed up with the club and Stand Up To Cancer to inspire fans to 'give cancer a kicking' and raise money for life-saving cancer research. A unique shooting challenge with players and legends including David Luiz, Gary Cahill and Katie Chapman, a film where Zola surprised a young fan as well as a matchday takeover at the game vs Manchester United, all combined to raise awareness and funds for Stand Up to Cancer.
'The Extra Mile' is the next part of Hyundai's season-long 'For the Fans' campaign, which aims to put supporters at the heart of all activity and bring fans closer to the game through its partnership with Chelsea FC.