The new Santa Fe, revealed earlier this month with a rugged, yet sophisticated new design, features new premium technology and high-tech safety features
A new platform allows for significant improvements in performance, handling, fuel efficiency and safety
The launch line-up includes newly developed powertrains: 1.6-litre 'Smartstream' T-GDi hybrid powertrain and 2.2-litre 'Smartstream' diesel
A 1.6-litre 'Smartstream' T-GDi plug-in hybrid powertrain will be available early 2021
Hyundai Motor has revealed details of the new Santa Fe's powertrain line-up, new platform and range of features.
The new Santa Fe represents a significant milestone in the history of Hyundai. With a new platform, new transmissions and new technology, it is cleaner, more agile, and more efficient than ever before. With the introduction of our new Santa Fe, our whole SUV line-up will be available with electrified versions, ranging from 48V mild hybrid solutions to fuel cell.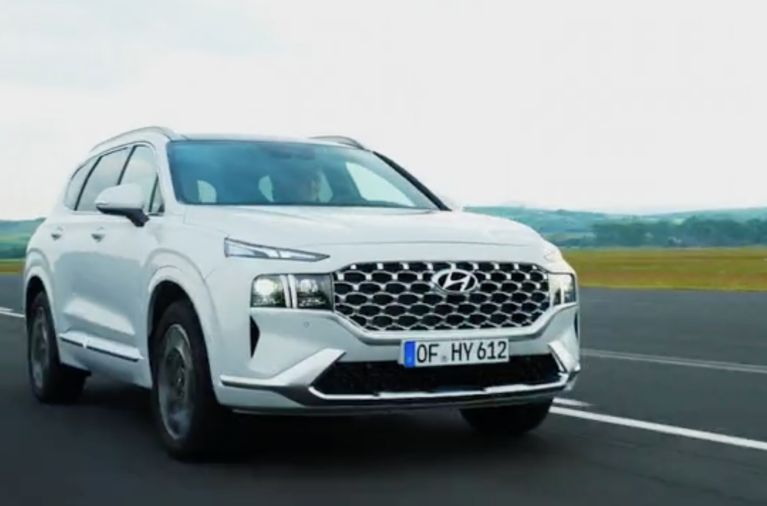 New electrified powertrain line-up*
The new Santa Fe is the first Hyundai in Europe to go on sale with the new 'Smartstream' hybrid and plug-in hybrid powertrain.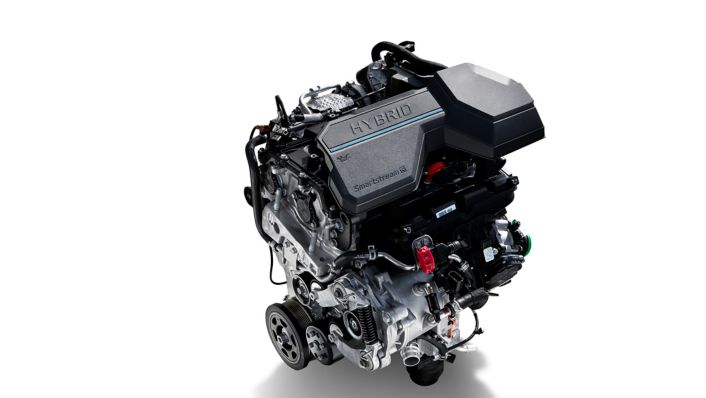 The hybrid version of the new Santa Fe, available at launch, consists of the new 1.6-litre T-GDi (turbocharged gasoline direct injection) 'Smartstream' engine and a 44.2 kW electric motor, drawing its power from a 1.49 kWh lithium-ion polymer battery. It is available with two-wheel or four-wheel drive. The system has a combined output of 230 PS power and 350 Nm torque offering low emissions without compromising on driving fun.
The plug-in hybrid version, to follow in early 2021, comes with the same 1.6-litre T-GDi 'Smartstream' engine paired with a 66.9 kW electric motor drawing its power from a 13.8 kWh lithium-ion polymer battery. This variant will be available with four-wheel drive. The total power output is 265 PS. It has a combined torque of 350 Nm.
Both the hybrid and plug-in hybrid drivetrains are available with a newly-developed 6-speed automatic transmission (6AT). Compared to its predecessor, the 6AT brings improved transmission and fuel efficiency.
The new 1.6-litre T-GDi 'Smartstream' engine is also the first engine to utilize Hyundai's new Continuously Variable Valve Duration (CVVD) technology and also features Low-Pressure Exhaust Gas Recirculation (LP EGR) to further optimise fuel efficiency. The CVVC regulates the duration of valve opening and closing according to driving conditions, achieving a boost in performance and improvements in fuel efficiency and emissions.
The LP EGR returns some of the gas burnt by the engine to the combustion chamber, producing a cooling effect and reducing the emission of nitrogen oxides. The 1.6 T-GDi also features a low-pressure system that redirects the burnt emission gas to the front of the turbocharger compressor, rather than the intake system, to increase efficiency under high load conditions.
More details on the CVVD and LP EGR technology are available here.
New diesel engine with 8-speed wet DCT*
As an alternative, customers will be able to choose the new 2.2-litre 'Smartstream' diesel powertrain, which has been updated to achieve improvements in fuel efficiency and performance.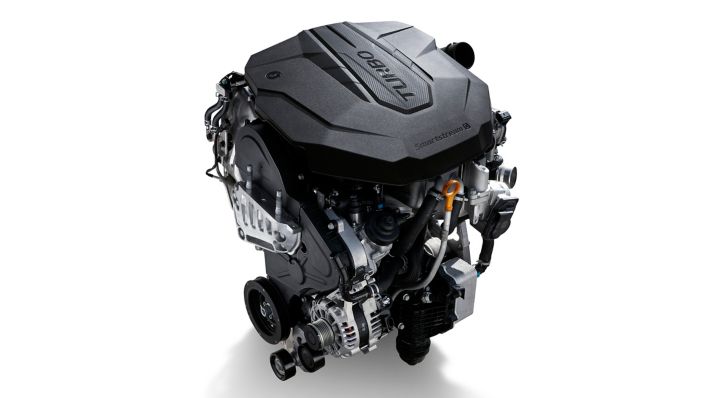 Compared to the previous engine generation, the new engine block consists of aluminium instead of iron, leading to a weight reduction of 19.5 kg. Different parts of the engine have been improved, including, for example, the camshaft, to reduce internal friction and improve overall fuel efficiency. Furthermore, the engine has been equipped with a new 2,200 bar injection system (compared to a 2,000 bar injection system on the previous engine), improving overall engine performance. The four-cylinder engine produces 202 PS and 440 Nm torque and is available with two-wheel or four-wheel drive.
The new engine is combined with a newly developed 8-speed wet double-clutch transmission (8DCT), offering the smooth shifting characteristics of a conventional automatic transmission while enhancing efficiency over dry dual clutch transmissions. Compared to a 7-speed double-clutch transmission, maximum torque capacity is increased by 58% thanks to an optimum clutch cooling performance, achieved through a dedicated electric oil pump for lubrication. The high efficiency hydraulic control system consists of an on-demand control-based electric oil pump and accumulator. Fuel efficiency is improved by 3% through reduced engine power loss and increased hydraulic efficiency, in comparison to 8-speed automatic transmission models. The new 8DCT also creates a more dynamic driving experience and enhances acceleration performance by up to 9%, compared to 6-speed manual transmission models*.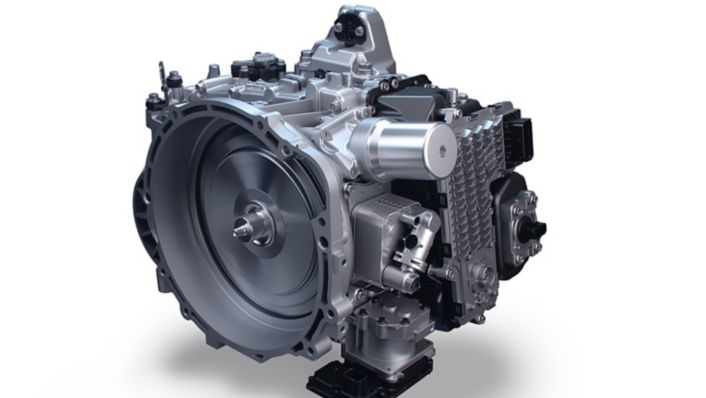 New platform for a better performance and improved safety*
The new Santa Fe is the first Hyundai model in Europe and first Hyundai SUV globally based on the all-new third-generation Hyundai vehicle platform. The new platform allows for significant improvements in performance, handling, fuel efficiency and safety.
By applying a multiple inlet air-curtain, the flow field around the wheels is improved. In addition, due to the efficient undercover configuration in the new platform, the aerodynamic force underneath the vehicle has been significantly decreased. Vehicle stability is enhanced by the lowered position of heavy equipment within the platform, which reduces weight and lowers the centre of gravity. Aerodynamics have also been improved so that air resistance is minimised to deliver excellent fuel efficiency, power and driving performance.
The fixed points for the steering arms have been positioned closer to the middle of the front wheels, allowing for more agile handling. Meanwhile, noise, vibration and harshness (NVH) performance is improved through reinforced sound-absorbing systems in vibration-sensitive parts.
The new platform also brings with it significant improvements in collision safety, thanks to improvements in engineering. Through the use of a multi-load path structure, hot stamping, and the integration of a super high-tensile steel plate, the platform will enable the car to better absorb the impact in the event of a collision while at the same time minimising the deformation of the passenger space.
Improved roominess*
The Santa Fe, long praised for its comfort and roominess, now offers even more space thanks to the platform modifications, despite the new electrified powertrains on offer. The overall length, width and height have been increased compared to the predecessor.
Dimensions (in mm)
Length: 4,785 (+15mm)
Width: 1,900 (+10mm)
Height: 1,685 (+5mm)
Wheelbase: 2,765
Overhang: Front 945 (+5mm), Rear 1,075 (+10mm)
The intelligent packaging of the new platform means the battery pack can be located beneath the passenger seat in the hybrid version and beneath the driver and passenger seats in the plug-in hybrid version, with no impact on cabin or luggage space. As a result of the platform update, the new Santa Fe offers an additional three centimetres of second-row leg room and additional four centimetres of third-row leg room. Trunk capacity has been increased, too. With the rear seats up, trunk capacity of the 5-seater version has been improved by 9 litres for a total capacity of 634 litres. The capacity of the 7-seater version has been improved by 24 litres for a total capacity of 571 litres. With the second row seats pushed forward and set to an upright position, capacity is improved by 12 litres for a total of 831 litres for the 5-seater and by 32 litres for a total of 782 litres for the 7-seater version.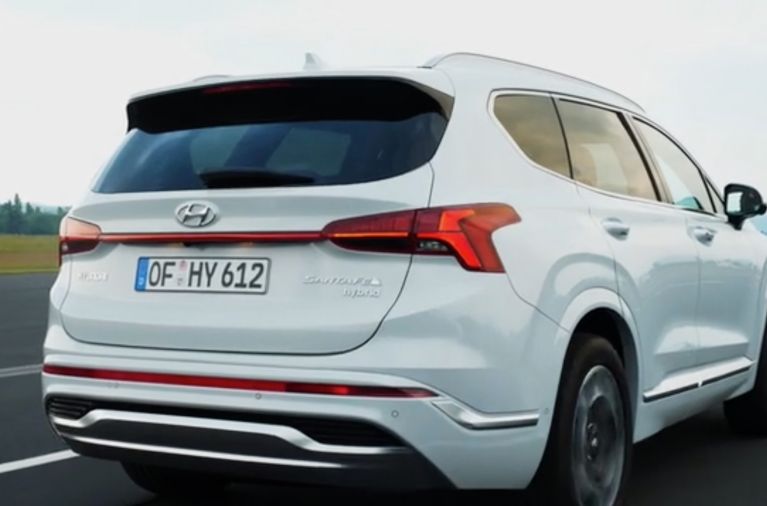 Four-wheel drive and Terrain Modes*
As with the previous generation, the new Santa Fe features Hyundai's signature HTRAC four-wheel drive technology. HTRAC is a combination of the words "Hyundai" and "traction," and the technology is intended to enable agile handling and better torque application depending on wheel grip and vehicle speed.
For the first time, the new Santa Fe comes with a Terrain Mode selector: a control knob located in the centre console to conveniently switch between different drive modes. The different drive modes optimise driving performance and HTRAC settings for a variety of situations. This feature includes unique driving modes for sand, snow and mud, as well as the driving modes eco, sport and comfort. An additional option, smart driving mode, means the car will automatically recognise the driving style and select a mode so the driver does not have to.
The combination of the different drive modes with HTRAC results in improvements in acceleration, stability and fuel efficiency. On surfaces such as snow, gravel and mud, the system increases traction for enhanced cornering performance. In slippery conditions, power is automatically distributed to all four wheels. In sport mode, HTRAC enables improved acceleration by distributing up to 50 percent torque distributed to the rear wheels. In comfort mode, it improves stability by distributing up to 35 percent torque to the rear wheels. In eco mode, the system improves fuel efficiency by only using front-wheel drive.
Improved connectivity features and Hyundai Bluelink*
New, premium technology with an extra focus on comfort and functionality places the new Santa Fe at the top of its class. In addition to the new digital cluster and AVN widescreen, the new Santa Fe offers state-of-the-art Hyundai Bluelink telematics and connected car services. With the Bluelink app, customers can locate their vehicle, lock and unlock it remotely, or view vehicle attributes like fuel level. Hyundai LIVE Services add real-time traffic information, parking updates, fuel station locations including prices, as well as weather information. Destinations or points of interests can be sent from the app to the in-car navigation system. If drivers have to park their car within a 200-metre to 2-kilometre radius from the destination, Last Mile Navigation can be activated to resume the guidance in the Bluelink app on the driver's smartphone.
Apple CarPlay and Android Auto, now offered wirelessly in combination with Display Audio, enable customers to mirror the functionality of their iOS and Android smartphones. The wireless charging pad in the centre console has also been improved, allowing faster recharging with up to 15 watts. Additionally, a USB charging port is available for passengers in the rear.
More personalisation is made possible by intelligent voice recognition. The application of shift by wire, which uses buttons instead of knobs, makes it even easier for the driver to select gears.
As with the previous generation Santa Fe, the new Santa Fe is equipped with a full head-up display (HUD) which projects relevant information directly onto the windshield. This allows the driver to access important information, including speed, navigation, fuel, and safety alerts, while still keeping their eyes on the road ahead. The eight-inch projection size and high luminance of more than 10,000 candela per square metre guarantees optimum visibility even in a variety of different lighting conditions, and the height and angle can be adjusted to fit the driver's individual needs.
Even more state-of-the-art active safety features*
The new Santa Fe is equipped with comprehensive Hyundai SmartSense active safety features and complies with the highest European safety standards. Additional improvements for active safety features put the new Santa Fe in line with its premium competitors.
For the first time, the new Santa Fe has been equipped with Highway Driving Assist (HDA). The feature is a combination of Lane Following Assist and Smart Cruise Control, utilising sensors and map data to ensure safe operation as well as to automatically adjust speed in limited environments. A special button on the steering wheel allows the driver to activate HDA with just one click.
Another new feature, Reverse Parking Collision-Avoidance Assist (PCA) uses a rear view camera and rear ultrasonic sensors to detect obstacles when reversing, providing a warning and applying the brakes, if necessary, to avoid a collision. Remote Smart Parking Assist (RSPA) enables the driver to move the new Santa Fe forward or backward by using the key, without being in the car. Other features include Forward Collision-Avoidance Assist (FCA), Blind-Spot Collision Warning (BCW), Blind-Spot Collision-Avoidance Assist (BCA), Safe Exit Assist (SEA), Blind-Spot View Monitor (BVM), Lane Following Assist (LFA) and Rear Cross-Traffic Collision-Avoidance Assist (RCCA).
Available Hyundai SmartSense safety and driving assistance features*:
Forward Collision-Avoidance Assist (FCA) [NEW: junction turning]
Navigation-based Smart Cruise Control (NSSC) [NEW: using navigation data]
Highway Driving Assist (HDA) [NEW]
Reverse Parking Collision-Avoidance Assist (PCA) [NEW]
Remote Smart Parking Assist (RSPA) [NEW]
Blind-Spot Collision Warning (BCW)
Blind-Spot Collision- Avoidance Assist (BCA)
Safe Exit Assist (SEA)
Blind- Spot View Monitor (BVM)
Lane Following Assist (LFA)
Rear Cross-Traffic Collision-Avoidance Assist (RCCA)
---
* UK specification and pricing is still to be confirmed