DeepGlint partnership to utilize AI technology in multiple layers of business improving product quality as well as customer experience
Hyundai's envisioned "hydrogen society" realized through newly launched NEXO
Fuel cell electric vehicle NEXO delivers a clean, connected automotive experience
Hyundai to jointly develop autonomous driving technology with Baidu
Continuing from the CES event in Las Vegas earlier this year, Hyundai Motor once again made a progressive move forward at CES ASIA 2018.
Hyundai has entered partnerships with leading Chinese Information Communications Technology (ICT) companies to utilize Artificial Intelligence (AI) data and insights to create a seamlessly connected automotive experience.
As a part of an effort to not only enhance customer experience, but also address sociocultural needs, Hyundai has formed a strategic partnership with leading Chinese AI startup DeepGlint, which provides AI products and solutions for the security and transportation market.
The new partnership will enable Hyundai Motor to implement artificial intelligence to gain competitive advantages in manufacturing, robotics, retail, and customer experience.
In order to make our vision a reality and further our innovation, we aim to work with the most creative and brightest businesses across multiple industries. Regardless of size and industry, Hyundai is open to any collaboration and partnership across regions, and China is where we see opportunities that will lead to groundbreaking solutions that shape our future.
In addition to strengthening its AI capabilities, Hyundai is showcasing leadership in advanced technology with the all-new fuel cell electric vehicle, NEXO. First unveiled at CES 2018 in January, the NEXO features Hyundai's most advanced zero-emission powertrain, cutting-edge convenience, driver-assistance technologies and eco-friendly features such as an air purification system.
Also in the show, Hyundai will introduce the 'Fuel Cell House', in which visitors will see Hyundai's energy control, home gardening, and air purification system using its technology. In addition, Hyundai will also showcase the fine dust purification performance utilized by NEXO.
All of Hyundai's latest advancements can be experienced at booth 5016 in the N5 Hall of the Shanghai New International Expo Centre from June 13 to 15, 2018.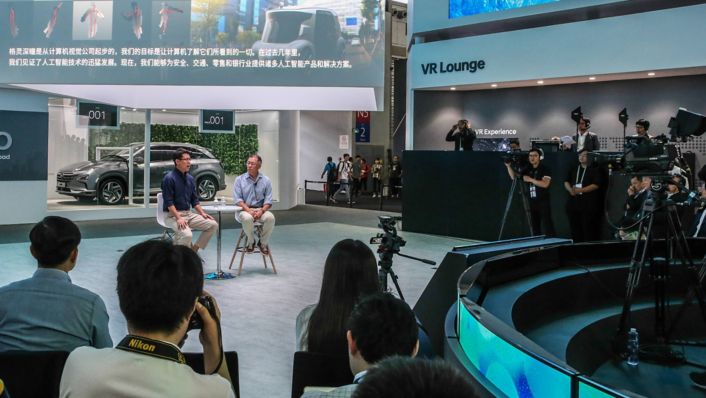 Hyundai's Investment in AI and Partnership with Chinese ICT Companies

Hyundai Motor's 'Open Innovation' spirit was once again highlighted through its fresh partnership announcements made at CES ASIA 2018.
With a belief that AI can empower the company to clearly understand customers' needs and to help broaden customer experiences, Hyundai announced a partnership with China's leading AI startup DeepGlint. The company highlighted four focus areas where Hyundai plans to use AI to impact the future of humanity the most – manufacturing, retail, environment and seamless mobility.
I believe the rise of innovation in China is driven by its passionate entrepreneurs and smart consumers. Particularly, Chinese consumers are leading such transformation by embracing new ideas and technologies. Therefore, our innovation efforts should go above and beyond customers' expectation and should address on people and on things that are deeply related to our customers' satisfaction.
The partnership with DeepGlint will allow Hyundai to comprehensively deploy AI technology in many business areas, improving the quality of Hyundai's products and customer satisfaction as well as creating a safer driving environment.
Hyundai and DeepGlint both have faith that not only will AI enable products with more intelligence, but more importantly, it will help us deliver much more humanity in our manufacturing, products and society.
DeepGlint is just one of several Chinese ICT partnerships Hyundai Motor is actively pursuing. During the CES ASIA 2018, Hyundai also announced cooperation with Baidu, a leading global ICT firm based in Beijing, where the two parties will spearhead the technological development for autonomous driving through the Apollo Project. Renowned global automakers, ICT companies, startups and academics are participating in the Baidu-led Apollo Project to jointly advance autonomous driving technologies.
We aim to move beyond providing just means of transportation but autonomous driving experiences, which provide customers freedom in both space and time. We are reinforcing our collaboration with Baidu in order to hasten the development of cutting-edge technologies crucial to commercializing autonomous vehicles.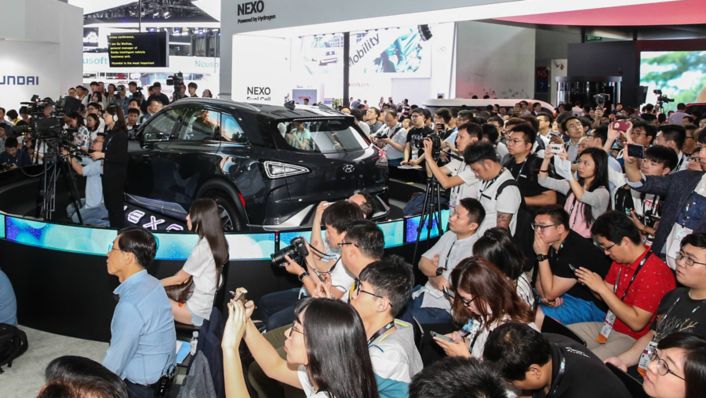 We started collaborating with Hyundai beginning 2015 and now we are further strengthening our ties in the field of autonomous driving.
Hyundai's Eco-friendly Vehicle Development Program and Its All-new FCEV NEXO

With hydrogen society being a big theme of Hyundai's participation in CES ASIA 2018, Hyundai displayed an array of fuel cell technologies including NEXO.
Hyundai, the world's first company to commercialize fuel cell electric vehicles in 2013 with Tucson Fuel Cell, launched the next generation fuel cell electric vehicle NEXO in March 2018.
The Hyundai fuel cell vehicle NEXO, dubbed as an 'ultimate Future Utility Vehicle', is a technological flagship of Hyundai's ever-growing eco-vehicle lineup. NEXO represents the culmination of the company's advanced fuel cell technology, and will bring the future of mobility to today's drivers.
NEXO is rooted in Hyundai's development philosophy of optimal efficiency with zero sacrifice in driving performance. NEXO's eco-friendly powertrain boasts an ability to optimize hydrogen utilization and component efficiency. This in turn leads to the world's best fuel cell system efficiency at 60 percent. With the help of highly advanced fuel cell technology and efficient electric motor technology, NEXO successfully solves the FCEV's chronic problem of fuel economy loss.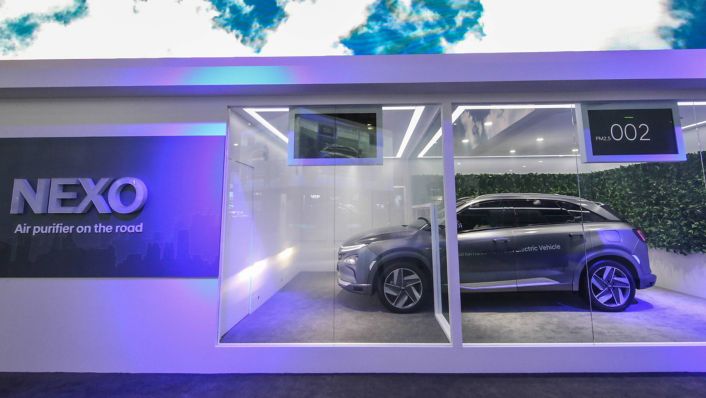 NEXO is differentiated from current FCEVs with its ground-breaking practicality. One of the common problems that FCEVs face is the need to sacrifice significant car space to accommodate the hydrogen storage tank. NEXO has effectively overcome the challenge by adopting the world's first unified three-tank system, giving the vehicle enough cargo space comparable to that of conventional utility vehicle.
Another industry first is the filtering and purifying of the air while driving. Remarkably, as air filters through NEXO, 99.9% of its fine dust is purified. Therefore, just by driving NEXO, a legitimate zero-emission vehicle, and drivers can make significant contributions to the environment.
During CES ASIA 2018, Hyundai will introduce the 'Fuel Cell House', in which visitors will see Hyundai's energy control, home gardening, and air purification system using its technology. In addition, Hyundai will also showcase the fine dust purification performance utilized by NEXO.