Chelsea star, Gianfranco Zola surprises cancer survivor and super-fan, Ed Garside at Stamford Bridge with help from Hyundai Motor UK in heart-warming video
Hyundai is an Official Partner of Stand Up To Cancer & Global Automotive Partner to Chelsea Football Club
Video of the surprise can be viewed here
Hyundai has raised £235,000 for Stand Up To Cancer since 2017 through various activities
Gianfranco Zola gave eighteen-year-old Ed Garside the surprise of his life in a special meeting organised by Hyundai Motor UK, Stand Up To Cancer's official partner.
Ed, who's grown up supporting Chelsea, was diagnosed with acute lymphoblastic leukaemia on his eighth birthday. After three years of treatment and intensive chemotherapy he was given the all-clear when he was eleven years old.
Ed thought he was heading to Stamford Bridge to talk about his experience of cancer and share his story as part of the partnership between Stand Up To Cancer and Hyundai, which is also the Global Partner to Chelsea Football Club. Little did he know, he was in for a big surprise.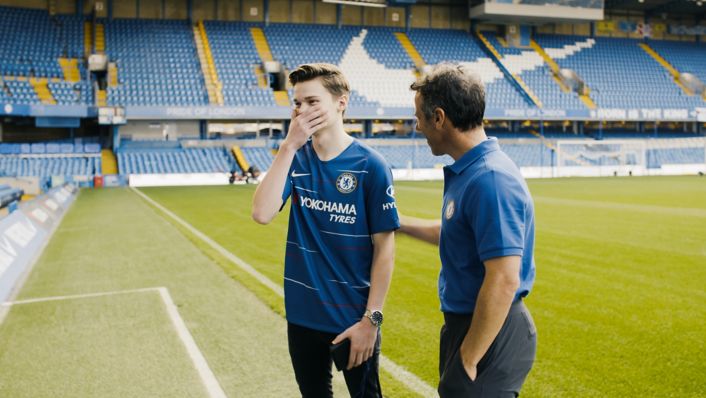 In this heart-warming film, Gianfranco Zola, Chelsea FC's Assistant Manager, surprises Ed and presents him with tickets to the Chelsea vs Manchester United match on Saturday 20th October, courtesy of Hyundai.
It's always good to meet fans but I was especially excited to meet Ed today. He's been through a lot and at a very young age. And he's using his experience to help others and raise awareness of Stand Up To Cancer's work - he's selfless and an inspiration to us all. Seeing the look on his face was very pleasing. It was an honour to hear how Chelsea has been important to him over the years. I'm really happy he will be at the Bridge to watch us play Man U on Saturday.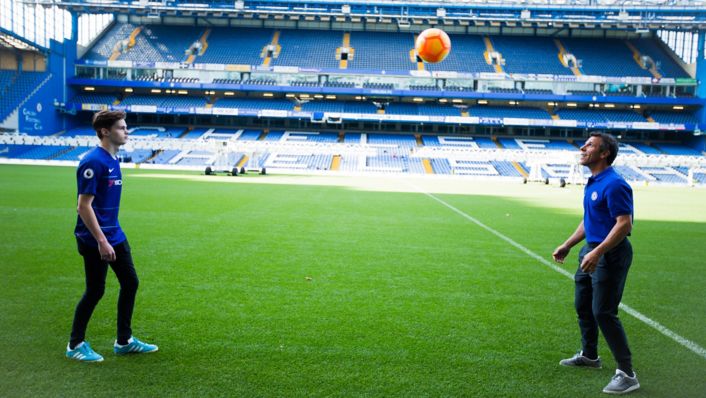 Ed is currently studying History at the University of Reading and plays football at every given opportunity. He said: "I can't believe I got to meet the legend, Zola today! I grew up supporting Chelsea and Zola is an absolute hero."
"I remember being told I had cancer like it was yesterday. Going through my treatment was really tough, the chemotherapy made me feel really ill and all my hair fell out. I was so excited to be able to start playing football again once I was cancer-free. Now I never take for granted the feeling of running onto the pitch. I can't wait to go to the Bridge to watch Chelsea v Man United – come on you Blues!"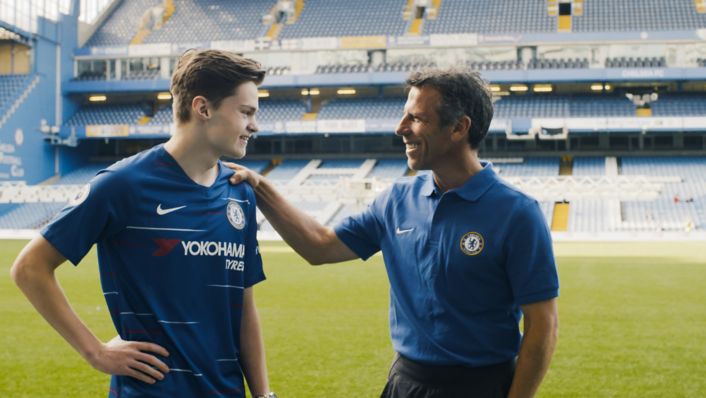 1 in 2 people in the UK will be diagnosed with cancer in their lifetime. Stand Up To Cancer is a joint national fundraising campaign from Cancer Research UK and Channel 4 that raises funds for ground-breaking research that will save lives. To date, the campaign has raised more than £38million, funding 35 trials and projects involving more than 8000 cancer patients and supporting one international Dream Team. Stand Up To Cancer airs from 7pm on Friday 26th October on Channel 4.
As official partner to both Stand Up To Cancer and Chelsea, Hyundai will be supporting Stand Up To Cancer's fundraising efforts by donating its match day rights for Saturday's Chelsea fixture vs Manchester United at Stamford Bridge, encouraging fans to join in and help give cancer a kicking this autumn. To find out more or to donate, visit standuptocancer.org.uk or text HYUNDAI to 70404 to donate £5*
Hyundai has been an official partner of Stand Up To Cancer since 2017 and in that time has raised £235,000 for the charity through a variety of activities.