Hyundai Motor Europe launches new podcast series, Are We There Yet?
Bi-weekly podcast to feature guests from all areas of Hyundai operations, beginning with Hyundai Motor Europe President and CEO Michael Cole
Are We There Yet? is hosted by British motorsport presenter and former BBC Grand Prix host Suzi Perry
Hyundai Motor Europe is launching Are We There Yet?, a new bi-weekly podcast that will give listeners exclusive insights into one of the world's leading automakers and the people behind the brand.
Are We There Yet? is hosted by British motorsport presenter Suzi Perry, who will invite her guests from Hyundai to reveal the latest developments from behind the scenes, covering themes from electrified motorsport and flying cars to long-term business strategy.
With the automotive industry expected to change more in the next ten years than the previous hundred, the series will examine the steps Hyundai is taking to ready itself to becoming a smart mobility solutions provider.
Each episode consists of a free-flowing interview conducted by former BBC Grand Prix and MotoGP host Suzi Perry. Perry will meet the engineers, designers and executives who are driving change as the company rolls out its latest initiatives to prepare itself for the future. The guests will share the exciting ideas and innovative concepts from the company's workshops, labs and test tracks.
The automotive industry is undergoing huge change, with Hyundai at the forefront, and we are excited to share some insights and opinions from behind the scenes in our new podcast series. We have a great host in Suzi Perry, who brings her expertise from the worlds of broadcasting, motorsport and technology. She is certainly not afraid to challenge her guests, which makes it even more interesting for the audience!
Upcoming episodes
The first episode of Are We There Yet? is called "How we dream electric: inside the head of Hyundai" and features Hyundai Motor Europe President and CEO, Michael Cole. Cole outlines how Hyundai is transforming from a car manufacturer to a smart mobility solutions provider and explains how Hyundai, as a major contributor to the economic and social wellbeing of Europe, has a strong commitment to sustainability. He details his vision for the Hyundai brand and overall strategy, while also discussing some personal stories and his career highlights to date.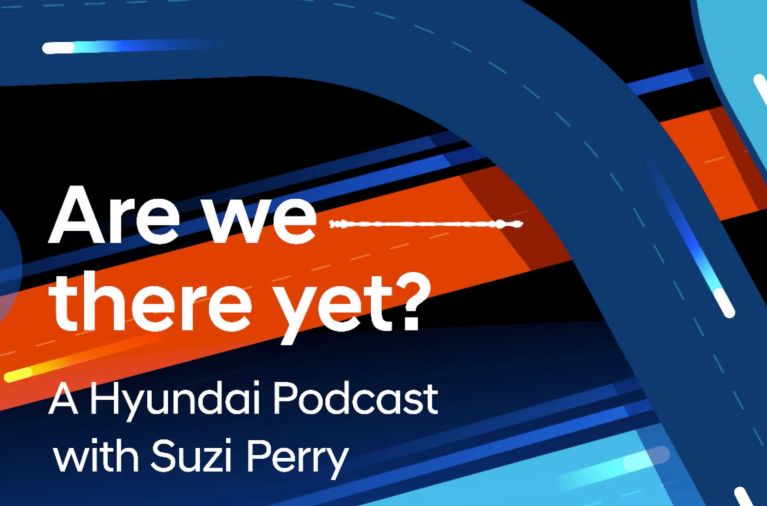 The next episode, "How we make racing electric", features two key players from Hyundai Motorsport: Team Principal Andrea Adamo and racing driver Augusto Farfus, who has been testing the company's new ETCR car. With Hyundai bringing electrification to touring cars with the Veloster N ETCR, Adamo and Farfus will reveal how high-performance EVs in motorsport can contribute to the cars we will see on the streets, as well as making motorsport more sustainable.
Are We There Yet? is now live and available to listeners on Spotify, Apple, Google Podcasts, Stitcher, Acast and other podcast streaming platforms. It is produced by Fresh Air Production.
---
About Suzi Perry
Suzi Perry is a pioneering British motorsport presenter who previously presented the BBC's MotoGP coverage for 13 years. In 2013, she became the first ever female presenter of the organisation's Formula One coverage. Over the course of her career, Perry has also covered the Olympic Games, Wimbledon and the London Marathon. She also served as the presenter of Channel 5's The Gadget Show for eight years.
About Fresh Air Production
Founded in 2003, Fresh Air Production is an award-winning audio production company that specialises in branded podcasts, radio advertising and radio programmes. Fresh Air has won several awards, including a Corporate Content Award in 2019 for "Production Company of the Year".