Hyundai Motor invigorates global passion for football through sponsorship of FIFA Women's World Cup France 2019™
Programs underscore Hyundai's support for female athletes and their continuous advances in top-level sports
Celebrating the continuous strides made by female athletes, Hyundai Motor Company will sponsor the FIFA Women's World Cup France 2019™.
Hyundai Motor Company will sponsor the FIFA Women's World Cup France 2019™ with schemes including vehicle supply, participatory activities and athletes' biographies.
Hyundai Motor, the Official Automotive Partner of FIFA World Cup events since 1999, will sponsor the eighth edition of the FIFA Women's World Cup in France from June 7 through July 7, which will be held in Paris, Lyon, Nice, Montpellier, Rennes, Le Havre, Valenciennes, Reims and Grenoble. 
Under the motto "True Passion," which refers to female athletes' inner strength for overcoming various social barriers and challenges, the company has created diverse initiatives to involve and inspire fans, paying tribute to exemplary female footballers along the way.
The programs include digital contents illuminating the life histories of ten players from Olympique Lyon FC and Chelsea FC; a supply of 96 popular Hyundai vehicles – including Santa Fe, Tucson, Kona and other models – for FIFA officials' transportation and logistics; and special marketing programs – "Match Predictor presented by Hyundai" and "Hyundai Goal of the Tournament" – which allow fans, respectively, to predict match results and stats as well as vote on the competition's best goal on the FIFA website and digital app.
Altogether, the schemes underline Hyundai's belief in and commitment to women's advances not only in sports, but in all realms of life.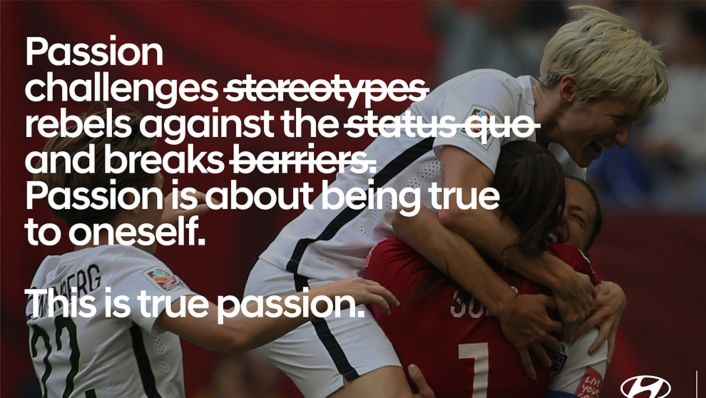 Throughout the FIFA Women's World Cup France 2019™, Hyundai Motor has incorporated its long-held support for women's dignity and equal rights into the True Passion campaign. We will put more efforts to grow as a company dedicated to strengthening women's capabilities all around the world.
Sponsorship of football – beloved by fans around the world and uniting them in a spirit of sportsmanship – and its related activities is a key component of Hyundai's global sponsorship initiatives.
Additionally, during semi-final and final matches, a FIFA Fan Experience zone outside the match stadium in Lyon, Parc Olympique Lyonnais, will allow participants to play football shooting games, take photos and selfies and experience displayed vehicles up close. 
The FIFA Women's World Cup is a global football competition contested by the senior women's national teams that are members of FIFA, the sport's international governing body. The competition has been held every four years since 1991, with the first edition held in China.
The FIFA Women's World Cup France 2019™ will be played between 24 national teams from Australia, China, Japan, South Korea, Thailand, Cameroon, Nigeria, South Africa, Canada, Jamaica, United States, Argentina, Brazil, Chile, New Zealand, England, France, Germany, Italy, Netherlands, Norway, Scotland, Spain and Sweden.
Hyundai Motor signed an agreement to sponsor FIFA competitions in 1999, and has been the official automotive partner of every FIFA World Cup edition since 2002 as well as many other FIFA tournaments. In 2010, the company extended its strategic sponsorship agreement with FIFA to cover the 2018 and 2022 FIFA World Cups.