Hyundai Motorsport will contest the penultimate round of the 2017 FIA World Rally Championship, Wales Rally GB, with four cars
Hayden Paddon returns after a one-rally absence to join Thierry Neuville, Andreas Mikkelsen and Dani Sordo in a Hyundai i20 Coupe WRC
The team aims to complete its fourth season in the WRC on a high note and is targeting a strong team result on the Welsh gravel roads.
Hyundai Motorsport will field a four-car entry into Wales Rally GB next week, the penultimate event in the 2017 FIA World Rally Championship (WRC), and the final round in Europe.
Following a series of disappointing events, the team is fully focused on securing a strong team result on the Welsh gravel roads with its most comprehensive line-up of the season.
Returning from a one-off rally absence, Hayden Paddon will take to the #4 Hyundai i20 Coupe WRC, co-driven by Seb Marshall. Thierry Neuville will be aiming to regain second place in the Drivers' Championship in the # 5 car with Andreas Mikkelsen lining up in the #6 in his second rally as a Hyundai Motorsport driver.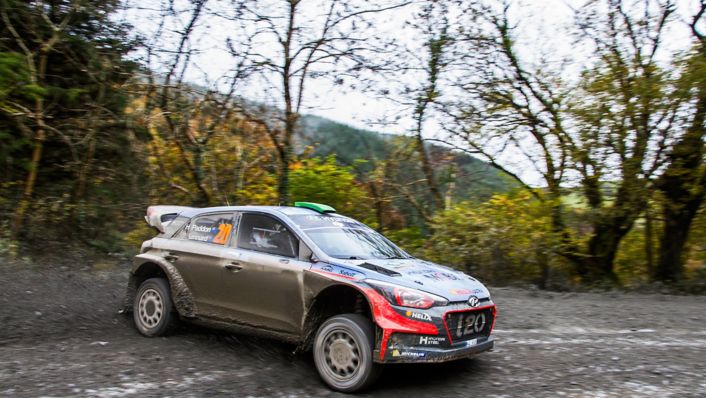 Dani Sordo will take control of the fourth car, running as the #16 entry, although the Spaniard will not be eligible to score Manufacturer Points.

Slippery when wet

Wales Rally GB will have a familiar feel to crews with just a few changes compared to the 2016 itinerary. Legendary stages such as Myherin, Sweet Lamb and Hafren all make a welcome appearance on the schedule, which covers a total stage length of 304.36km. Meanwhile, Gwydir makes its first appearance since 2013, and sees crews compete in the picturesque Snowdonia Mountains.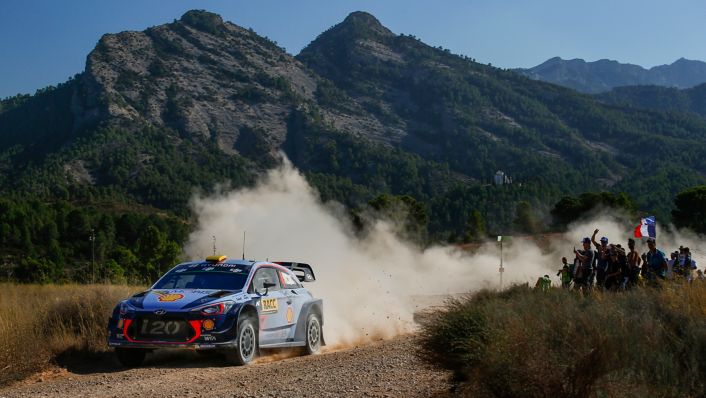 Despite being one of the shortest overall distances of the season, the challenges offered by the Welsh stages will be augmented by the likelihood of wet autumnal conditions, which can leave stages incredibly treacherous.
Hyundai Motorsport's crews have prepared for the rally by testing the latest specification Hyundai i20 Coupe WRC on the Welsh roads last week. Despite recent setbacks in the Championship, the team is determined to put in representative performances in the final two rounds of the season – and to end 2017 with a positive foundation for next year.
We head to Wales focused on securing a good all-round team result in this penultimate round of the season. Entering four cars gives us a chance to perform at our highest level, but at the same time we recognise the challenges that this rally poses. We can never be sure of the weather conditions, and if it rains the stages can become incredibly slippery and tricky to tackle. We have been gradually improving our results in Wales each season. We finished on the podium there twelve months ago with Thierry, which gives us a positive feeling for this year. With Hayden, Andreas and Dani also showing good form in Wales in the past, I hope we can enjoy a more trouble-free weekend and pick up a better result for our team compared to recent rallies.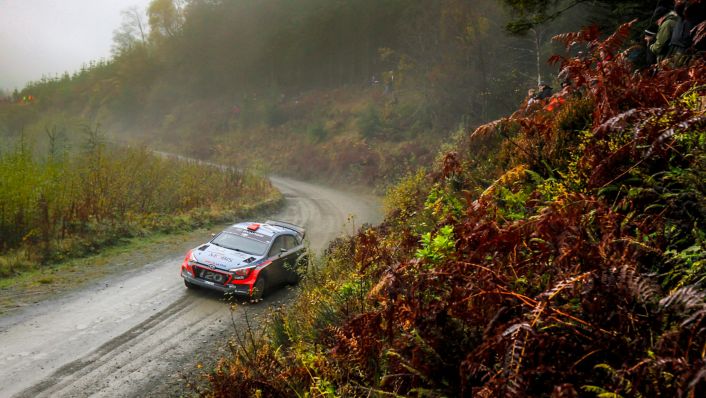 Crew Notes: Paddon/Marshall (#4 Hyundai i20 Coupe WRC)

Paddon returns to WRC action on his favoured gravel surface and is looking to end the 2017 season in competitive form. He has taken top-five finishes in Wales in the past two seasons, and will be aiming to fight for his second podium of 2017 after finishing second in Poland back in July.
Wales Rally GB is an iconic rally with plenty of driving challenges. The event has always been run late in the season, so we can expect some rain and potentially foggy conditions. In many ways, it is like being back home in New Zealand. There are some very nice, fast stages, and it is a rally I enjoy. Hopefully we can put together a good result and build up to a positive conclusion to what has been a tough season.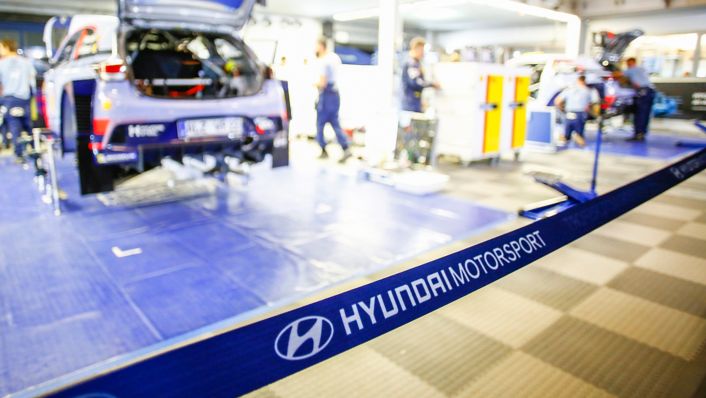 Crew Notes: Neuville/Gilsoul (#5 Hyundai i20 Coupe WRC)

Neuville is still mathematically in the Drivers' Championship hunt so, along with compatriot Belgian co-driver Nicolas Gilsoul, he will be putting in a big effort in Wales. Having taken the team's maiden Welsh podium in 2016, all eyes will be on another top-three result in this year's round.
We were dealt something of a harsh blow in Spain, but we are ready to fight back in Wales. It is a unique event on the calendar, a rally where weather conditions can really dictate performance and confidence levels. If it's raining, windy and muddy, the stages become incredibly slippery. It is without doubt a tough event, but one that I relish. I have finished on the podium a couple of times, and get a buzz from the fantastic atmosphere. Driving at high-speed through the forest stages, sometimes in the dark, is just incredible. I intend to keep pushing right to the end of the Championship.
Crew Notes: Mikkelsen/Jæger (#6 Hyundai i20 Coupe WRC)

In their first WRC event with Hyundai Motorsport, Mikkelsen and co-driver Anders Jæger quickly made a positive impression. Leading the rally at the end of the opening day, it was a steep learning curve for the Norwegian duo. Their adaptation to the Hyundai i20 Coupe WRC will continue on the all-gravel stages in Wales.
It is great to have a rally under my belt with the Hyundai Motorsport team and with the Hyundai i20 Coupe WRC. It was a really valuable learning experience in Spain. Wales Rally GB has always been a special event for me, personally, as it was where I had my first-ever WRC event as a 17-year-old. I know the rally very well so I have an appreciation for its difficulties. It is a fair assumption to expect rain at some point, which creates a very slippery surface, but overall it is highly rewarding and enjoyable. I'm looking forward to it, and hopefully to challenge near the front.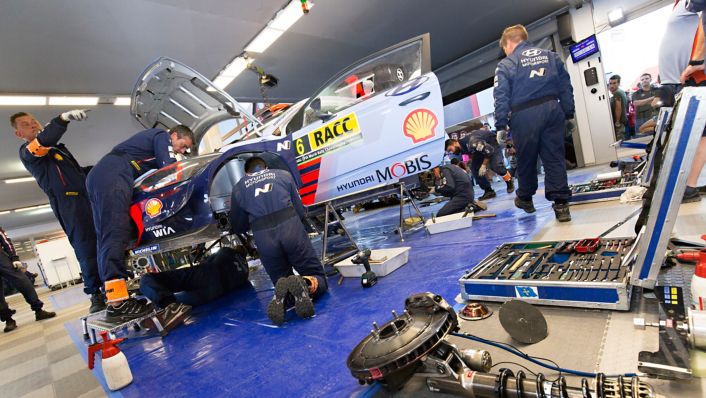 Crew Notes: Sordo/Martí (#16 Hyundai i20 Coupe WRC)

For Sordo and co-driver Marc Martí, a promising home rally in Spain turned to frustration. As the only crew to have taken maximum Power Stage points in consecutive rallies this season, they will be targeting a less turbulent event in Wales Rally GB.
Wales Rally GB is an event that most crews anticipate and enjoy. The combination of gravel stages, inclement weather conditions, and high speeds makes for a thrilling rally. Of course, when it is muddy, it gets slippery, so you need to have the confidence inside the cockpit to tackle the stages aggressively. The forest setting and narrow sections make it difficult but highly enjoyable. I am determined to end the year with a positive result. We missed out in Spain, where I know we could have finished on the podium, so that's something I want to rectify in Wales.
Wales Rally GB at a glance

Run over 21 special stages and a distance of 304.36km, Wales Rally GB offers a tough schedule with stages deep in the Welsh forest, often in muddy and unpredictable conditions.
The opening day kicks off with a short 1.49km test at the new Visit Conwy Tir Prince before crews move onto a combination of Myherin, Sweet Lamb and Hafren – the longest individual stage of the rally at 35.14km – on Friday.
Saturday is the longest day of the weekend and incorporates stages run in the dark. The 13.91km Aberhirnant stage gets underway at 7.55am local time, and the day's action concludes twelve hours later at the 17.91km Dyfnant. The short 1.80km Cholmondeley Castle splits up the loop of four stages, which is repeated in a different order on the second pass.
Sunday morning takes in five stages, Alwen and Brenig will be run twice, the latter as the rally-concluding Power Stage, with a solitary run through Gwydir. Dark mornings and evenings make for a typical late autumn rally with the Welsh weather always ready to play its part.