The new KONA Electric and the all-new seven-seat Santa Fe are recogised as some of the most compelling new vehicles currently on the market
The KONA Electric wins Best Eco Car award
The all new Santa Fe wins Best Seven-Seater award
Awards judged on a combination of cost, value, quality, excellence and fitness for purpose
The recently launched new KONA Electric and all-new Santa Fe have scooped accolades in the Parkers New Car Awards 2019.
The KONA Electric was awarded Best Eco Car with the judges commending its range of 279 miles, its usability and its affordability - allowing customers to genuinely consider an electric vehicle as their next family car.
Here's a car that's made all of its rivals sit up and take notice. As the BEV's journey to the mainstream gathers momentum, the Kona's excellent range and all-round usability is outstanding.
The all-new Santa Fe, which went on sale at the beginning of this month, was also awarded Best Seven Seater, with the judges praising its space for all the family, practicality, comfortable, assured drive and high level of standard equipment including its suite of driver assistance systems.
The Santa Fe typifies where Hyundai is these days – it's a good-looking, great value, high-quality product that promises to be tough enough to handle all that a modern, large family will throw at it.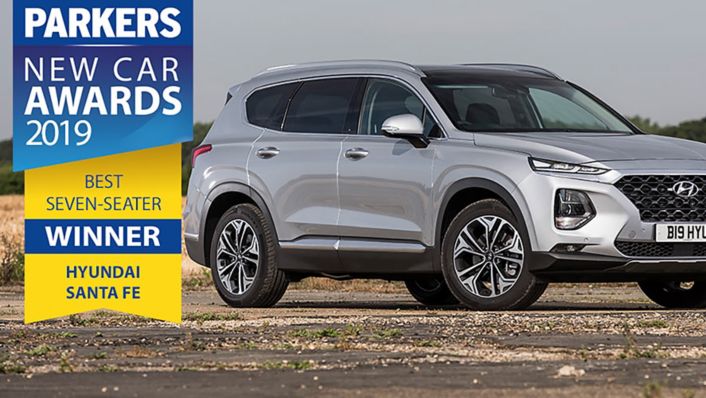 These awards are a testament to the position of Hyundai in today's new car market. Both these models offer customers leading-edge technology and bold and stand out design combined with all the additional value and capability that our customers have come to expect from us. It is this consistent progress and investment in new product that has driven the company to become one of the top ten carmakers in the UK.
The KONA Electric offers the very latest in battery electric powertrain and connected technology and a driving range of up to 279 miles. It is available to order exclusively on Hyundai's Click to Buy website and prices start from £24,995 (inc. Plug-in Car Grant PICG) for the 39kWh or £29,495 for the 64kWh.
All new from the ground up, the New Generation Santa Fe represents a huge step change for the model. With a new exterior and interior design, elevated equipment levels and premium levels of refinement, the New Generation Santa Fe reasserts its position at the top of the Hyundai range. It is available now across the Hyundai dealer network and is priced from £33,425.
The Parkers New Car Awards are based on the buying habits of its websites users and are not awarded within conventional market segments, a decision backed by research showing that customers consider vehicles from multiple market sectors. The awards also avoid automotive industry titles for categories', such as SUV and Supermini, instead focusing on categories such as Best Car for Small Families or Best Seven Seater.
More information on the KONA Electric range can be found here
www.hyundai.co.uk/new-cars/kona-electric
More information on the Santa Fe range can be found here
www.hyundai.co.uk/new-cars/santa-fe