Three awards for Hyundai: Best Hybrid Car, Best Hot Hatchback & Best Cheap Sports car
IONIQ Plug-in Hybrid praised for practicality and real-world efficiency
All-new i30 N high-performance hatchback congratulated on 'shaming the class establishment'
Today, Hyundai Motor has added a number of additional prizes to its collection, scooping three accolades at the Carbuyer Best Cars Awards.
The IONIQ Plug-in Hybrid was name as the 'Best Hybrid Car', while the high-performance i30 N was crowned 'Best Hot Hatchback' and 'Best Cheap Sports Car'.
The judging panel, comprising members of Carbuyer's road-test team, afforded particular praise to the IONIQ's clever packaging and responsive driving experience. The Plug-in Hybrid offers pure electric driving range of up to 39 miles, while CO2 emissions of 26g/km mean that it sits in the 9% BIK bracket for business users in 2017/18.
Still a relative newcomer, the IONIQ Plug-in Hybrid is an exceptional car. Thanks to space for five occupants and a big boot, you need to make few sacrifices to enjoy truly enviable real-world fuel economy and a thoroughly decent driving experience. Its infotainment system is one of the easiest to use and it undercuts its closest rival on price, too.
Hyundai's all-new i30 N high-performance hatchback received rave reviews from the Carbuyer team for its "slick transmission, crisp handling and value-for-money". It features Electronic Controlled Suspension and torque vectoring as standard, and offers a choice of power outputs – 250PS or 275PS.
With plenty of power, a sweet chassis, exceptional steering and a fantastic six-speed gearbox, the Hyundai i30 N has shot right to the top of the hot-hatchback class. What really is astonishing is that the i30 N is Hyundai's first-ever hot hatchback and it's already shaming the class establishment. Factor in the i30 N's practicality, five-year warranty and remarkable price tag, and it's no surprise it's Carbuyer's Best Hot Hatchback for 2018.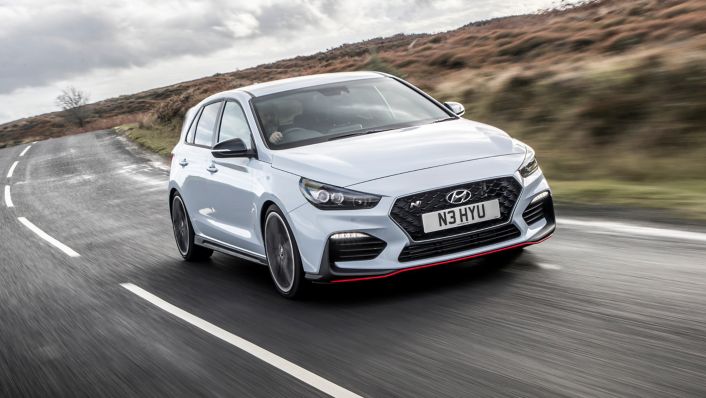 It's a tremendous honour to take two category wins, and truly demonstrates how value and innovation go hand-in-hand at Hyundai. The IONIQ is one of the most impressive eco-cars on the market, while the new i30 N delivers a hugely rewarding high-performance experience – and both are testament to our brand's remarkable product progress in recent years.
The IONIQ and i30 N both come with Hyundai's industry-leading five-year unlimited mileage warranty and roadside assistance package. Standard equipment also includes the latest active safety features, such as Forward Collision-Avoidance Assist, Lane Keeping Assist and Intelligent Speed Limit Warning.
The Carbuyer Best Cars Awards consider a car's reliability, price, running costs and how easy it is to live with, in addition to how well it performs and handles. The award categories reflect the types of vehicles proven to be the most in-demand by readers and follow Carbuyer's 'plain English' approach.