With the support of Hyundai Motor, Healthy Seas completed its largest ocean clean-up yet at an abandoned fish farm in Ithaca, Greece
The clean-up began 8 June, World Oceans Day, and took a team of 45 eight days to remove 76 tonnes of debris from the sea, coastline, and beaches
Various types of waste to be recycled into new materials a circular economy
The purpose of the commercial film was to document the project, telling the story of the clean-up, its impact on the environment, and the collaboration by the many partners 
The documentary "Turning Tides" airs August 2nd on BBC Future Planet as well as Hyundai social media channels
Marine conservation organisation Healthy Seas recently completed the biggest ocean clean-up operation in the organisation's history.
With support from Hyundai, volunteers were able to remove 76 tonnes of waste from an abandoned fish farm in Ithaca, Greece. Especially the retrieved nets will be recycled and be introduced to a circular economic value chain. A new BBC Storyworks documentary tells the story.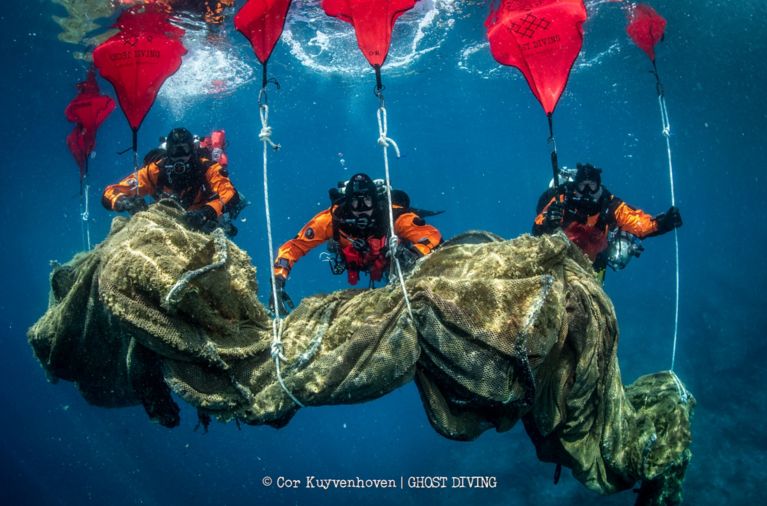 Hyundai announced its partnership with Healthy Seas earlier this year as a way of fostering a more sustainable future. With the company's commitment to developing emission-free mobility solutions, and Healthy Seas' expertise in protecting marine ecosystems, the two organisations hold a shared vision for shaping sustainable communities.
This accomplishment is an example of our holistic approach to pursuing our Progress for Humanity vision. Beyond providing zero-emission mobility solutions on land, we also care about protecting fragile ecosystems at sea. That is why we partner with Healthy Seas throughout this project. With BBC Storyworks we were able to win an important partner to tell our story. Together, we have successfully overcome the tremendous logistical challenges to make this vision become a reality!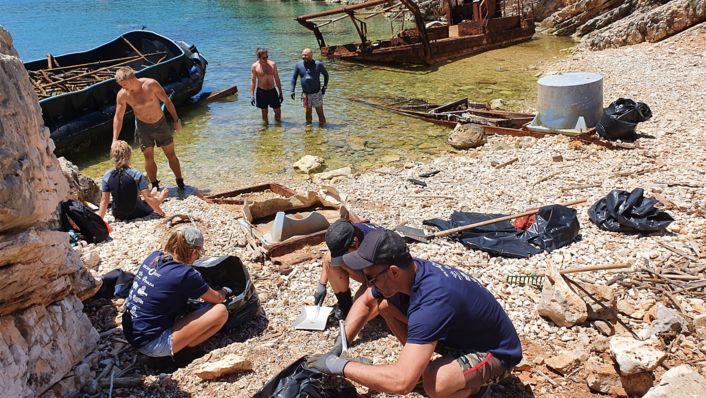 Journey to Ithaca: cleaning up the aftermath of an environmental catastrophe
The clean-up activities focused on an abandoned fish farm on the Greek island of Ithaca. In 2020, a hurricane-force storm called Ianos hit a fish farm on the island which had been abandoned since 2012, scattering tonnes of industrial waste such as plastic pipes, fishing nets, nylon ropes, metal debris, and more into the surrounding waters. This had a catastrophic effect on the surrounding marine ecosystem.
The clean-up presented a vast challenge to organise, both due to the remote location of the fish farm and the sheer amount of debris to be removed. Overall, it took six months of planning; a team of 45, including 20 divers; several vessels and countless volunteer hours of work to plan and finally execute the project.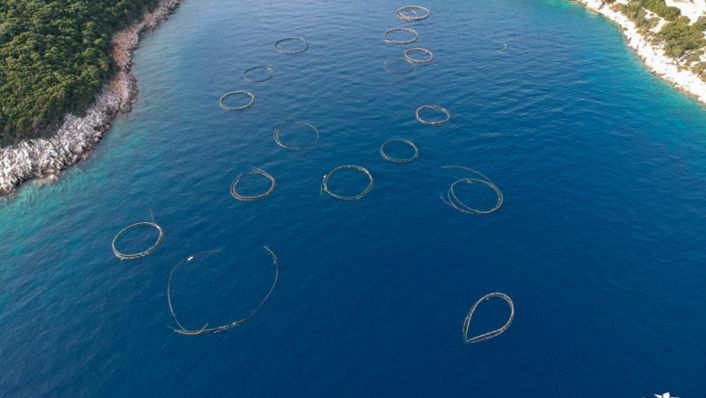 On June 8 – World Oceans Day the teams started with the actual clean-up. A team of 14 international volunteer technical divers from the partner organisation Ghost Diving worked to remove the rings, pipes and fishing nets, while commercial divers were recruited to remove heavy metal structures found on the seabed. Another team of volunteers combed the beaches, some of which were covered knee-deep in foam pellets that had spilled out of the floats over the years.
The team recovered 76 tonnes of debris from the sea, coastline, and beaches. In addition to removing the waste, a group of divers – which included Erik Wurz, marine biologist at Wageningen University – conducted scientific research to assess the impact of the pollution on the local environment. Overall, it represented the biggest ocean clean-up in the history of Healthy Seas.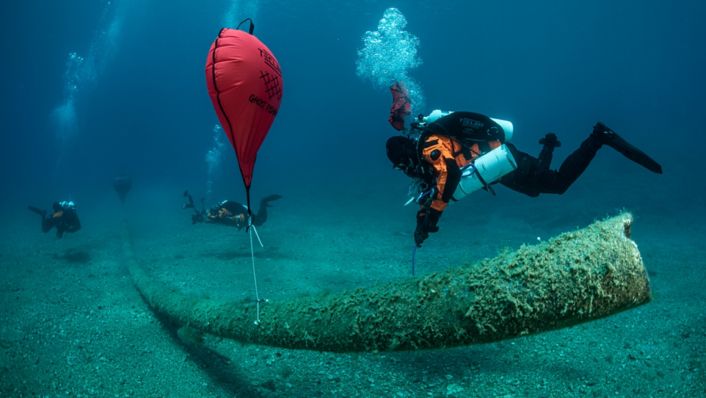 What we achieved on the beaches and in the waters of Ithaca is truly extraordinary. This clean-up wouldn't have been possible without the support of Hyundai and the help of our many international and local partners. Our efforts will have an immediate and measurable effect on the local community and marine ecosystems.
Fishing nets turned into ECONYL® regenerated nylon in a circular economy
However, the journey did not end there – the waste collected was sent off to a collection point near Athens to be recycled into new materials. Partner organisation Aquafil will take the nylon fishing nets, clean and sort them, and, together with other nylon waste, re-manufacture them into a new material called ECONYL®. ECONYL® yarn can be recycled infinitely. It can be used for clothing such as sportswear and swimwear, carpets, and even automotive upholstery. Hyundai's ultimate goal is to integrate ECONYL® nylon into its products and the 1st step was made with newly launched model IONIQ 5 which in Europe can be ordered featuring floor mats made with the ECONYL® fibre.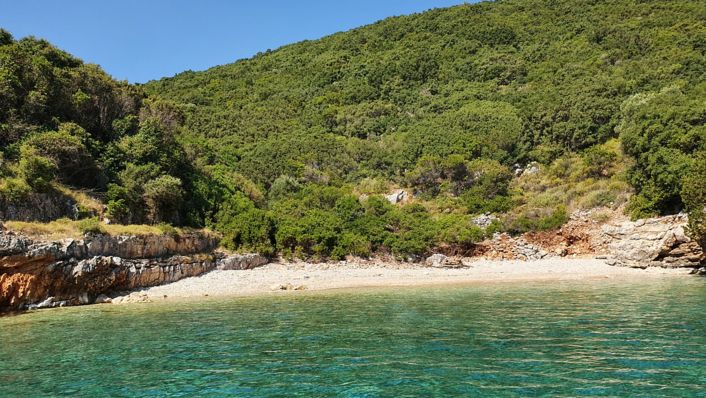 By using the collected waste as a regenerated resource for future products, we'll be contributing to a circular economy that the environment and people around the world can benefit from.
Sustainable documentary by BBC Storyworks
To document their activities and to raise awareness about marine protection and the joint approach of circular economy that Hyundai and Healthy Seas are approaching, Hyundai partnered with BBC StoryWorks, the commercial content studio of BBC Global News.
The documentary, called "Turning Tides," introduces the scale of the pollution from the fish farm, explaining its impact on aquatic life, before turning to the clean-up efforts. Veronika Mikos meets with Michael Cole to discuss the importance of environmental protection and a circular economy as well as Hyundai's vision for a sustainable future. The documentary follows the journey from waste to wear as volunteers collect litter from the beaches and the sea, before it is shipped to Aquafil's facility for cleaning and recycling. Everything is recycled as much as possible, with a certain type of polymer – Nylon 6 – being regenerated into ECONYL® nylon.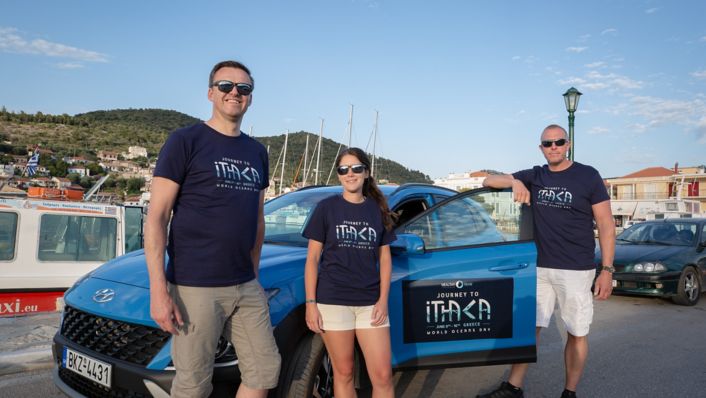 Sustainable brands looking to communicate their green practices have long been commercial partners of BBC Global News due to our relevant and engaging content, our global and affluent audience, and our own commitment to being carbon neutral. Since the launch of BBC Future Planet, we have consistently offered audiences immersive, solutions-based content, and traffic to the site has increased exponentially over the past 12 months. We're pleased brands like Hyundai want to be part of this success; to stay top-of-mind, and for the BBC's expert storytellers to help them engage with audiences through creative and emotive brand campaigns.
In order to stay true to the message of the film as well as Hyundai's vision for a sustainable world, BBC Storyworks was also mindful of sustainable practices during the production of the film and used solar power to charge their equipment. The environmental organisation Albert awarded the production a Carbon Action Plan Rating of two out of three stars, and a Carbon Action Plan Score of 83 per cent, to recognise the steps the team took to reduce their carbon footprint.
The partnership between BBC Global News, Hyundai and Healthy Seas is a hugely important partnership that puts sustainability at the heart of our civil commitments. In the same time, the cooperation between Hyundai and Healthy Seas is an example of how sustainability is woven into the overall business strategy, but has already produced direct results, with almost 76 tonnes of waste having been collected with this initial project, and another ten similar activities planned across six other countries.
The documentary will be available starting August 2nd on BBC Future Planet as well as all Hyundai social media channels.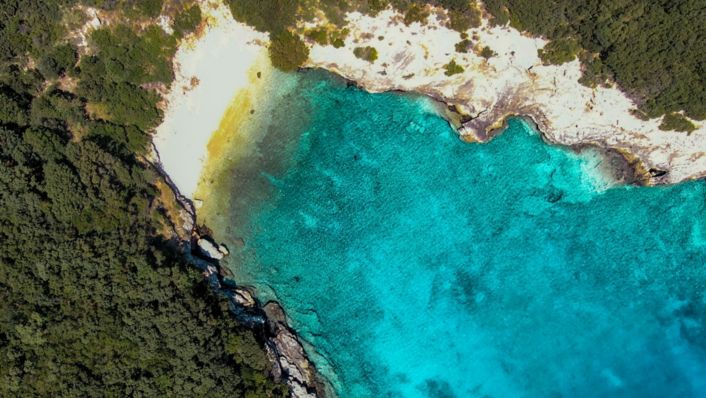 A collaborative effort
In addition to Hyundai and Healthy Seas, the Journey to Ithaca ocean clean-up activities were the result of an enormous collaboration between more than a dozen volunteer, private industry, governmental, and non-governmental organisations. As a result, Hyundai would like to extend its heartfelt thanks to the following organisations for making this event possible:
Hellenic Coast Guard
Prefecture of Ionian Islands
Decentralized Administration of Peloponnisos, Western Greece and Ionian
Hellenic Ministry of Maritime Affairs
---
About Healthy Seas
The mission of the 'Healthy Seas, a Journey from Waste to Wear' initiative is to The mission of the 'Healthy Seas, a Journey from Waste to Wear' initiative is to remove waste from the seas, in particular fishing nets, for the purpose of creating healthier seas and recycling marine litter into textile products. The recovered fishing nets will be transformed and regenerated by Aquafil, together with other nylon waste, into ECONYL® yarn, a high-quality raw material used to create new products, such as socks, swimwear, sportswear or carpets. Since its founding in 2013, Healthy Seas has collected over 585 tons of fishing nets with the help of volunteer divers and fishermen.
About BBC Future Planet
BBC Future Planet is the BBC's home for in-depth, evidence-based stories on potential solutions addressing the pressing environmental challenges around the world. BBC Future Planet is the first major online publication with a sole focus on climate change that also aims to be as close to zero carbon as possible. From the site's launch in February 2020 to June 2021, its total carbon emissions from travel were just 857 kg – that is less than a return flight from Chicago to Los Angeles – a potential saving of up to 25.9 tonnes of carbon – the equivalent of five round-the-world flights.
https://www.bbc.com/future/future-planet
About BBC Storyworks
BBC StoryWorks is the commercial content studio of BBC Global News. It works with brands to create inspiring and engaging stories and digital executions, connecting and elevating them to the BBC's huge and influential global audience. BBC StoryWorks content is available to audiences on bbc.com outside of the UK.