Ancaster Group makes strategic move to boost footprint in south east England
Bluewater store bolsters brand awareness and sales opportunities for Hyundai and Ancaster
New retail store offers customers friendly and professional service targeting environmentally-minded buyers with Hyundai's new eco-friendly models
The Ancaster Group has begun a new era for Hyundai's iconic Bluewater store as part of a strategic move to boost brand awareness, retail footprint and sales in south east England.
Offering a friendly, professional and highly informative service to Bluewater's 26 million annual visitors, the new retail store will deliver a full new and used Hyundai sales and aftersales service, supported by Ancaster's South East dealer network.
Ancaster boasts the UK's largest Hyundai dealership in Croydon, Surrey – a 1,200m2 showroom that can accommodate 29 new cars in addition to its 50-car capacity forecourt. In July this year, it also opened a new dealership in Welling, Kent – a response to growing demand for Hyundai's popular and environmentally-focused models.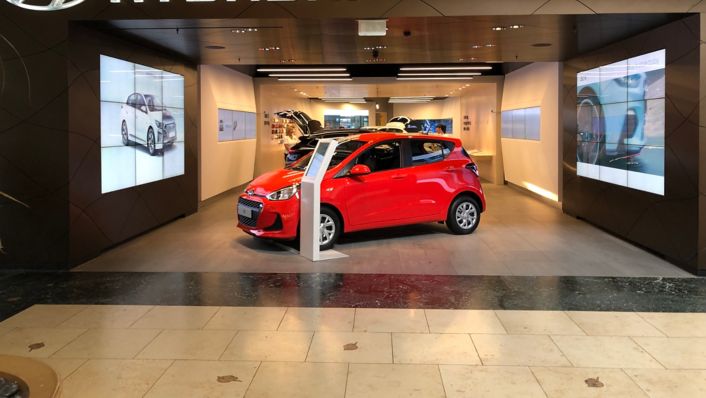 We have a long-term business plan that features Hyundai as a key contributor to our ongoing growth. Our strategy for the future relies on greater brand and product awareness with new customers across a greater portion of the South East, so the Bluewater site fits perfectly with our plans.
Ancaster has recruited a new team of seven retail consultants to help potential buyers to identify the Hyundai model most suited to them. Having been trained extensively over recent weeks, they are ready to provide advice on Hyundai's diverse range, including its eco-friendly electrified vehicles. In addition, the team will offer sales and aftersales services for new and used vehicles, alongside a full accompanied test drive experience run from the Bluewater car park.
We are proud to work with our retail partner Ancaster to continue the success they've experienced in recent years with Hyundai in the south east. The Bluewater store will help Ancaster to increase its regional impact, and our brand awareness in what is a key market for our rapidly developing fleet of electrified vehicles.
Sales of Hyundai's award-winning electrified fleet including the electric and hybrid IONIQ and KONA models, continue to increase with South East England leading the UK's uptake of the cleanest and most efficient vehicles.
Based in Dartford, Kent, the Bluewater shopping Centre is one of the UK's premier shopping destinations. The site boasts an annual footfall of 28 million people, exposing the Hyundai brand to a wealth of new potential customers.