Hyundai Motor was one of the first manufacturers to make hydrogen fuel cell vehicles commercially available
Over 20 years of development in hydrogen fuel cell technology
Plans for industry developments outside of passenger vehicle sector
Hyundai Motor began development of Fuel Cell Electric Vehicle (FCEV) technology over 20 years ago, with the establishment of a dedicated research team in 1998.
The first step towards whole vehicle development was the Project Mercury collaboration between Hyundai and United Technologies Corporation (UTC). A number of vehicles were developed during the collaboration, with system improvements in powertrain performance and increasing range capabilities culminating in the final vehicle, MercuryⅡ.  This  was based on the JM Tucson platform with an 80kW fuel cell system, 337km range and the ability to start from temperatures as low as -20oC.
In 2000, Hyundai also launched the Polaris project in conjunction with the Korean Government's G7 Project. The G7 Project was an initiative to help close the technological gap that existed between Korea and other advanced countries, specifically in the field of eco-innovation. The Polaris project saw Hyundai independently develop complete fuel cell vehicle systems, which lead to several project vehicles such as PolarisⅡwhich showcased a Hyundai fuel cell system with an output of 80kW and a range of 370km.
At the same time as the PolarisⅡ was in development, Hyundai produced its first fuel cell bus in 2005, with a 160kW fuel cell system and an operating range of 380km. As the sole automotive sponsor of the 2006 FIFA World Cup, as well as a fleet of conventionally fuelled vehicles, the Company also provided a fuel cell bus as official transport for the duration of the tournament. This was the first time a Hyundai bus was certified for use on European roads, with the process taking only four months from offering the vehicle to its arrival in Germany.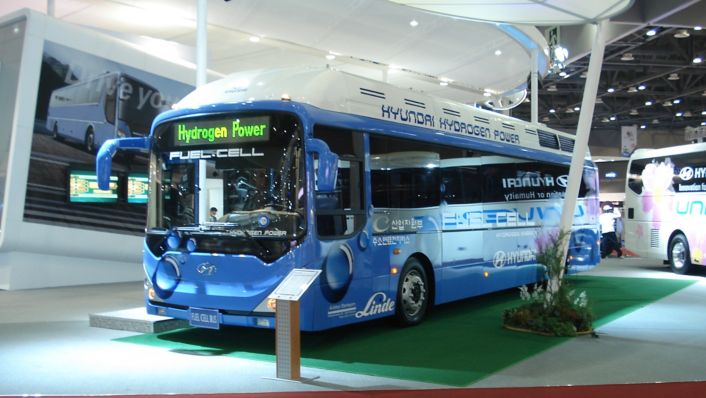 As well as fuel cell systems, Hyundai also began in-house electric vehicle research in the early 1990's. The two technologies became unified for the first time in the 2007 Tucson FCEV, which had a combined fuel cell and battery electric drivetrain output of 100kW and a range of 370km. Fuel cell bus development continued alongside passenger vehicles, with the 2009 2nd Generation Fuel Cell Bus offering a combined fuel cell system power of 200kW and an operating range of 380km.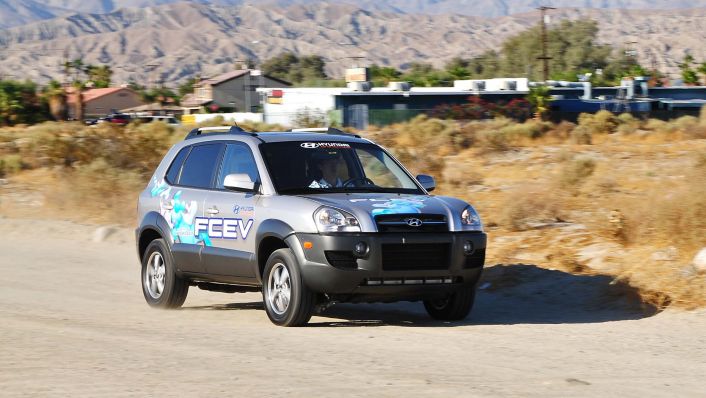 2010 saw two milestones in the Company's fuel cell technology development: the accumulative distance covered by all Hyundai fuel cell vehicles reached the two million km mark and the new ix35 FCEV prototype was launched. This fuel cell vehicle was the first Hyundai to use high pressure 700bar fuel storage, boosting range to 635km from the 100kW fuel cell drivetrain.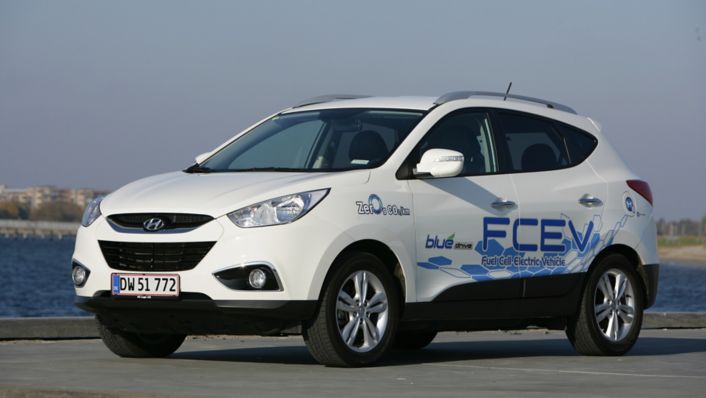 Significantly in 2013, Hyundai became the first manufacturer to series produce the ix35 Fuel Cell electric vehicle. The 100kW fuel cell system and 700bar storage produced an NEDC certified 594km range.
In 2014, Hyundai unveiled the Intrado concept at the Geneva Motor Show. This concept showcased a focus on usability and adaptability, using advanced materials such as high strength steel and carbon fibre and new manufacturing and joining techniques that together have the potential to change the way cars are made. Intrado demonstrated a next-generation hydrogen fuel-cell powertrain with a hybrid Li-ion 36 kW battery, with a range of over 600 km. †
By 2015, ix35 Fuel Cell sales were taking place across the world, including 13 countries in Europe. In the UK, 17 customers (from private companies, car sharing organisations and government agencies) became the first to drive hydrogen fuel cell cars. Across the European continent, the ix35 Fuel Cell vehicles on the road covered more than 1.2 million km's.
Hyundai's ongoing commitment to fuel cell development was shown in 2017, with the FE Fuel Cell concept that was shown at the Geneva Motor Show. Longer, lower and wider than the ix35 Fuel Cell, the FE (Future Eco) concept was shown as Hyundai's Future Utility Vehicle (FUV) with a number of innovative vehicle technologies demonstrated alongside its powertrain.  These included integrated storage and charging space for an electric scooter which demonstrated how Hyundai Motor was starting to broaden the development of mobility solutions to match future lifestyles. The FE Fuel Cell concept featured new drivetrain technology including a fuel cell stack 20% lighter than that of the ix35 Fuel Cell, yet with an increased power density of 30% and a range of over 800km.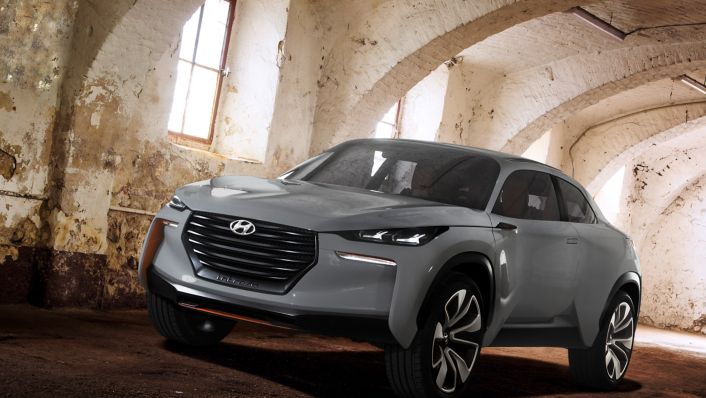 2018 was another landmark year for the Company's fuel cell story, with the launch of NEXO, the only fuel cell SUV in the world. The design for NEXO clearly followed on from the FE Fuel Cell concept, with many of the innovative technologies such as Lane Following Assist, Highway Driving Assist, Blind Spot View Monitor and Remote Smart Park Assist carried over from the concept to Hyundai's 2nd commercially-available hydrogen fuel cell vehicle. In comparison to the ix35 Fuel Cell, NEXOoffers a 25% faster acceleration rate, increased torque and 40% more range. Its 135kW powertrain and three reinforced carbon fibre/plastic fuel tanks allow NEXO to deliver a range of 665km.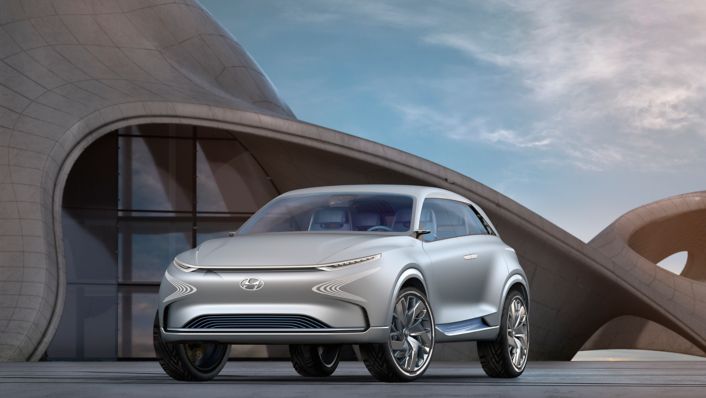 Following on from the launch of NEXO, Hyundai Motor Group announced its long-term roadmap - 'Fuel Cell Vision 2030' - to reaffirm its commitment to accelerate the development of a hydrogen society by leveraging the group's global leadership in fuel-cell technologies. Aligned with the roadmap, Hyundai Motor Group has pledged to drastically boost annual fuel-cell system production capacity to 700,000 units by 2030 and explore new business opportunities to supply fuel-cell systems to other transportation manufacturers of vehicles, drones, vessels, rolling stocks and forklifts. The demand for fuel-cell systems from sectors beyond transportation such as power generation and storage systems is also expected to emerge quickly.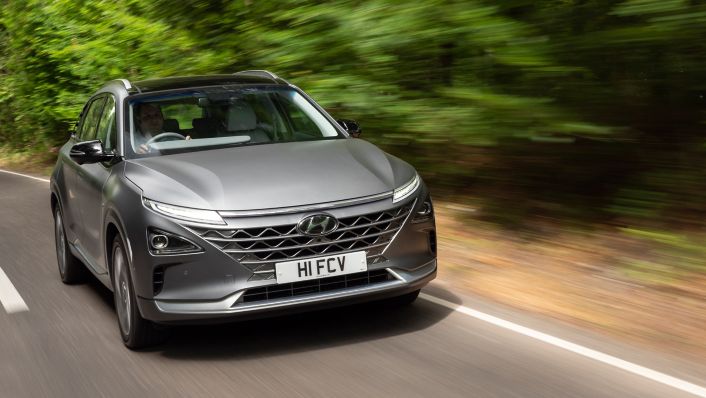 In May 2019, the Hyundai Motor Group announced an investment of €80 million in Rimac and is also aiming to lead the high-performance electrified vehicle market. The companies have been working closely together to develop prototypes for both an electric version of Hyundai's N brand mid-ship sports car and a high-performance fuel cell electric vehicle with the intent to bring them to market.
In September 2019, Hyundai Hydrogen Mobility was formed - a joint venture between Hyundai Motor Company and H2 Energy. In turn, an additional partnership was forged with Hydrospider -  a joint venture of H2Energy, Alpiq and Linde to promote green hydrogen ecosystem in Switzerland and other European countries. As part of this partnership, Hyundai Hydrogen Mobility plans to bring 1,600 Hyundai H2 Xcient Fuel Cell Electric Trucks, marking the entry of the automaker into Europe's clean mobility commercial vehicle sector.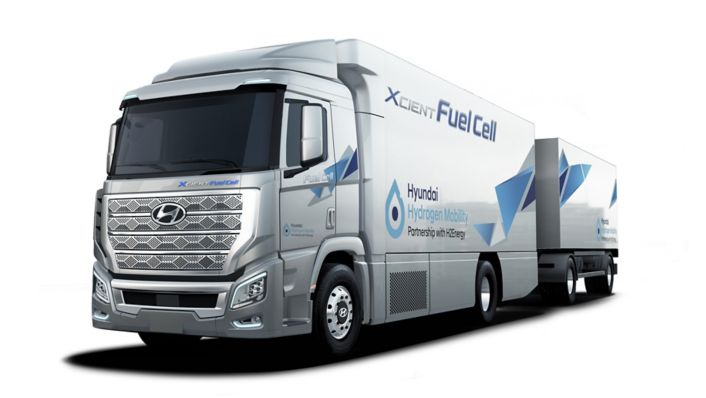 The Hyundai H2 XCIENT Fuel Cell truck features a new 190 kW hydrogen fuel cell system with two 95 kW fuel cell stacks connected in parallel. It delivers a single-fuelling travel range of more than 400 km, with a fuel storage capacity of almost 35kg of hydrogen.
Showcasing an alternative usage of our fuel cell stacks, Hyundai previewed the Hyundai Generator, a portable charging station for electric vehicles and the newest feature of emission free electric charging at the 2019 Frankfurt Motor Show. The Hyundai Generator consists of two fuel cell stacks and combined hydrogen storage, giving the ability to charge two EVs simultaneously at high speed. As comprehensive service provider of the new eTCR (Electric Touring Car Racing) championship, Hyundai will be providing the Hyundai Generator as a recharging system for all the cars to both showcase Hyundai's technical leadership and accelerate the transition to clean e-technology.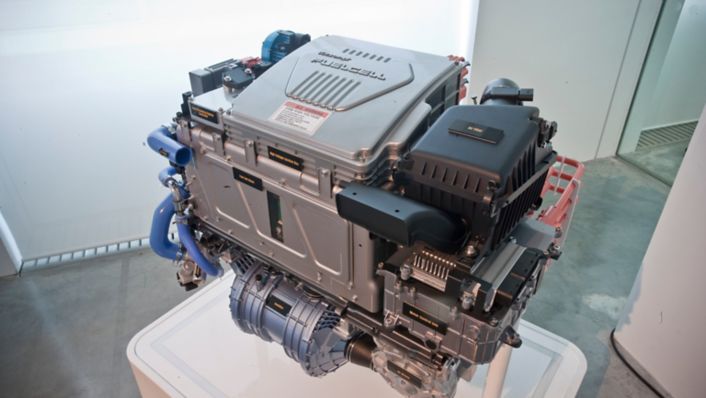 As the Hyundai Motor Group positions itself as a global leader in clean vehicle technology, it also understands that there are considerable benefits in leveraging collective R&D capabilities across the industry. An example of this is the partnership between Hyundai Motor Group and Audi, which has seen both manufacturers share fuel cell technology developments to elevate their presence in the future fuel cell electric vehicle market.
Hyundai Motor Group also plans to strengthen its competitiveness in the fuel cell components industry, engaging in new business opportunities created by partnerships with other vehicle manufacturers. Hyundai Mobis, the leading FCEV components manufacturer of the Group, is continuously expanding its role in developing and supplying proprietary core components for Hyundai and other OEM's fuel cell electric vehicles. Hyundai Mobis was the first company in the world to establish an integrated production system for core components of fuel cell electric vehicles and the company's plant in Chungju, South Korea, already has the production capacity of 3,000 powertrain fuel cell complete (PFC) modules per year, and has capacity to produce tens of thousands of PFC modules down the road to meet forecast market demand. PFC modules are comprised of fuel stacks, drive motors, power electronic components and hydrogen fuel supply units.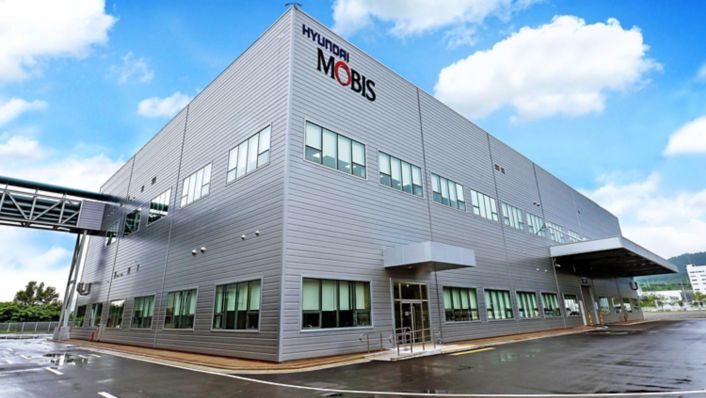 Long ranges and short refuelling times make hydrogen an attractive future source of energy for electric mobility. This is particularly true for larger automobiles, where the weight advantages of the fuel cell vehicle inherent to its design are particularly pronounced. Key aspects for its future market success include the regenerative production of hydrogen and the establishment of a sufficient infrastructure.
Hyundai hydrogen fuel cell development timeline
1998
Hyundai sets up dedicated Fuel Cell Electric Vehicle research team
1999
Project Mercury begins – a collaboration between Hyundai and United Technologies Corporation. Project completes with the vehicle Mercury Ⅱ based on the JM Tucson SUV platform. System output is 80kW with a range of 337km and the ability to start at minus 20oC
2000 – 2004
Hyundai launches the Polaris project and the independent development of its own fuel cell systems. Project is in conjunction with the Korean Government's G7 Project to stimulate eco-innovation. 
2003 - 2005
Polaris Ⅱvehicle. Based on the JM Tucson platform, an all Hyundai 80kW fuel cell system provides a range of 370km
2005
Hyundai begins fuel cell bus development. 1st Generation Fuel Cell Bus released, using a 160kW fuel cell system to give a range of 380km
2007
Tucson FCEV released. The combined 100kW fuel cell system and Hyundai's first in house developed electric drivetrain gives a range of 370km
2009
2nd Generation Fuel Cell Bus developed. Range remains at 380km with fuel cell system power increased to 200kw  
2010
Accumulated total distance covered by Hyundai FCEV's reaches 2 million kilometers
2010
ix35 Fuel Cell prototype developed . The first model to feature twin 700 bar high pressure fuel tanks. 635km range from 100kW fuel cell system
2012
Generation 2.5 Fuel Cell Bus developed with 500km range
2013
ix35 Fuel Cell made commercially available. Production model features 100kW fuel cell system with an NEDC certified range of 594km
2014
Intrado concept shown at Paris Motor Show
2015
European ix35 Fuel Cell sales reach over 250 sales across 13 countries, with over 1.2 million km's driven
2017
FE concept shown at Geneva Motor Show
2018
NEXO becomes Hyundai's 2nd commercially available Fuel Cell model. 120kW fuel cell system power and 3 x 52l tanks provide 666km range (WLTP)
December 2019
Hyundai Motor Group announce long-term roadmap 'Fuel Cell Vision 2030' plan
May 2019
Hyundai invests €80 million in Rimac to develop a high performance battery electric and fuel cell electric vehicle
September 2019
Hyundai Hydrogen Mobility formed to deploy 1,600 Hyundai H2 Xcient Fuel Cell Electric Trucks in Europe, refueled by green hydrogen
September 2019
Hyundai reveals the Hyundai Generator, a hydrogen fuel cell portable charging station for electric vehicles. To be used in eTCR series
---
† - Range for test, research and prototype vehicles verified by internal Hyundai R&D standards. All production vehicle ranges for ix35 Fuel Cell and NEXO are NEDC or WLTP certified depending on date of certification.