Hyundai Motorsport has claimed its second win of the 2018 FIA World Rally Championship (WRC) after a masterful performance by Thierry Neuville and co-driver Nicolas Gilsoul
The result marks Hyundai Motorsport's first-ever triumph in Rally de Portugal and the ninth WRC win in total for the team
Having fought for his third gravel podium of the season, Dani Sordo finished fifth after being handed a ten-second penalty for an infringement earlier in the weekend
Hyundai Motorsport has taken a dominant victory in this weekend's Rally de Portugal, the sixth round of the 2018 FIA World Rally Championship (WRC).
In a rally of attrition, with many competitors experiencing issues, Neuville's level-headed and measured performance earned him an eighth WRC career win and his second of the year so far. It is the ninth in total for Hyundai Motorsport as the team retains the lead of the manufacturers' championship.
Dani Sordo finished in fifth position having fought valiantly for a third gravel podium of the season. Along with co-driver Carlos del Barrio, the Spaniard was handed a ten-second penalty overnight for an apparent infringement of regulations during Friday evening's Porto Street Stage. The resultant time loss saw him fall out of the top-three before the first of Sunday's five stages had even started.
A total of 51.53km was contested on the final day with two runs through the 8.64km Montim stage and legendary 11.18km Fafe test with its impressive jump. A solitary attempt at the slightly longer 11.89km Luilhas route split the repeated stages with most crews adopting a cautious approach.
Andreas Mikkelsen, who had re-joined under Rally 2 on Saturday after technical issues forced him to stop on Friday afternoon, continued to fight to the finish. The Norwegian and compatriot co-driver Anders Jæger picked up valuable points for the team's championship efforts.
There was no holding back in the Power Stage; Sordo sent a strong message with the third fastest time to pick up three driver points. Neuville added four more for second place to complete a near-perfect weekend for the Belgian crew.
Hyundai Motorsport continues to lead the manufacturers' table on 175 points but with a slightly reduced advantage over M-Sport Ford (162). Neuville's result sees him jump to the top of the drivers' table on 119 points ahead of Sébastien Ogier, who did not score this weekend, on 100.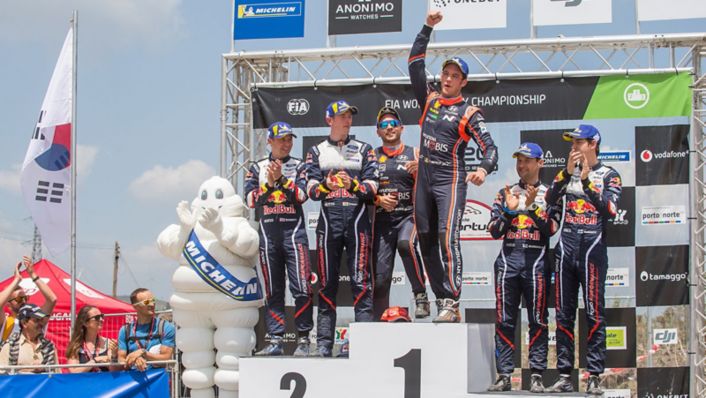 WRC Crew Notes: Neuville/Gilsoul (#5 Hyundai i20 Coupe WRC)
Second victory of 2018 sees Belgian move to top of drivers' championship
Five stage wins this weekend, the most of any WRC pairing, and four Power Stage points
What a weekend and what a result! We have taken a clever approach to this event, pushing when we could and controlling the pace when we needed. The car has been fabulous all weekend long, and the team has been behind us every stage of the way. I have felt completely comfortable and at ease despite some challenging conditions. My teammates have also been on the pace but were unlucky not to be on the podium. We tried to give it a bit of a push in the Power Stage, to take as many points as we could, but also taking care not to make any mistakes. We have a lot of Portuguese people in the team, so it's going to be a nice celebration. A fantastic weekend for our team.
WRC Crew Notes: Sordo/Del Barrio (#16 Hyundai i20 Coupe WRC)
Stage win in SS4 and strong performances all weekend
Time penalty dropped crew out of podium contention despite spirited fight-back on Sunday
I am disappointed not to finish on the podium after what had been a very promising and competitive weekend for us. We showed our pace in many stages and were definitely in the fight. The time penalty was frustrating but we put that out of our mind and concentrated on doing the best job we could on Sunday morning. Unfortunately, we had an issue during the penultimate stage when a stone went through our front splitter and smashed the windscreen. This made some corners difficult to see in the Power Stage but we gave it absolutely everything. There are so many fans here and lots of people supporting me, so I was happy to put on a good performance through Fafe. Congratulations to Thierry and Nicolas on a great win, and thanks to the team.
WRC Crew Notes: Mikkelsen/Jæger (#4 Hyundai i20 Coupe WRC)
Power steering and engine oil pressure loss on Friday hampered progress
Battled through final two days to secure important manufacturer points
That was not the weekend we had hoped to have but it's been a positive final morning The car was working much better in the Power Stage, which allowed us to really give it a push. I'd like to send big thanks to the team who put in a huge effort to adapt the car to get it better suited to my style. I have enjoyed driving this weekend and without our issues on Friday, and the knock-on effects of that, I am sure we could have had a much more representative result. Congratulations to Thierry and Nicolas on their victory, which is thoroughly deserved for them and the entire team. I am looking forward to Sardinia.
Back to winning ways
Team's ninth WRC victory in total and first-ever at Rally de Portugal
Strength of Hyundai i20 Coupe WRC demonstrated with most team stage wins (seven)
It has been a very competitive weekend for our team and I am delighted to take our first Rally de Portugal victory. Thierry and Nicolas, in particular, have put in a classy performance on all days. They have had a clean drive with excellent pace that has allowed them to control things from beginning to end. They kept their calm this morning and knew just how much they could give on the Power Stage. Dani and Carlos deserve to be commended on a strong weekend and on maintaining a good rhythm throughout the event. Andreas and Anders, too, battled on from their Friday issues and we did all we could to help them to the end of the rally. In the circumstances they put in an impressive run in the Power Stage and only just missed out on an extra point. We continue to lead the championship, which remains very close, and Thierry moves to the top of the drivers' table. Sardinia will be a very difficult event, but we will be ready.
Next rally: off to Sardinia
The run of four consecutive gravel events continues with Rally Italia Sardegna, round 7 of the 2018 FIA World Rally Championship (WRC), from 7-10 June
Hyundai Motorsport memorably won the event back in 2016 with Thierry Neuville, while also scoring podiums in 2015 (2nd Paddon, 3rd Neuville) and 2017 (3rd Neuville)
Final Overall Classification – Rally de Portugal

1. T. Neuville/N. Gilsoul, Hyundai i20 Coupe WRC 3:49:46.6
2. E. Evans/D.Barritt, Ford Fiesta WRC +40.0
3. T. Suninen/M. Markkula, Ford Fiesta WRC +47.3
4. E. Lappi/J. Ferm, Toyota Yaris WRC +54.7
5. D. Sordo/C. del Barrio, Hyundai i20 Coupe WRC +1:00.9
6. M. Østberg/T. Eriksen, Citroën C3 WRC +3:33.5
7. C. Breen/S. Martin, Citroën C3 WRC +5:23.0
8. P. Tidemand/J. Andersson, Škoda Fabia R5 +14:10.8
9. L. Pieniazek/P. Mazur, Škoda Fabia R5 +16:17.3
10. S. Lefebvre/G. Moreau, Citroën C3 R5 +16:34.3
16. A. Mikkelsen/A. Jæger, Hyundai i20 Coupe WRC + 24:44.4
2018 FIA World Rally Championship for Drivers' Standings After round 6

1. T. Neuville 119
2. S. Ogier 100
3. O. Tanak 72
4. D. Sordo 58
5. E. Lappi 57
6. A. Mikkelsen 54
7. E. Evans 45
8. K. Meeke 43
9. J.M Latvala 31
10. C. Breen 26
11. T. Suninen 23
12. M. Østberg 16
13. S. Loeb 15
14. P. Tidemand 11
15. H. Paddon 10

2018 FIA World Rally Championship for Manufacturers' Standings After round 6

1. Hyundai Shell Mobis World Rally Team 175
2. M-Sport Ford World Rally Team 162
3. Toyota Gazoo Racing World Rally Team 140
4. Citroën Total Abu Dhabi World Rally Team 111

*All results remain subject to official FIA confirmation.