December sales total 396,569 units, down 3.9% y/y
Hyundai Motor Company today announced December global sales of 396,569 units, a 3.9 percent decline from a year earlier.
Korea Sales
Sales at Hyundai's home market grew 2.3 percent year on year, totaling 66,335 units. The new Grandeur, also called Azera in some markets outside of Korea, led the sales in Korea following an introduction of the face-lift model in November, recording 13,170 units sold. The all-new Sonata followed the Grandeur by 8,572 units sold.
Combined sales of Hyundai's SUV lineup totaled 22,388 units led by the Santa Fe.
Overseas Sales
For markets other than Korea, sales declined 5.1 percent to 330,234 units compared with 347,915 units a year earlier as weaker sales in emerging markets offset brisk deliveries in advanced markets such as the US.
2020 Sales Plan
For Hyundai, 2020 will be an inaugural year for securing future industrial leadership and commit to producing tangible results in future business areas, setting its yearly target at 4.58 million units including 732,000 units in Korea. 
Sales Results (Units)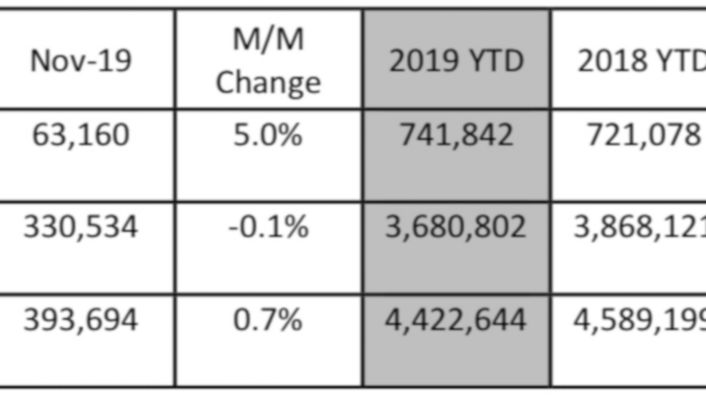 Monthly sales figures provided in this press release are unaudited and on a preliminary basis.
Sales in Korea is based on retail sales while Overseas Sales (Global Sales excluding Korea) is based on wholesales.
Sales result includes entire sedan, SUV and CV models produced by Hyundai Motor.