Hyundai Motorsport has completed the 2022 FIA World Rally Championship (WRC) with an emphatic 1-2 result at Rally Japan

Thierry Neuville and Martijn Wydaeghe scored their second victory of the season – and the team's fifth – on a rain-affected final day, ahead of Ott Tänak and Martin Järveoja in second
Tyre choice played an important role on the final day, as the Hyundai i20 N Rally1 crews excelled to secure the team a competitive finish. 
Hyundai Motorsport has concluded the 2022 FIA World Rally Championship (WRC) with a 1-2 result in Rally Japan, securing the team its fifth victory of the season and the second of the year for Belgian crew Thierry Neuville and Martijn Wydaeghe.
 
Ott Tänak and Martin Järveoja completed the final day of the new tarmac event in second place overall to claim their eighth podium of the season – and 16th in total since joining Hyundai Motorsport back in 2020. It represents a fitting end to the Estonian crew's three-season tenure with the squad, which draws a close with this positive result.
 
On the final day on the picturesque Japanese roads, crews negotiated five tricky tests in complicated conditions with rain arriving during the morning. The schedule began with the short 7.52km run through Asahi Kougen (SS15), which also acted as the season-closing Power Stage (SS19). The longest test of the day, Ena City (SS16/SS18, 21.59km) followed, with a single pass of Nenoue Plateau (SS17, 11.60km) sandwiching the two repeated stages.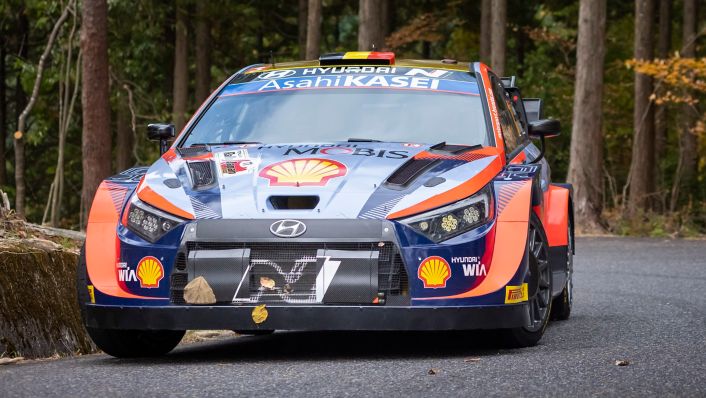 Both Hyundai Motorsport crews opted to take wet weather tyres as part of their final day package, in anticipation of rain which duly came mid-morning. Neuville saw his lead initially reduced to 0.6 seconds but a stage win on the subsequent dry test, and drama for Elfyn Evans, saw the Belgian earn a comfortable one-minute advantage – now over his Estonian team-mates. From there, both crews adopted a cautious approach as the rain arrived to secure a 1-2 result.
 
In terms of pure statistics, the 1-2 result is an historic one for the team with many notable milestones. It is the 25th victory for Hyundai Motorsport since joining the WRC in 2014, and with the top two positions, it scores the team its 99th and 100th individual podium results. Adding to the celebratory numbers, the team has also scored five wins in a single season for the first time (following success in Sardinia, Finland, Ypres, and Greece) – all in the first season with its Hyundai i20 N Rally1, a multiple rally-winner on gravel and tarmac.
Crew Notes: Thierry Neuville/Martijn Wydaeghe (#11 Hyundai i20 N Rally1) 
Belgians added a stage win on Sunday to secure their second victory of 2022

For Neuville, Rally Japan triumph represents his 18th win with the team
This victory feels fantastic! It wasn't an easy weekend, or indeed season, but to end with this result is incredible and shows that the performance is there. Thanks to our weather guy for a great job. We knew that the title chase was over, but the target was to come here to Japan to win and we've achieved that with a 1-2. It has been a challenging season; we've shown a turnaround but there is still plenty of work left to do. Results like this give a special boost to the whole team. We know the areas where we need to improve; I keep believing in this team and I will keep pushing also. Next season will be a different challenge. Monte is less than two months away and we have to be ready for that.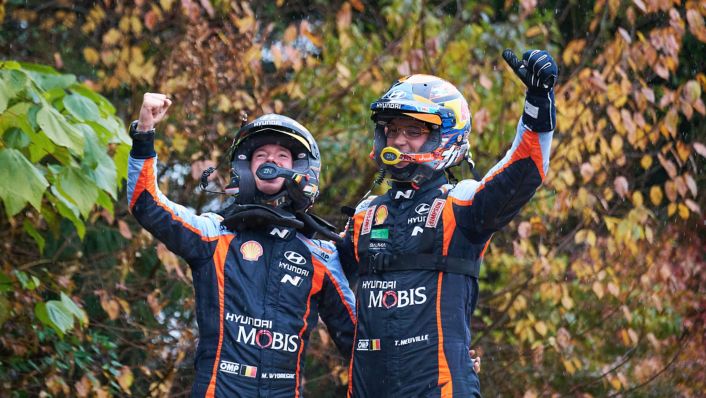 Crew Notes: Ott Tänak/Martin Järveoja (#8 Hyundai i20 N Rally1) 
Estonians completed their time with Hyundai Motorsport with second place

Result marks their 16th podium with the team, which has included five wins in three seasons
It is good to finish the season on the podium. These were extremely tricky conditions at the end, and it's been a demanding rally overall. For the past couple of events on tarmac, we've been lacking some speed to be where we should be. Still, we took the result that we could this weekend and there's been nothing much left. We came to Hyundai Motorsport to fight for another championship title; obviously we have never delivered enough to achieve that, but it's been an incredible experience. We've met another bunch of people and probably made some friends for life, so it's been worth every year.
Rally Japan has been an incredible event right to the end with a lot of stories and talking points. Today was all about the weather forecast and tyre choices; again, our team reacted well. The target was really to lose as little time as possible in the first stages in the dry conditions, and then wait for the expected rain to arrive. In these tricky conditions, Thierry and Martijn managed to keep the lead and took their second win of the season. Ott and Martin stepped up one position to end second in their final rally with Hyundai Motorsport. We wish them good luck for the future after our three seasons working together. This rally has been, for us, a reflection of our entire season; the start was dramatic, but we never gave up. Despite some issues, we fought back and finished on a high in one of our most successful seasons. This win will give us the necessary positive momentum to come back even stronger in 2023. The team has now all the tools in hands to fight for championships, our sole and only target. It was an epic weekend as well in Rally2 where a judicious move on tyre choice allowed Gregoire Munster in a Hyundai i20 N Rally2 to secure a maiden win showing once again the competitiveness of our cars on all terrains; a double podium as well with the brilliant second position for Teemu Suninen.
Final Overall Classification – Rally Japan
T. Neuville/M. Wydaeghe | Hyundai i20 N Rally1 | 2:43:52.3
O. Tänak/M. Järveoja | Hyundai i20 N Rally1 | +1:11.1
T. Katsuta/A. Johnston | Toyota GR Yaris Rally1 | +2:11.3
S. Ogier/V. Landais | Toyota GR Yaris Rally1 | +2:23.6
E. Evans/S. Martin | Toyota GR Yaris Rally1 | +4:05.1
G. Greensmith/J. Andersson | Ford Puma Rally1 | +4:07.4
G. Munster/L. Louka | Hyundai i20 N Rally2 | +7:50.8
T. Suninen/M. Marrkula | Hyundai i20 N Rally2 | +8:12.4
E. Lindholm/R. Hämäläinen | Škoda Fabia Evo | +8:25.6
H. Kovalainen/S. Kitagawa | Škoda Fabia | +8:59.8
2022 FIA World Rally Championship for Manufacturers' Standings
After round 13
Toyota Gazoo Racing World Rally Team | 525
Hyundai Shell Mobis World Rally Team | 455
M-Sport Ford World Rally Team | 257
Toyota Gazoo Racing World Rally Team NG | 138
2022 FIA World Rally Championship for Drivers' Standings
After round 13
K. Rovanperä | 255
O. Tänak | 205
T. Neuville | 193
E. Evans | 134
T. Katsuta | 122
S. Ogier | 97
C. Breen | 84
D. Sordo | 59
E. Lappi | 58
G. Greensmith | 44
All results remain subject to official FIA confirmation.