Each IONIQ powertrain option represents a unique and uncompromising statement towards a cleaner mode of mobility.
Developed to strive for the utmost energy efficiency without compromising driving performance, each IONIQ powertrain option represents a unique and uncompromising statement towards a cleaner mode of mobility. The power of choice has never been as inviting as in the hands of future drivers of an IONIQ.

Breaking through hybrid stereotypes with IONIQ Hybrid & Plug-in

The IONIQ Hybrid and IONIQ Plug-in both feature the Kappa 1.6-litre GDI, direct injection petrol, four-cylinder engine with a class-leading thermal efficiency of 40%, delivering maximum power (from the engine alone) of 105 PS and 147 Nm of torque. 
The engine has been tailored to the hybrid application and is combined with the directly-responding, smooth shifting six-speed dual-clutch transmission – differentiating IONIQ from its competitors with a more dynamic driving experience. The mated electric motor enables pure electric driving and delivers instant torque, while the chassis with its rear multi-link suspension enhances the driving dynamics.
The IONIQ Hybrid's electric motor delivers 32 kW (43.5 PS) with maximum torque of 170 Nm, powered by a lithium-ion polymer battery with 1.56 kWh capacity positioned under the rear seats. In combination with the 1.6-litre GDI engine, IONIQ Hybrid delivers a system output of 103.6 kW (141 PS) and up to 265 Nm of torque, accelerating to a top speed of up to 115mph with fuel consumption of 62.8 to 61.4 mpg * and CO2 emissions of 85-84 g/km (combined)*. The electric motor enables the IONIQ Hybrid to operate in pure electric mode at speeds up to 75 mph.,
Drivers choosing the IONIQ Plug-in can rely on up to 26 miles of pure electric driving range powered by the potent 8.9 kWh lithium-ion polymer battery. The 45kW (61 PS) electric motor together with the 1.6-litre GDI four-cylinder Kappa engine offer CO2 emissions of 26 g/km (Weighted Combined Figure) and fuel consumption to 247.8 mpg*  (WLTP weighted combined cycle).
* There is a new test used for fuel consumption and CO2 figures. The CO2 figures shown however, are based on the outgoing test cycle and will be used to calculate vehicle tax on first registration.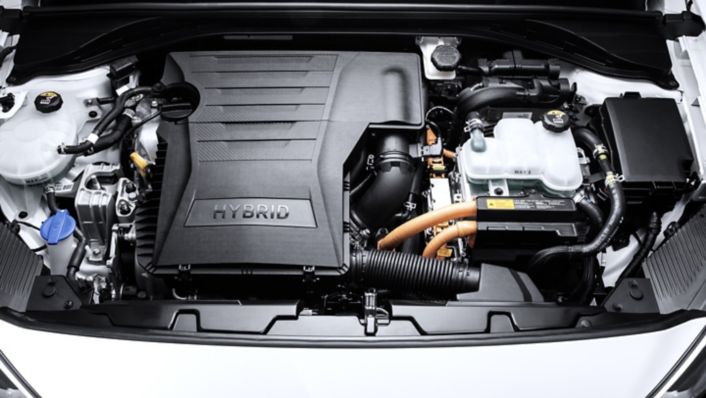 Six-speed dual-clutch transmission – responsiveness guaranteed

The IONIQ Hybrid and IONIQ Plug-in both feature a six-speed dual-clutch transmission (6DCT) that boasts best-in-class transfer efficiency through the use of low-friction bearings and low-viscosity transmission oil. They therefore achieve a unique mix of driving performance and fuel efficiency. Intelligently-set gear ratios combined with a clever shift strategy transfer power smoothly from gear to gear. 
The 6DCT engages the driver and harnesses the electric and combustion technologies to best effect. Thus, the IONIQ Hybrid and Plug-in offer a sporty and fun drive; far from the 'rubber band-like' acceleration of other hybrids.
Enhancing the car's fuel efficiency and driving characteristics, the driver can select SPORT or ECO modes. The SPORT function holds lower gears longer and combines power from the engine and electric motor to reward the driver with maximised performance. Also, the digital instrument cluster graphic changes into a revolving speedometer, surrounded by an analogue style tachometer, showing the engine's rpm on red coloured ground. In ECO mode, the 6DCT optimises the gear selection for fuel economy, shifting up earlier to higher gears to achieve class-leading fuel economy, while the TFT-information cluster simulates the familiar speedometer needle.
The powertrain components were designed to be very compact and highly efficient. The combined extra weight of the hybrid and plug-in hybrid technology therefore only adds minimal weight to the IONIQ, but significantly increases its efficiency.
Compact electric motor powered by lithium-ion polymer battery

Electric power for the Hybrid, the Plug-in and the Electric is generated by a permanent magnet synchronous motor, featuring parts optimised by reducing the thickness of core components (electrical sheet steel) by up to 10% and adopting rectangular-section copper wire to decrease core and copper loss.
Hyundai Motor decided to use a lithium-ion polymer battery pack for all IONIQ models instead of conventional nickel-metal-hydride batteries. This provides lower memory sensitivity, excellent charge and discharge efficiency, along with outstanding maximum output. 
Efficient packaging was also taken into consideration as the battery system is located underneath the rear seats, so that the usability of the passenger cabin and luggage area is entirely uncompromised in the IONIQ Hybrid, which offers luggage space of from 443 litres to 1,505 litres, with rear seats folded down. This also holds true for the IONIQ Plug-in (341 litres to 1,401 litres) and the IONIQ Electric (350 litres to 1,410 litres) which despite having larger batteries both offer generous loading capacity.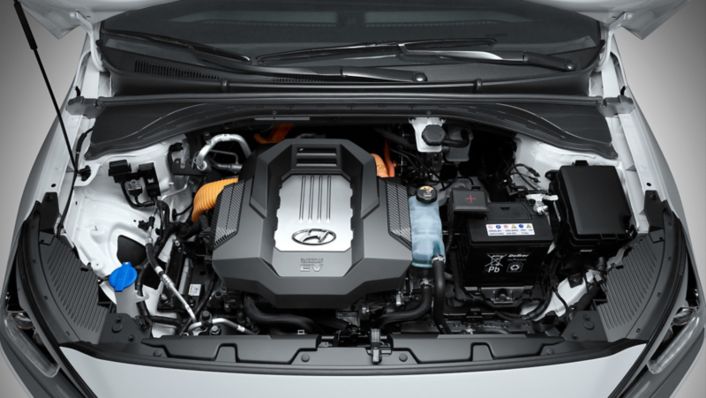 An all-electric all-star: the IONIQ Electric

The IONIQ Electric offers pure e-mobility from a 28 kWh lithium-ion polymer battery for a maximum range of over 174 miles with power consumption as low as 115 Whkm (based on NEDC standard). The instantly available maximum torque of 295 Nm is delivered by the electric motor with a maximum output of 88 kW (120 PS) by the single-speed reduction-gear transmission accelerating the car up to 103 mph. 
The shift-by-wire system unique to IONIQ Electric enables operation of the car simply by pressing buttons to switch driving modes. Furthermore, it eliminates the routing space required for housing the mechanical linkages between a normal shifter and the transmission, providing additional storage space in the front of the car. 
The single-speed transmission automatically and seamlessly delivers power for the Electric and offers SPORT, NORMAL and ECO modes to enhance efficiency and driving characteristics. On top of this, IONIQ Electric features paddles mounted at the steering wheel to adjust the regenerative braking in four stages, according to the driver's needs during deceleration and braking.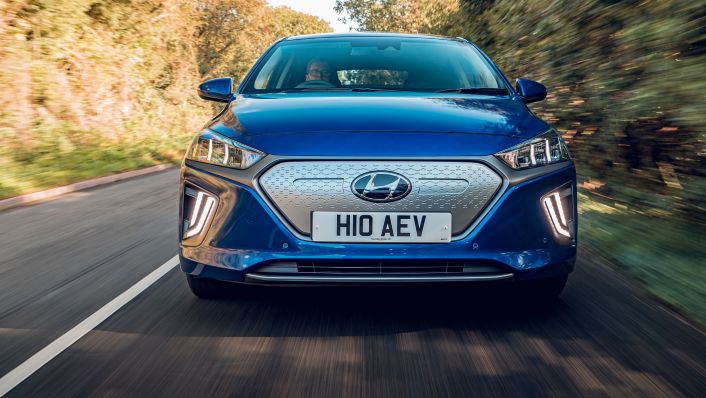 The IONIQ Electric also features an electronic parking brake (EPB) at the command of the driver's fingertips, while the inductive charging tray for mobile phones is conveniently positioned right next to the shift-by-wire buttons. 
Charging the IONIQ Electric lithium-ion polymer battery up to 80% only takes about 23 minutes using a 100 kW direct current (DC) fast charger. An In-Cable Control Box (ICCB) also allows drivers to charge their IONIQ at a regular compatible household alternating current (AC) power socket. The charging plug is conveniently located in a position where fuel fillers are normally found.