Driving the All-New Kona Electric is an uncompromising statement about a clean mobility – an objective Hyundai is highly committed to – by remaining true to oneself through driving a stylish, bold SUV
The choice of two different powertrains again strengthens the uncompromising character of the car.
Hyundai decided to use a lithium-ion polymer battery pack for the All-New Kona Electric instead of conventional nickel-metal hydrid batteries. This provides lower memory sensitivity and excellent charge and discharge efficiency, along with outstanding maximum output.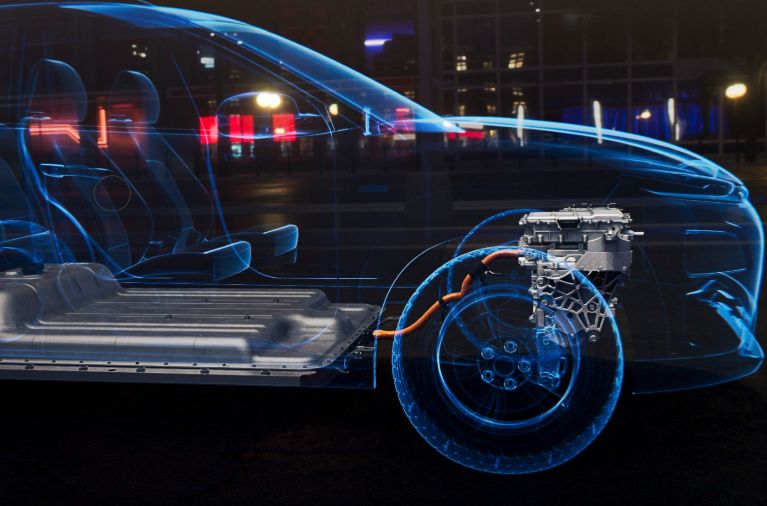 Powertrains
The All-New Electric offers pure e-mobility with two different powertrains. The long-range version with the 64 kWh battery provides an electric range of 449 km and an energy consumption of 14.3 kWh / 100 km (under WLTP testing). The electric motor delivers an output of 150 kW, accelerating the All-New Kona Electric to 100 km/h in impressive 7.6 seconds.
With a battery capacity of 39.2 kWh, the basic version drives you 289 km on a single charge with the motor delivering 100 kW and an energy consumption as low as 13.9 kWh / 100 km (under WLTP testing).
Both powertrain versions deliver 395 Nm of immediate torque, offering the driver of Kona Electric great fun-to-drive, having the full power available from the first second, providing a maximum speed of 167 km/h for the long-range battery, and 155 km/h for the standard-range battery.
The shift-by-wire system enables operation of the car simply by pressing buttons to switch driving modes. It also eliminates the routing space required for housing the mechanical linkages between a normal shifter and the transmission, providing additional storage space in the front of the car.
The fully-electric subcompact SUV made by Hyundai also features an electronic parking brake (EPB) at the command of the driver's fingertips. Charging the lithium-ion polymer battery up to 80% only takes about 54 minutes using a 100 kW direct current (DC) fast charger. With the 7.2 kW on-board-charger, charging with alternating current (AC) takes 9 hours 35 minutes for the long-range battery pack and 6 hours 10 minutes for the standard-range battery pack. Drivers also have the option of charging their car at a compatible regular household power socket using the ICCB-cable (in-cable control box). The charging port is located in the vehicle's front next to the Hyundai logo.