Hyundai expands the New Kona's powertrain line-up with a newly developed, efficient Smartstream 1.6-litre four-cylinder turbocharged diesel engine
Smartstream powertrain technology increases performance and reduces real-life fuel consumption
The 1.6 T-GDI petrol engine is now available with front-wheel drive
New shark fin antenna contributes to the car's bold character
The New Kona engine line-up builds on Hyundai Motor's SUV credibility with a progressive design to enhance the brand's appeal
Hyundai Motor introduces the Smartstream 1.6-litre diesel engine for the New Kona.
The extension of the Kona's powertrain line-up follows the launch of the Kona Electric, which has set a milestone in the market of zero-emission driving. To increase the efficiency of the regular Kona while boosting its driving dynamics, Hyundai now offers Smartstream powertrain technology to meet long-term CO2 emission goals. The new downsized turbocharged engine is available across Europe with the New Kona from summer 2018.
With the New Kona we entered the subcompact SUV segment to strengthen the brand's SUV heritage. It builds on 1.6 million SUV unit sales in Europe since the launch of the Santa Fe in 2001. By developing a completely new compact SUV and equipping it with the latest powertrain technology, we are meeting the highest European customer expectations. With its progressive design and highest safety and driver assistance features we are winning new customers.
Efficient and reliable: The powertrain line-up for the Kona
Hyundai's newly developed Smartstream 1.6-litre diesel engine offers improved real-life fuel economy and reduced exhaust emissions. The high efficiency of the engine is achieved due to a significant reduction in friction, a highly efficient turbocharger and a parallel intake port. Overall, the engine structure is optimised by implementing lightweight materials, resulting in a significant weight reduction and lower engine noise.
The new Smartstream engine is available with two power outputs. The standard version generates 115 PS / 85 kW, comes with a 6-speed manual transmission (6MT) and is equipped with front-wheel drive. The high-power version provides 136 PS / 100 kW and a powerful 320 Nm of torque in combination with the efficient 7-speed dual-clutch transmission (7DCT). For a dynamic ride on and off the road customers can equip the more powerful engine with four- or front-wheel drive. Fuel consumption for the standard version, combined in NEDC conversion: 4.1 - 4.3 l/100km; CO2 emissions combined in NEDC conversion: 109 - 113 g/km and for the high-power version, combined in NEDC conversion: 4.2 - 4.9 l/100km; CO2 emissions combined in NEDC conversion: 112 - 127 g/km.
The Kona offers two turbocharged, small-displacement petrol powertrains with high low-end torque. One of them, Hyundai's 1.6-litre T-GDI petrol engine, is now available with front- or four-wheel drive and is paired with a 7DCT. The engine, which delivers 177 PS / 130 kW and 265 Nm torque, handles every environment with ease (fuel consumption for version with 4WD combined in NEDC conversion: 6.8 - 7.1 l/100km; CO2 emissions combined in NEDC conversion: 155 - 160 g/km).
Alternatively, customers can choose the economical 1.0-litre T-GDI three-cylinder turbocharged petrol engine with a 6 MT providing 120 PS / 88kW and 172 Nm (fuel consumption combined in NEDC conversion: 5.5 - 5.7 l/100km; CO2 emissions combined in NEDC conversion: 125 - 129 g/km).
The turbocharger of both petrol engines is equipped with an electronically-controlled waste-gate actuator which improves fuel efficiency by reducing pumping losses as well as improving throttle response and low-end torque. The unit features a six-hole GDI injector, pressured to a higher-than-average 200 bar, securing a clean combustion.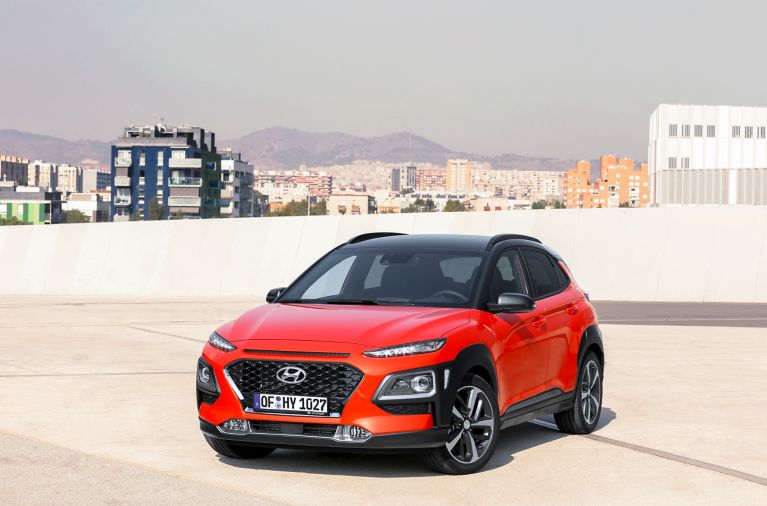 Comfortable ride with the 7-speed dual-clutch transmission
The development engineers have created a good balance between power and comfortable ride and handling qualities. Hyundai's in-house developed 7DCT combines the benefits of manual and automatic transmissions. Furthermore, it improves fuel consumption and CO2 emissions up to 20 per cent compared to a conventional 6-speed automatic transmission. In combination with the 7DCT, the New Kona offers three drive modes: ECO, Normal and Sport. In sport mode there is a different shift pattern, with gears being held longer before shifting.
Engineered to convince customers on and off the road
The Kona's optional four-wheel drive offers customers a true SUV experience. It supports drivers in all kinds of driving situations with up to 50 per cent torque distributed to the rear wheels. The on-demand system increases traction on snow, gravel and of course on regular road surfaces while enhancing cornering performance. To enable an easy start from difficult surfaces, the differential can be manually locked for a torque distribution of 50 per cent up to a speed of 40 km/h.
The enhanced Motor Driven Power Steering (MDPS) delivers better responsiveness and comes with an increased gear ratio of 58 mm/rev, enabling quicker steering action by reducing steering wheels turns. Advanced Traction Cornering Control for four-wheel drive directs understeering and improves the vehicle's agility and stability by controlling both traction and damping while accelerating in curved sections.
All engines available for the regular Kona have been modified to meet the new Euro 6d Temp emission standards.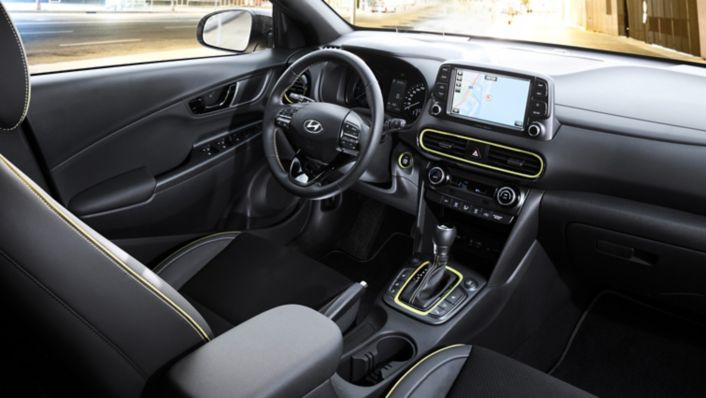 Agile, funky and progressive – the Hyundai Kona design
The New Kona is cool and confident – a completely new character in Hyundai's SUV line-up. Its front is expressive and powerful, characterised by the Cascading Grille, the company's family identity. The Composite Light with LED Daytime Running Light positioned on top of the LED headlights gives the car a sleek and confident appearance. A bold front and rear is emphasised by the car's wide stance and its voluminous, confident body styling. The 18-inch alloy wheels and the shark fin antenna, a new design feature for the New Kona, further contribute to the bold character of the car. The Kona's two-tone roof and the choice of ten distinctive exterior colours offer 27 individual combinations for almost every lifestyle: You drive it, You define it.
The interior design of the regular Kona reflects the exterior theme featuring smooth, contoured surfaces on top of the instrument panel contrasting with the dark painted parts representing the technological and rugged character. Customers can personalise the interior of the Kona with three distinctive colours: Orange, Lime and Red. The colour accents are featured on the air vent surrounds, around the gearshift, the engine start button ring, the stitching on the seats and the steering wheel. The floating screen of the optional 8-inch navigation touchscreen in its ergonomic position allows drivers to stay tuned to the traffic ahead at all times. Hyundai's exclusive seats with optional three-step ventilation and heating system as well as the heated steering wheel offer passengers even more comfort in winter and in summer.
The New Kona offers plenty of space for both passengers and luggage. The front-seat legroom with 1,054 mm and 880 mm for passengers in the rear are both generous. With a trunk capacity of 361 litres (VDA), the Kona is optimal for weekend escapes and longer trips.
High-end connectivity features
Hyundai's New Kona features a combiner head-up display which projects relevant driving information directly into the driver's line of sight. Moreover, customers can equip their Kona with the optional 8-inch infotainment system that integrates navigation, media and connectivity features, supporting both Apple CarPlay and Android Auto. The Display Audio allows passengers to mirror their smartphone's content onto the system's 7-inch display via Apple CarPlay and Android Auto. For even more connectivity comfort, the optional wireless inductive charging pad (Qi standard) charges the passengers' smartphones and connects mobile devices with USB ports and AUX jacks. Kona also offers a high-end, premium sound system by audio manufacturer Krell featuring eight speakers including two 20 mm tweeters, four 160 mm woofer speakers, one 100 mm centre speaker and a 200 mm subwoofer speaker.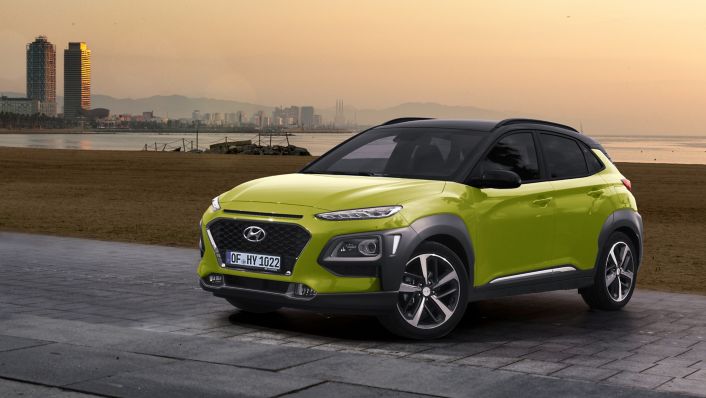 Safety first: SmartSense assistance systems and highest level of passive safety
The New Kona cares about its passengers. Hyundai Smart Sense active safety and driving assistance systems comply with the highest European safety standards The Hyundai Kona is one of the safest vehicles in the B-segment proven by the five-star safety rating from Euro NCAP. The list of safety features includes Forward Collision Warning, Forward Collision-Avoidance Assist with pedestrian detection, Lane Keeping Assist (standard), High Beam Assist with Static Low Beam Assist, Driver Attention Warning (standard), Blind-Spot Collision Warning and Rear Cross-Traffic Collision Warning.
Hyundai is the only car manufacturer to make its own steel for the global production of its vehicles – with benefits for the New Kona, which features a strong, light body with 51 per cent ultra-high-strength steel that enhances the dynamic performance and increases passive passenger safety.