World's first car offering three electric powertrains democratises e-mobility
Uncompromised driving experience, great design and connectivity features
Comprehensive safety features and industry-best warranty for peace of mind
The All-New Hyundai IONIQ is the world's first car to offer hybrid, plug-in hybrid and all-electric powertrains in a single body type.
This innovative new approach from Hyundai Motor democratises e-mobility, making low-to-zero emission driving more accessible to everyone. The company has the ambition to become one of the leading brands in Europe for electrified vehicles and to be among the top three sellers in the hybrid, electric and plug-in hybrid segments.
Already recognised for its industry-leading Five Years Unlimited Mileage Warranty, Hyundai Motor now announces an enhanced package for customers choosing IONIQ, adding an eight-year, 200,000-kilometre warranty on the high-voltage battery. Together with a comprehensive list of standard features and a competitive price, the IONIQ provides unique value among alternative-powertrain cars.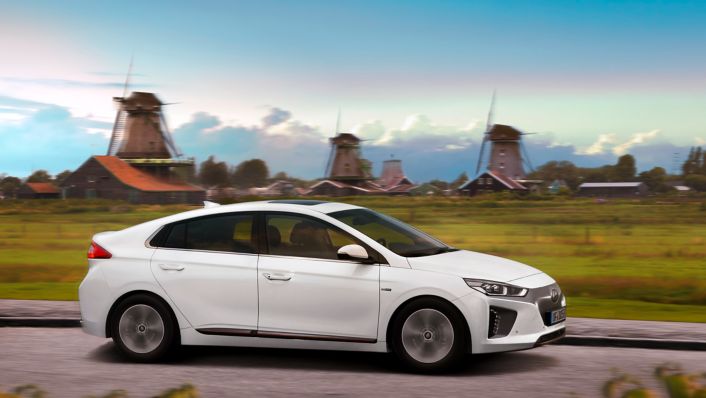 Among the technical highlights of the product family, the IONIQ Hybrid and IONIQ Plug-in provide class-leading fuel efficiency and low CO2 emissions of just 79 g/km & 32 g/km respectively. The IONIQ Electric can travel a class-best 280 km on a single charge, providing greater flexibility and peace of mind for customers seeking a zero-emission car with practical driving range. The IONIQ Plug-in can drive more than 50 km in pure electric mode, increasing the possibility of fuel-free driving for those customers who typically cover shorter distances.
The innovative technology and high-efficiency performance come without compromise in driving experience, comfort and safety. A dedicated electrified model, IONIQ has been engineered for optimum driving dynamics and ride comfort. Its six-speed double-clutch transmission (for IONIQ Hybrid and IONIQ Plug-in) provides a sporty feel and direct driver engagement, while offering comfortable and efficient driving in automatic mode. The selectable Sport mode further enhances driving pleasure, sharpening the experience through sportier steering feel, transmission parameters and the adaptive digital instrument cluster.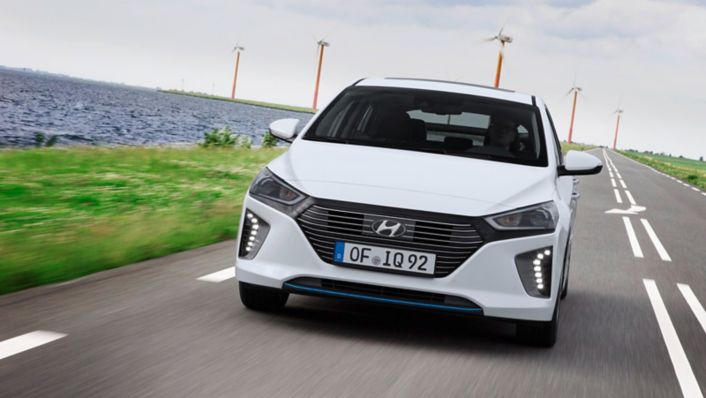 The car's lightweight structure, multilink rear suspension (on IONIQ Hybrid and IONIQ Plug-in) and intelligent powertrain layout also contribute to the driving experience. Advanced safety systems are made more widely accessible, with Autonomous Emergency Braking, Lane Keeping Assist System, Smart Cruise Control and Blind Spot Detector among others all fitted as standard. 
The design of IONIQ not only creates an appealing silhouette, but also allows a spacious interior and generous storage space. Moreover, the sleek aerodynamic shape helps to achieve a class-leading drag coefficient of just 0.24 Cd. Recognised for its athletic design underlining the fun-to-drive yet efficient character of IONIQ, the car has been named a winner of 2016 Red Dot award for design.
In tune with our digitalised world, IONIQ delivers the simple, smart connectivity and infotainment features that customers expect. Apple Car Play and Android Auto provide fast and intuitive smartphone connectivity, with wireless inductive charging for compatible devices. Tom Tom LIVE services enhance the on-board experience and provide useful information on the move, delivered via an eight-inch display that supports a new audio-visual-navigation system.
The launch approach for IONIQ is also very contemporary, reflecting our digital times. Focusing in particular on digital channels, the company has created contents to explain the IONIQ's technologies and to showcase the advantages of each powertrain, informing customers about each solution. Videos, graphics and augmented reality content provide an information-rich customer experience, online, on mobile devices and in the showroom environment. IONIQ pre-launch and launch campaigns are based around a digital hub, with all contents in one central location. A simple, transparent comparison tool helps to quickly compare IONIQ to key competitors. With an analytics-driven approach, Hyundai Motor can serve the information needs of customers: for example mobile search is optimised, as it is an important channel for the target customer group.
With IONIQ, we are appealing to a new customer group, with a shared mindset and attitude - we call them Generation IONIQ. Like them, we believe in the technology, which is why we created the only car with the choice of three electrified powertrains. We believe it's the best value eco car in Europe, with the best warranty, the best driving range and offered fully equipped for a very competitive price - all with no compromise on great design, driving pleasure and new connectivity features. It's a car that is truly driven by e-motion.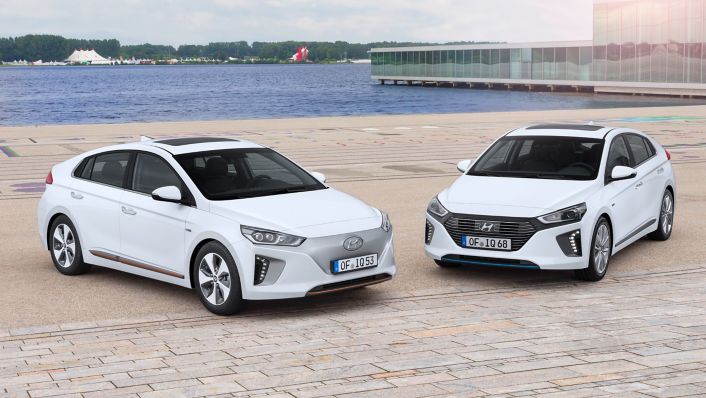 several hybrid and plug-in hybrid models sold around the world, Hyundai Motor already has a proven capability in electrified powertrains. Now, with the launch of the first dedicated electrified model, we are taking the lead as the only car manufacturer producing hybrid, electric, plug-in hybrid and fuel cell vehicles.
The IONIQ Hybrid and the IONIQ Electric will be launched in European markets from autumn 2016 onwards. The IONIQ Plug-in will be launched in Europe in 2017. (Launch timings may vary depending on market.)
* Fuel efficiency, CO2 emissions and driving range data are preliminary, subject to homologation