Car-like comfort, quality, ergonomics, ride and driving dynamics
Optimised 'mobile office' environment for maximum productivity
Maximised cargo volume 10.5 m3 (SWB) and 12.9 m3 (LWB)
Highlighting its status as a 'newcomer' to the LCV segment, the All-New H350's interior delivers great quality and design with passenger car comfort. Clever interior layout and packaging creates a 'mobile office', designed to ease the driver's daily tasks.
Precise dashboard ergonomics ensure ease-of-use and safe operation. The vehicle/driver interface is perfectly intuitive and provides all vital vehicle information. For maximum practicality, there are up to 25 storage compartments around the cab and three power outlets as standard, comfortably exceeding the class norm.
The H350's cabin is also car-like in terms of its space and visibility. The cabin is designed to accommodate the tallest occupants and delivers best-in-class head room (1414 mm) and leg room (1071 mm). With a generous 1582 mm cab width, H350 can be specified with two or three cab seats. When fitted, the centre seatback folds flat to form a work surface, featuring twin cup holders.
The driver's high sight line and the H350's deep side windows allow a good all-round view, which is complemented by the very competitive 44 degrees visibility through the front screen.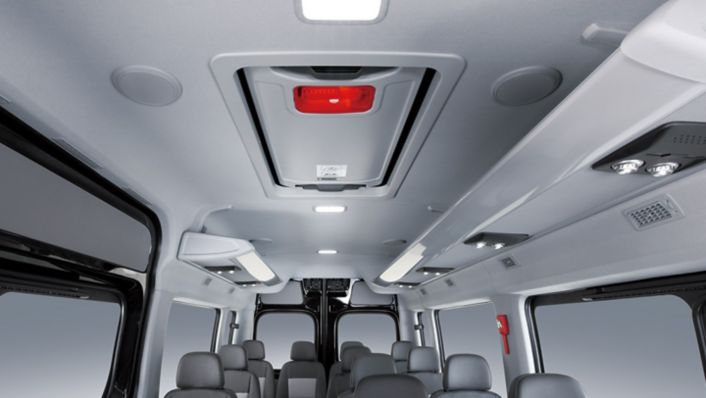 Hot or cold, H350 provides the perfect Bus environment
H350's characteristic cab comfort is extended throughout the entire H350 Bus variant. The air-conditioning has a high cooling capacity (8,500 kcal/h), there are overhead air vents for every seat and a fast warm-up PTC heater is available. For colder climates, a fuel-fired pre-heater system is available, ensuring easy start up in sub-zero temperatures.
New AVN and multi-media systems For the H350 audio system, customers can choose the new AVN (audio / video / navigation) combined system with eight-inch touchscreen, the E800 Audio system with 3.8-inch screen or the standard E300 radio system. Offered for the first time in an LCV, the AVN uses an Android operating system with 3D navigational maps and a full colour display. Steering wheel-mounted audio controls, Bluetooth hands-free operation and USB/Aux jacks complete the package, while the H350 Bus features up to eight speakers.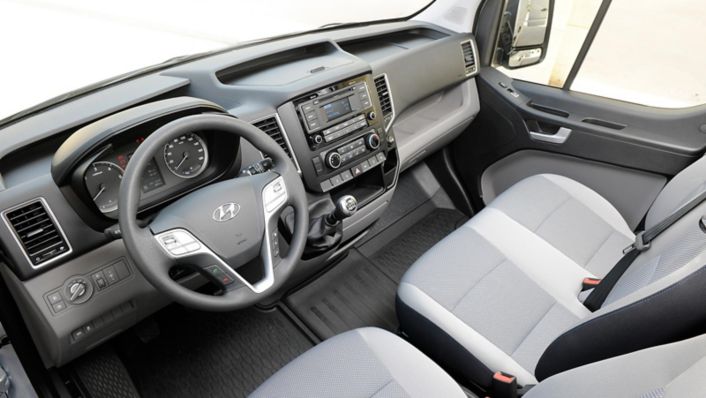 Smart technologies from Hyundai passenger cars
For Hyundai Motor, bringing car-like comforts to the LCV segment with the All-New H350 extends to offering smart technologies derived from its passenger car line-up. These technologies include user-friendly cruise control (with a high-visibility display in the driver's instrument cluster showing the vehicle's current speed) a rear safety camera, a Park Assist System and a rain-sensor that triggers the windscreen wipers. Additionally, a wiper de-icer frees-up frozen wipers at sub-zero temperatures.
Minimising NVH and enhancing refinement
Hyundai engineers also adopted the 'car-like' mantra when they focused on minimising all traces of NVH at source by strengthening key vibration points in the chassis, creating new idle-damping engine mounts, fitting a specially-designed axle damper and a new prop-shaft.
Noise sources that could not be 'engineered out' are blocked by dashboard pads, cab floor mats and front wheel arch liners. H350 delivers class-leading levels of refinement with idle noise of just 50 dBA, idle vibration (95 dBA) and riding noise (70 dBA).